Want to know what steady growth looks like? Check out this chart by Statista, illustrating D2C e-commerce sales in the US over the past 5 years.
It paints a pretty picture, but the story behind the rise of D2C is what's really interesting. And mark my words, the next chapter is going to be seriously fascinating. You know that that title will be? "Subscriptions."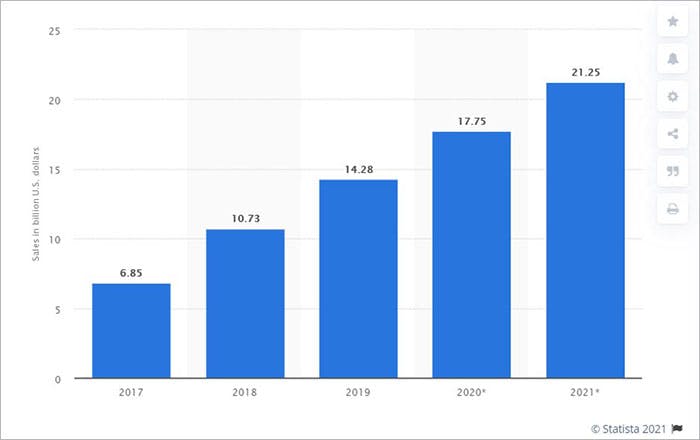 The Road to D2C
As we sail into the third decade of the 21st century, it is easy to forget just how radical the concept of D2C actually is. You can step back in time by reading The Perfect Store: Inside eBay, a 2003 exposé of the world's first online platform to open up the marketplace directly to consumers. Back then, when the internet was dial-up and smartphones were no more than a future fantasy, eBay totally shook up the concept of shopping by leveling the playing field. Suddenly, anyone with a product to sell could sell it to anyone who wanted to buy it. No more wholesale middlemen, no more warehouses. From your own living room, you could start your own e-commerce "empire." And many did.
Fast forward to today, and D2C has taken on a complete life and infrastructure of its own. It's not just the "mom and pop" stores that are selling directly to consumers, like in the early eBay days. Now, even the biggest brands with global retail distribution networks are trying out the direct-to-consumer route.
Not to mention the hundreds of D2C success stories that make up the current e-commerce landscape, like Dollar Shave Club, Casper, Everlane, and BarkBox.
Why D2C Works
D2C has many advantages, and that's why brands and consumers love it.
By eliminating the middleman, and opening up the market to smaller competitors, D2C breaks up traditional market monopolies and drives prices down. For example, in the pet food and treats industry, 90% of the market is controlled by six conglomerates. That's where BarkBox, the D2C pet food company comes in. Without the need for an extensive network of third-party manufacturers and distributors or the steep cost of operating retail stores, BarkBox can provide high-quality pet food products directly to customers at an extremely competitive price.
The other huge advantage of D2C is that it puts the manufacturer or supplier in direct contact with consumers. No more "broken telephone." The D2C brand can keep a much stronger finger on the pulse of what customers want and need, by marketing directly to them in a personal and unfiltered way.
How to Make D2C Work Even Better
Despite these (huge!) advantages, D2C brands face a similar challenge to traditional B2C companies: how to retain customers and ensure recurring revenue that facilitates growth.
The answer is D2C subscriptions. And we can help with that.
Vindicia: D2C-Ready
Vindicia's platform supports the three critical pillars of the D2C subscription model:
Managing Retention: Vindicia Retain delivers advanced solutions to quickly resolve transaction failures and prevent involuntary customer churn. D2Cs can maximize recurring revenue from every billing cycle by ensuring that subscription transactions are processed correctly and efficiently.
Subscription data: Instead of basing decisions on assumptions about customer behavior and needs, D2Cs can leverage Subscription Intelligence to make smart data-based decisions. Data-driven analysis and insights about customer behavior enable D2Cs to personalize user journeys and manage subscriptions in the most optimized fashion.
The D2C subscription model combines the best of D2C (reduced overheads, higher profit margins, direct customer relationships) with the power of a seamless, ongoing subscription-based connection with customers, driven by subscription customer data. This ensures the continuous engagement that will guarantee recurring revenue.
Driven by next-generation subscription, retention, and bundling tech, the next chapter of the D2C story is going to be a bestseller.