On Amazon's fourth-quarter and full-year 2022 earnings call last week, CEO Andy Jassy made a surprise appearance, his first since joining the company as CEO in July 2021. Amazon founder and former CEO Jeff Bezos historically did not participate in earnings calls, and until now, Jassy has followed that tradition. When introducing himself on the call, Jassy said that he chose this call to join because it was the end of his first full year as CEO and, given the recent changes to their business and uncertain economy, he felt it was important to participate.
"The connective tissue for everything we do across the company, including in stores in North America, is we realize that we exist to make customers' lives better and easier every day and relentlessly went to do so. And being maniacally focused on the customer experiences, always going to be a top priority for us," Jassy said.
"At the same time…, we're working really hard to streamline our costs and trying to do so at the same time that we don't give up on the long-term strategic investments that we believe can meaningfully change broad customer experiences and change Amazon over the long term," added Jassy.
Though Jassy is relatively new to the CEO role, he has been with Amazon for 25 years.
Fourth-quarter and full-year 2022 financial highlights
For the fourth quarter ended December 31, 2022, Amazon shared the following highlights:
Net sales were $149.2 billion, a 9% increase year-over-year.
Operating income decreased to $2.7 billion due to factors including estimated severance costs, self-insurance liabilities, and impairments of property and equipment and operating leases.
Net income decreased to $0.3 billion, or $0.03 per diluted share, compared to $14.3 billion, or $1.39 per diluted share, in the fourth quarter of 2021.
For the full-year 2022, Amazon shared the following highlights:
Net sales were $514.0 billion, a 9% increase year-over-year.
Operating income decreased to $12.2 billion compared to $24.9 billion in 2021.
Net loss was $2.7 billion, or $0.27 per diluted share, compared to $33.4 billion, or $3.24 per diluted share, in 2021.
Copyright © 2023 Authority Media Network, LLC. All rights reserved. Reproduction without permission is prohibited.
Operational highlights
As part of each earnings report, Amazon includes a long list of operational highlights. Here are a few:
The company enjoyed a record-breaking holiday season with customers buying nearly half a billion items from small businesses in the U.S.
From Thanksgiving Day through Cyber Monday, customers bought hundreds of millions of products globally, and small businesses in the U.S. generated more than $1 billion in sales over the five-day weekend.
The Lord of the Rights: The Rings of Power attracted more than 100 million viewers worldwide for its first season. Season 2 is currently in production.
While Thursday Night Football (TNF) didn't bring the ecommerce company the viewership it hoped for, it ended the TNF season with the youngest median age of any NFL package since 2019. TNF featured the most streamed NFL games, drawing an audience of 11.3 viewers on average.
Amazon expanded Buy with Prime to all eligible merchants in the U.S.
The company launched Amazon Clinic, a message-based virtual health service. In early 2023, Amazon also launched RxPass, expanding its footprint in the healthcare space.
Amazon launched Inspire, a feed in the Amazon shopping app that includes content from customers, influencers and brands to increase product discoverability.
More than 100,000 employees have enrolled in the company's Career Choice program that includes prepaid college tuition, skills training and industry certifications.
Amazon launched a range of AWS capabilities including AWS Supply Clain, AWS SimSpace Weaver, and AWS Clean Rooms.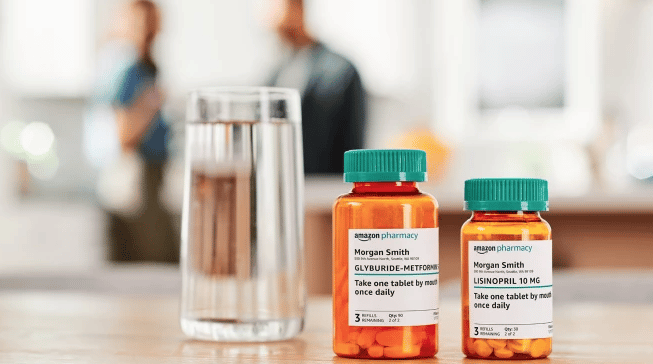 First-quarter 2023 guidance
Amazon provided the following guidance for the first quarter of 2023:
Net sales between $121.0 billion and $126.0 billion, representing growth between 4% and 8%
Operating income between $0.0 billion and $4.0 billion
How they evaluate businesses and opportunities
In addition to laying off 18,000 employees, Amazon has made some other major changes to its operations, impacting many divisions and shuttering some products and services altogether. On the earnings call, Jassy explained how decisions to make investments are made
"If we were successful, could it be really big and move the needle at Amazon, which is a high bar?"
"Do we think it's being well served today?"
"Do we have a differentiated approach?"
"Do we have some competence in those areas? And if we don't, can we acquire them quickly?"
"We're going to continue to invest," Jassy said. "We're going to be very thoughtful about how we streamline our costs, and I think you see a lot of that, but we're also going to continue to invest for the long term."
Amazon stock
Investors seems to have mixed feelings about the earnings report. Amazon stock briefly bumped up from $105.15 per share the day before earnings were released to $112.91 per share on February 2 and back down to $103.39 per share on February 3.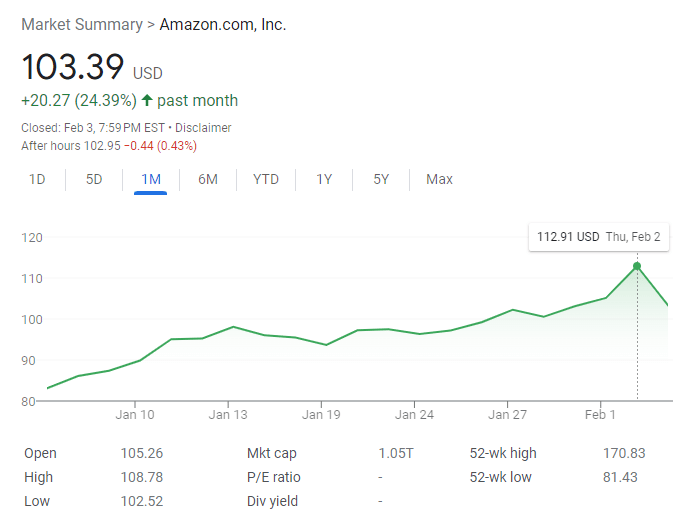 Insider Take
Based on a volatile 2022 and 18,000 in employee layoffs and related costs, it is hard to predict where Amazon will land over the next several quarters. Like many other tech companies, along with layoffs, Amazon is reconsidering their business strategies. The key to how quickly Amazon rebounds depends on how well those business strategies are implemented and whether consumers and Prime members respond as expected.
Takeaways for subscription companies: Many companies' CEOs participate in their earnings goals, so it was a pleasant surprise to hear from Andy Jassy on the earnings call. Investors, analysts, vendors and customers alike want to hear from leadership. If your company's CEO isn't front and center, consider the potential goodwill you could earn by being transparent and available, and show them you are willing to walk the walk. This is particularly true during uncertain economic times.
Copyright © 2023 Authority Media Network, LLC. All rights reserved. Reproduction without permission is prohibited.