In honor of National Taco Day, Taco Bell is bringing back the fast-food restaurant's popular taco subscription, Taco Lover's Pass. For one day only – October 4, 2022 – Taco Bell Rewards members can sign up for the Taco Lover's Pass through the Online Exclusives category in the Taco Bell app. Customers add the pass to their cart and pay for their pass at checkout, all in the app. Customers are limited to one subscription per person.
For just $10 plus tax, subscribers can redeem a taco a day for 30 days, starting with the day of purchase. Taco redemptions are only available through the app for in-restaurant pickup or drive-thru at participating locations. Subscribers can choose from the following tasty taco options:
Crunchy Taco
Crunchy Taco Supreme®
Soft Taco
Soft Taco Supreme®
Doritos® Locos Tacos
Doritos® Locas Tacos Supreme
Spicy Potato Soft Taco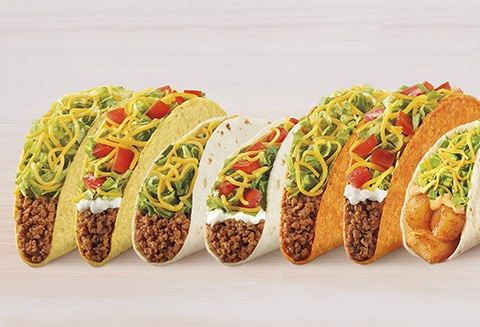 At the end of the 30 days, the Taco Lover's Pass expires, and the hidden menu category where it can be purchased will disappear. The subscription is not renewable at this time, but Taco Bell may offer the subscription again if it continues to be popular. The subscription is a use-it-or-lose-it purchase. Passes expire on November 2, 2022, and subscribers will not receive refunds if they miss days or fail to use the subscription at all.
Expanding after a successful test in Arizona
In September 2021, Taco Bell tested a taco subscription in Tucson, Arizona with "measured success," says CNBC. Twenty percent of customers who signed up for the taco subscription were new rewards members and another 20% renewed their taco pass for a second time. In January 2022, the fast-food restaurant expanded the Taco Lover's Pass across the country. The deal was the same – a taco a day for 30 days – but pricing ranged from $5 to $10, depending on location.
Why a taco subscription?
Taco Bell's taco subscription is a great strategy for several reasons:
Taco Bell expands its rewards program by requiring Taco Lover's Pass subscribers to be rewards members.
By making the subscription available for a limited time only, Taco Bell is creating FOMO (fear of missing out).
They are expanding revenue opportunities. For diehard subscribers who plan to get all 30 tacos, the Taco Lover's Pass is a loss leader. Taco Bell will lose money on those subscribers if they get their free taco and leave without buying something else. But if they buy other tacos, nachos, drinks or other food items, Taco Bell will see additional sales.
A growing trend
Taco Bell joins other popular restaurants in offering subscriptions to grow loyalty among their customers. Just last week, P. F. Chang's announced a new subscription as an upgrade to their free loyalty program. For $6.99 a month, P. F. Chang's subscribers become Platinum Rewards members which gives them additional benefits such as VIP-level services and unlimited free delivery.
Panera launched a coffee and tea subscription service during the pandemic. This spring, Panera expanded their Unlimited Sip Club. For $10.99 a month, subscribers get unlimited self-serve beverages, including coffee, tea, fountain drinks, and Charged Lemonade.
Insider Take
Taco Bell has a winner here. This is a great opportunity for them to bring back the Taco Lover's Pass for one month, creating promotional gold for a limited time. This program brings awareness to the brand, limits the duration of the program, and expands the loyalty program's audience, all while ramping up sales. After all, who goes to Taco Bell for just one taco?