Last week, Meta Platforms, Inc. reported mixed results for the first quarter of 2023, including impacts of the company's restructuring. The tech company reported revenue of $28.65 billion, a 3% increase year-over-year. Meta also reported net income of $5.7 billion, a 24% decrease year-over-year, or $2.20 diluted earnings per share, a 19% decrease year-over-year. Meta founder and CEO Mark Zuckerberg was positive about the company's start to the year.
"We had a good quarter and our community continues to grow," said Zuckerberg in an April 26, 2023 news release. "Our AI work is driving good results across our apps and business. We're also becoming more efficient so we can build better products faster and put ourselves in a stronger position to deliver our long term vision."
First quarter highlights
The company reported the following highlights for the first quarter of 2023:
Meta reported that family daily active people (DAP) was 3.02 billion on average for March 2023, a 5% increase over March 2022.
Family active people (MAP) was 3.81 billion at the end of March 2023, a 5% increase year-over-year.
Facebook had 2.04 billion daily active users (DAU) for March 2023, a 4% increase year-over-year.
Facebook had 2.99 billion monthly active users (DAU) at the end of March 2023, a 2% increase year-over-year.
Ad impressions across Meta's apps for the first quarter increased 26% year-over-year, while the average price per ad decreased 17% year-over-year.
The company had $7.09 billion in capital expenditures for the first quarter.
As of March 31, 2023, Meta had cash, cash equivalents and marketable securities of $37.44 billion and long-term debt of $9.92 billion.
Impact of layoffs
In its first quarter earnings report, Meta outlined the impact of layoffs in terms of cost and headcount.
The company had $21.42 billion in costs and expenses, a 10% increase year-over-year. This included $1.14 billion in restructuring costs for the first quarter, related to layoffs. In November, Meta announced the company would lay off 11,000 employees, or 13% of its workforce. In March, Meta confirmed they would cut another 10,000 jobs and eliminate another 5,000 vacant positions.
The company ended the quarter with 77,114 employees, a 1% decrease year-over-year. That number does not include employees who were impacted by the November 2022 layoffs, but it does include employees who will be impacted by the 2023 layoffs. By the end of March 2023, the majority of the 2022 layoffs had been completed. The company said it is still assessing its facilities needs and related data center restructuring.
"In March 2023, we announced three rounds of planned layoffs to further reduce our company size by approximately 10,000 employees across the Family of Apps (FoA) and Reality Labs (RL) segments. In connection with these layoffs, we expect to incur total pre-tax severance and related personnel costs of approximately $1 billion, of which $523 million was recognized during the first quarter of 2023 and the remaining charges will be substantially recorded by the end of 2023," Meta said.
Outlook
The company estimates that revenue for the second quarter will be between $29.5 billion and $32 billion. Meta revised its full-year 2023 expenses; they are now estimated to be between $86 billion and $90 billion, including restructuring costs between $3 billion and $5 billion for the consolidation of facilities, severance and other personnel costs.
Anticipated fine for data transfers
Meta noted they are monitoring a regulatory situation with the Irish Data Protection Commission who is expected to issue a decision in May about transatlantic data transfers of Facebook EU/EEA user data which is likely to include a suspension order for the data transfers and a fine.
"Our ongoing consultations with policymakers on both sides of the Atlantic continue to indicate that the proposed new EU-U.S. Data Privacy Framework will be fully implemented before the deadline for suspension of such transfers, but we cannot exclude the possibility that it will not be completed in time. We will also evaluate whether and to what extent the IDPC decision could otherwise impact our data processing operations even after a new data privacy framework is in force," Meta reported.
FTC proposes ban to stop Meta from monetizing data from kids
In other regulatory news yesterday, the Federal Trade Commission proposed a ban to stop Meta from monetizing kids' data, reports CNBC. The FTC alleges that Meta violated a 2020 privacy order which posed "substantial risks to the public" along with a 2012 order that allowed developers to collect private user data.
Meta stock
Meta stock has increased in value since the first quarter earnings report was released on April 26. On that date, Meta stock was valued at $209.40 per share. As of 6:15 a.m. Eastern today, Meta stock was valued at $237.03 per share, nearing a 52-week high of $244.92 per share.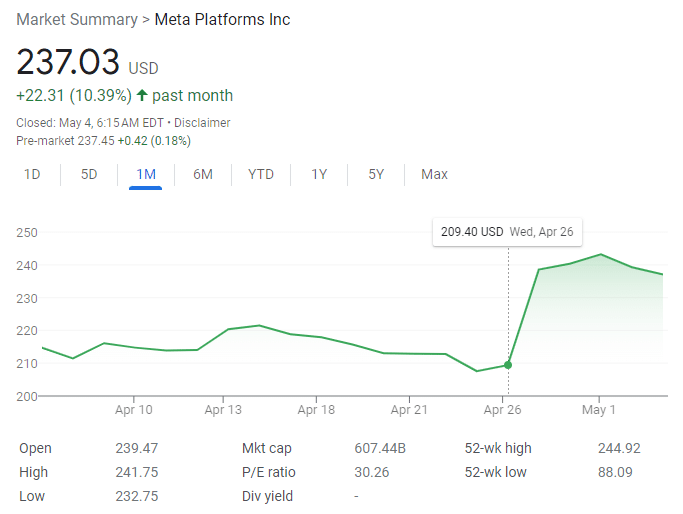 Insider Take
The first quarter was a mixed bag for Meta with a slight increase in revenue and a more significant decrease in earnings year-over-year. The restructuring costs and impact to headcount were the most notable items, and those impacts are just beginning to be felt, as the company wraps up the 2022 layoffs. The headcount will decrease again in the second quarter while costs related to the restructuring will increase. If Meta's stock price is any indication, investors seem to be impressed with the belt tightening and realignment of priorities that we are beginning to see.