UPDATE: Meta laid off more than 11,000 employees, representing 13% of the company's workforce. CEO Mark Zuckerberg shared the information with employees in a letter which was also published online Nov. 9, 2022. Meta will pay 16 weeks of base pay plus two additional weeks for every year of service, with no cap. Meta will pay employees for any remaining PTO time, and everyone impacted will receive the vesting they would have received on Nov. 15, 2022. Healthcare for employees and their families will be provided for six months, and the company will provide three months of career support through an external vendor.
"Today I'm sharing some of the most difficult changes we've made in Meta's history. I've decided to reduce the size of our team by about 13% and let more than 11,000 of our talented employees go. We are also taking a number of additional steps to become a leaner and more efficient company by cutting discretionary spending and extending our hiring freeze through Q1," Zuckerberg wrote. "I want to take accountability for these decisions and for how we got here. I know this is tough for everyone, and I'm especially sorry to those impacted."
---
This has been a tough year for most companies, but especially for tech companies who rode the wave of COVID and are now having to scale back staff, impose hiring freezes and cut costs to right-size their operations. Among those impacted are companies like Amazon, Apple, Gopuff, Lyft, Netflix, Stripe and Twitter.
In an exclusive article, the Wall Street Journal reports that Meta is planning massive tech layoffs this week that will affect "many thousands of employees." The announcement could come as early as today.
At the end of September, Meta reported their headcount as 87,314, a 28% increase over the third quarter of 2021. At the same time, the company reported a 4% decrease in revenue and a 19% increase in costs and expenses. Net income was $4.4 billion, a 52% decrease year-over-year, or $3.22 diluted earnings per share, a 49% decrease year-over-year.
In an October 26, 2022 news release, the company said, "To provide some context on the approach we are taking towards setting our 2023 budget, we are making significant changes across the board to operate more efficiently. We are holding some teams flat in terms of headcount, shrinking others and investing headcount growth only in our highest priorities. As a result, we expect headcount at the end of 2023 will be approximately in-line with third quarter 2022 levels."
That message is consistent with large-scale tech layoffs. However, the layoffs appear to be imminent. The Journal reports that these are the first major staff reductions to hit Meta since it was founded as Facebook in 2004. The Journal also says that this might be the largest layoff by a major tech company in 2022 when so many companies are laying off staff.
Public letter from Altimeter to Zuckerberg and Meta board
Two days before the earnings results were released, long-term shareholder Altimeter wrote a public letter to Mark Zuckerberg and the Meta board of directors, asking the company to "get its mojo back." They specifically recommended three actions to help the company get back on track:
Reduce headcount by at least 20%.
Reduce annual capex by at least $5B from $30B to $25B.
Limit investments in the metaverse/Reality Labs to a maximum of $5B per year.
Altimeter pointed out that the number of employees at Meta has tripled in size in the last four years, growing from 25,000 to 85,000.
"As such, we would encourage the company to move aggressively and cut at least 20% of employee-related expenses by January 1, 2023. Why 20%? To put that in perspective, it merely takes the company back to mid-2021 levels of employee expense — and I don't think anybody would argue that Meta wasn't sufficiently staffed in 2021 to tackle a business that looks similar to how it looks today," wrote Brad Gerstner of Altimeter.
"We do not take job reductions lightly. These are not numbers on a spreadsheet. They are people with families and kids to support. With that said, we have a shortage of talent in Silicon Valley. Meta and other large companies have made it very difficult for start-ups to hire. We are confident that these employees will find replacement jobs and quickly be back to work on important inventions that will move us all forward," added Gerstner.
Meta stock
On November 8, 2021, Meta stock was valued at $338.62 per share. As of 2:12 p.m. Eastern yesterday, it had dropped to $95.76, a 71.72% decrease in a year's time. Meta is dangerously close to its 52-week low of $88.09 per share.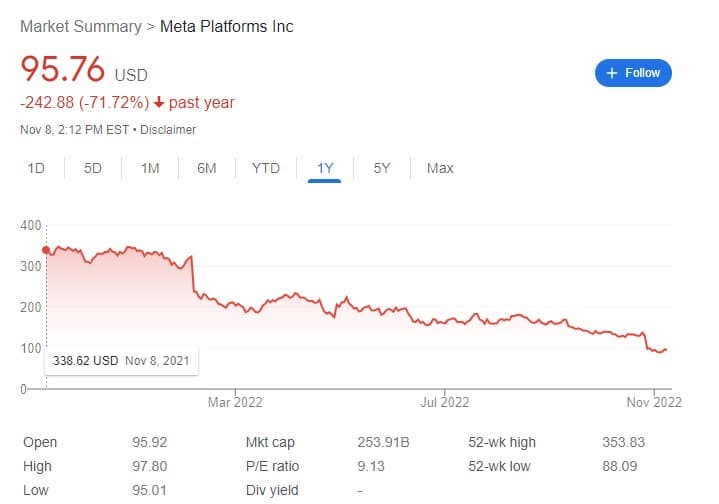 Insider Take
Zuckerberg is an intelligent, ambitious innovator, and many would argue that he has done incredible things for technology, community, and the future of communication. Others would say he has his fingers in too many pies. He has tried so many different tools, products and services and abandoned them, including paying news publishers for their work and abruptly shutting down the program this fall. Where is Meta headed? It is hard to say, but clearly, adjustments need to be made. Losing thousands of employees through tech layoffs, however, will be painful. We hope Gerstner is right, and that the impacted workers will find other jobs soon. At the same time, we'd like to learn more about Meta's plan to get things back on track.