Disney is considering adding a membership program to its product and service mix, according to the Wall Street Journal. The membership program would offer members-only discounts and perks to increase customer loyalty and encourage customers to spend more on Disney's streaming services, theme parks, merchandise and other Disney products and services. Disney CEO Bob Chapek supports such a program, says the Wall Street Journal.
Though Disney confirmed they are exploring a membership program, pricing and actual perks, discounts, and possible launch date are sheer speculation at this point. Gizmodo reports that an Amazon-Prime-style membership could be available for Disney later this year.
"Technology is giving us new ways to customize and personalize the consumer experience so that we are delivering entertainment, experiences and products that are most relevant to each of our guests. A membership program is just one of the exciting ideas that is being explored," said Kristina Schake, senior executive vice president and chief communications officer at Disney, in a statement.
This news comes less than a month after Disney issued their third-quarter earnings report for fiscal year 2022 which revealed they have now passed Netflix in terms of subscribers. In the August 10, 2022 earnings release, Chapek said they had 14.4 million new Disney+ subscribers in the third quarter, growing to 221 million total subscriptions across their streaming offerings.
The Wall Street Journal reports that early planning for a membership club includes giving Disney+ subscribers the ability to buy Disney-related merchandise at the Shop Disney website by scanning a QR code. This is similar to Netflix's official store, launched in June 2021, that features Netflix-themed merchandise on popular original programs including Stranger Things, Ozark, Squid Games and The Witcher. Netflix also has an exclusive merchandise hub relationship with Walmart, which was announced last October.
D23, the official Disney Fan Club
Disney already has several membership programs including D23, the official Disney Fan Club, which has three tiers: a general plan (free), a gold individual plan ($99.99 a year) and a gold duo plan ($129.99 a year). Each tier has different benefit levels. The free Disney Fan Club membership includes access to general events, the FanFare newsletter and participation in a sweepstakes. The paid memberships include membership cards, access to Gold Member events, D23 Expo discounts, a 2022 Gold Member collector set, and an annual subscription to the Disney 23 publication. Disney explains the D23 fan club in this video:
Disney Vacation Club
This proposed membership program would also be separate from the Disney Vacation Club, a customizable membership program that works like a timeshare. Disney markets the vacation club as an opportunity for members to save up to 50% on deluxe vacation accommodations, and they offer financing to help families purchase a real estate interest in a Disney Vacation Club Resort. Additional fees and annual dues are part of the club's costs. Here are some examples of pricing for a timeshare at several of Disney's top resorts.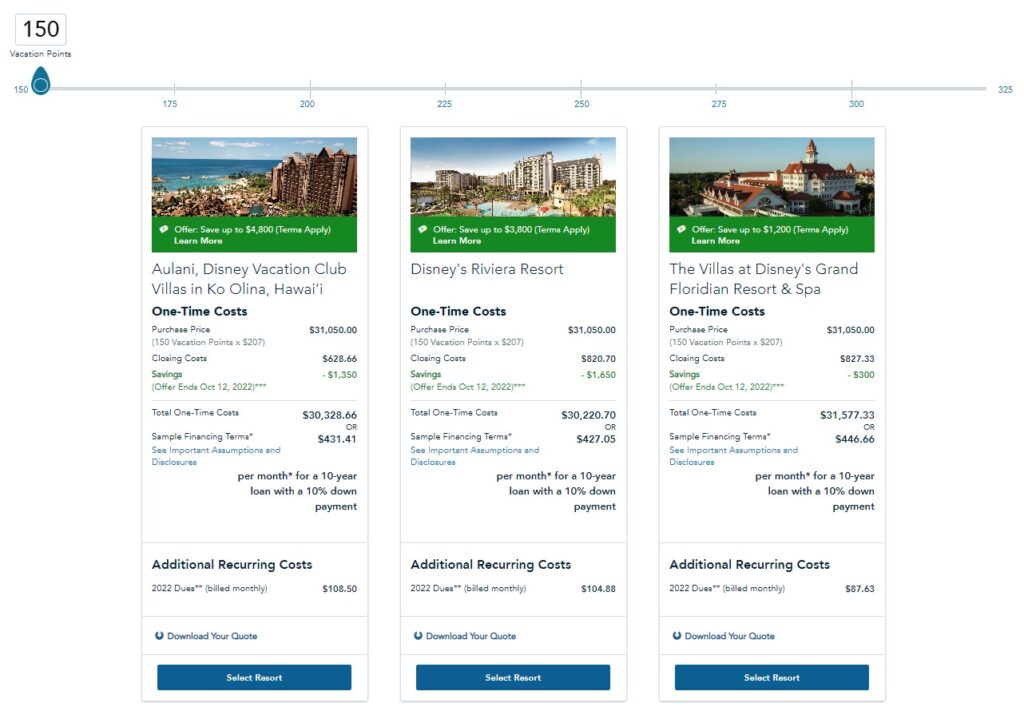 In addition to the timeshare available, Disney Vacation Club members get discounts and special offers on hundreds of dining options, events and experiences, shopping, tickets and tours.
Insider Take
The pandemic has been tough on Disney, particularly with significant losses at their theme parks and resorts which are finally starting to bounce back. Disney's streaming services (Hulu, Hulu + Live TV, Disney+ Hotstar and ESPN+) have done well for the most part. Leveraging that brand to bring a membership program to Disney fans is a no brainer. A new membership program is an excellent way for Disney to continue to build on brand loyalty and increase retention for Disney+, so they retain their competitive advantage over Netflix and other streaming services. A new membership program would diversify revenue streams that might help Disney overcome some of the initial losses that come with frontloading Disney+ with exclusive content.