In case you missed the ads about cocoa butter and camping supplies, Amazon's annual Prime Day shopping extravaganza was last week, July 12-13. Amazon said that Prime Day 2022 was the most successful Prime Day in company history. Amazon Prime members saved more than $1.7 billion on over 300 million items worldwide.
Amazon also said the two-day shopping event was the largest ever for selling partners, including small- and medium-sized businesses. In fact, Amazon's partners did so well that their sales surpassed Amazon's own retail business. Customers spent more than $3 billion on over 100 million small business items that were included as part of the "Support Small Businesses to Win Big" sweepstakes.
"Prime Day is a celebration of our Prime members, who look forward to this event every year, and we're thrilled to have delivered incredible savings to them once again," said Doug Herrington, CEO of Amazon Worldwide Stores, in a July 14 news release. "This special event is made possible because of the support of our employees, vendors, and sellers, and I want to give a big thank you to all of them for making this a Prime Day to remember."
Prime Day 2022 highlights and trends
Amazon shared highlights and trends for Prime Day 2022, including the following:
Prime members in the U.S. bought more than 60,000 items per minute.
The biggest sales period in the U.S. was between 8 and 9 p.m. Pacific on Wednesday, July 13. Internationally, the hottest time for sales was between 9 and 10 a.m. Pacific on Tuesday, July 12.
Best-selling categories in the U.S. were consumer electronics, household essentials and items for the home.
Shoppers in the U.S. bought more than 1.2 million pairs of sunglasses and more than 1 million swimsuits.
Best-selling items included Apple Watch Series 7; Bentgo Kids lunch boxes; Beats by Dre headphones and earbuds; LEGO sets; and Amazon Fire TV, Echo and Blink devices.
Amazon Live Prime Day streams had more than 100 million views, and thousands of creators streamed throughout the shopping event.
Amazon did not report on the success of their Prime Stampcard, a new program designed to increase loyalty across Amazon products and services. With the Prime Stampcard, shoppers earned a $10 credit each time they collected stamps for completing each of four activites.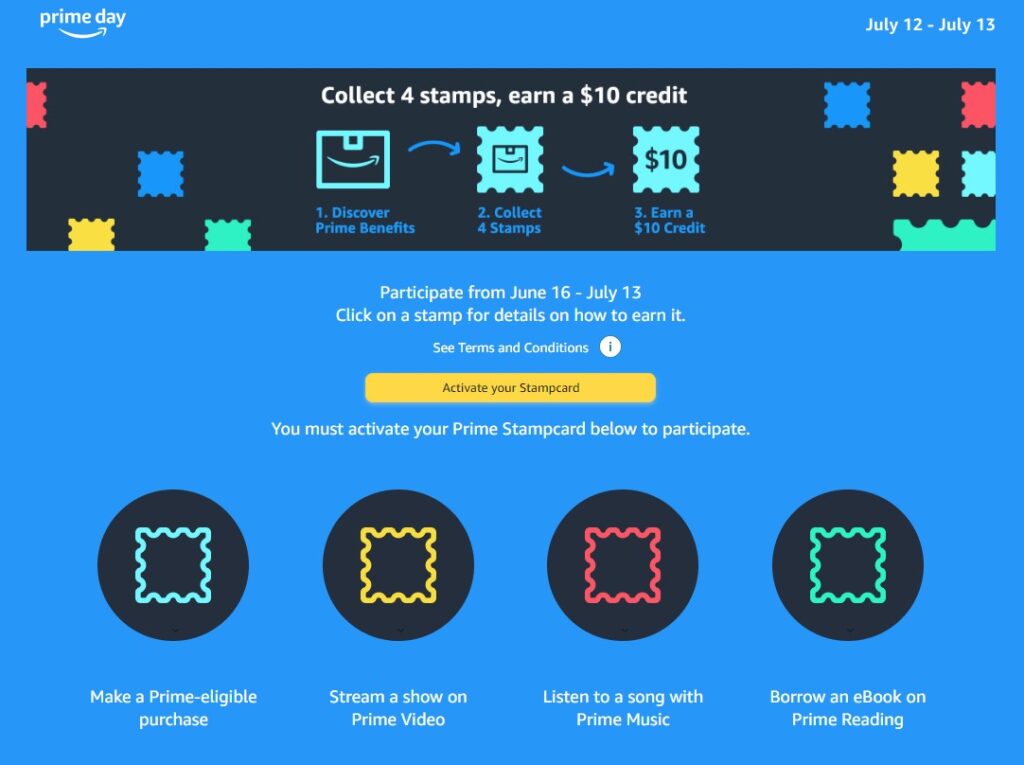 Amazon Prime membership
Shoppers had to be Amazon Prime members to be able to participate in Prime Day 2022, and that comes with an annual subscription cost of $139 a year or $14.99 a month, a $20 increase for an annual membership and a $2 per month increase for a monthly membership. Amazon reports that the popular membership program has more than 200 million paid members globally, though not all markets offer Prime Day savings. Members get a host of benefits including access to movies and TV shows through Prime Video; 2 million ad-free songs through Amazon Music; free games through Prime Gaming; free photo storage through Amazon Photos; unlimited, fast shipping; fast, free delivery on prescriptions through Amazon Pharmacy; and more.  
Insider Take
Congratulations to Amazon on another successful Prime Day event, particularly in light of the continuing impact and uncertain global political and economic conditions! This event appears to have been good for all involved – Amazon, their third-party sellers, and Prime members who enjoyed big savings. The big question is how this will impact the company's bottom line. When the company reported its first quarter 2022 financials, Amazon posted a $3.8 billion loss, compared to net income of $8.1 billion for the same period the prior year. Will the success of Prime Day help or hurt Amazon? We won't know until the third quarter financials are in this fall, but Amazon may mention them during their earnings presentation for the second quarter which is scheduled for July 28.