The Atlantic is experimenting with dynamic subscription pricing, hoping to attract more subscribers and increase average revenue per user, reports Digiday. The Atlantic hopes that dynamic subscription pricing will help them reach their next major benchmark – 1 million print and digital subscribers by the end of 2024. The 165-year-old company currently has 860,000 subscribers, 42% of whom are digital-only subscribers and 58% are print and digital subscribers, Digiday says.
In addition to growing their subscriber base to reach their subscriber target, The Atlantic wants to reduce churn. To get there, current subscribers may be offered different pricing based on the likelihood they will leave when their subscription expires. For example, if the magazine thinks a subscriber is more likely to churn, they may offer a lower dynamic subscription price to entice them to stay. This gives The Atlantic more time to show additional value to that group of subscribers.
The company built the dynamic paywall internally and started testing it on their website last summer. They plan to roll it out to more readers in early January. Though The Atlantic didn't reveal their dynamic subscription pricing, they told Digiday pricing would range between $60 and $100. Subscription offers would be made based on reader behavior on The Atlantic website and not on zip code or other demographic data.
Nick Thompson, CEO of The Atlantic, explained that there are many factors that determine what pricing a particular group is offered. It includes things like the original source for the traffic, time of day, reader history (have they visited before, do they regularly hit their paywall max, etc.), the type of content they read, how much content they read, and the amount of ad inventory that's been sold at a given point in time.
Their current pricing is as follows: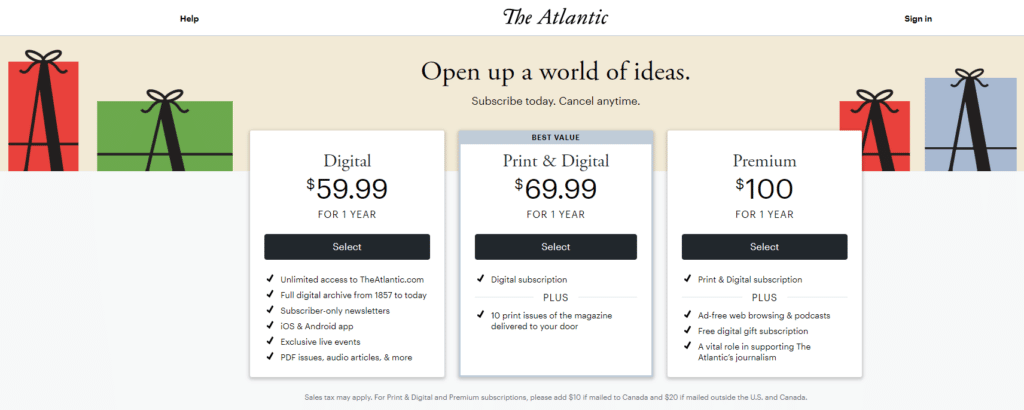 Thompson said the tests have yielded new subscribers and increase ARPU as they originally hoped.
About dynamic pricing
Dynamic pricing can help businesses maximize profit by utilizing several price points, but it doesn't work for everyone, and it may not always work for the subscription model. Uber uses time-based "surge" or peak pricing based on demand. Segmented pricing, which is what The Atlantic is doing, works if segments of an audience value a product differently, says Jay Fuchs for HubSpot. Segmented pricing can be based on a number of factors including customer personas (e.g., using demographics), location, and whether or not a product is a physical or digital good. Fuchs gives the example of a board game. People might be willing to pay more for a physical board game than they would a digital version.
Examples of dynamic pricing
AI Multiple shared several examples of companies who have successfully used dynamic pricing. Amazon is one of them. Based on data on their 300M active users as of October 2021, market trends, and user behavior, Amazon changes pricing every 10 minutes, increasing profits by 25%. Google Ads uses dynamic pricing to ensure they get top dollar for advertising placement. Customers bid for keywords, location, industry and audiences.
Airbnb bases their pricing on a range of factors including the seasons, supply and demand, the day of the week, number of days left to book, competitor occupancy and pricing, and the quality and number of property reviews. They offer Smart Pricing to help hosts select the right price for their property, reports AI Multiple. Airbnb says that hosts who book within 5% of the suggested pricing are four times more likely to be booked.
Insider Take
Dynamic pricing isn't necessarily a new concept, but it is very interesting to see a subscription company employ it and to be so willing to share their research and plans. The Atlantic has been testing the idea since last year, and Thompson is incredibly smart. He wouldn't try dynamic pricing if he didn't think it would be successful. The Atlantic is willing to take some risk to potentially reap a greater reward.
The biggest risk is how consumers will feel if or when they find out about it. We have witnessed this upon occasion as we've visited different subscription company sites. For example, if we visit a streaming service more than once for research, the offer and price often change. Is it because of our browsing history, our referral source, or our cookies? Are we more likely to sign up because we subscribe to other publishers like The New York Times and the Wall Street Journal?
On the consumer side, we aren't fans because we don't want to be part of the group that is paying a higher dynamic subscription price. Consumers also question what user data is being shared with companies using dynamic pricing. On the subscription company side, we think it is a concept worth exploring. Worst case scenario, The Atlantic doesn't reach their goals and they go back to their previous pricing model.