Car subscriptions have been around since the mid to late 2010s and, to date, none of them have been wildly successful. Many automakers have tried them – Lincoln, BMW, Mercedes, Hyundai, Ford and others. Some quickly shuttered their programs after launch, while others went through fits and starts, revamping and revising but never seeming to get it quite right. One company – FINN – is determined to make a go of the car subscription model, and they are taking a new approach they hope will set them apart from those who have tried and failed.
FINN launched in Germany in 2019 and expanded to the U.S. in 2022. Their car subscription service is currently available in 12 states in the U.S. – Connecticut, Maine, Maryland, Massachusetts, New Hampshire, New Jersey, New York, Pennsylvania, Rhode Island, Vermont, Virginia, and Washington, D.C. – and, based on their growth to date, they have plans for continued expansion state by state. Their sights are next set on Florida and California.
One of the key differences between FINN and other car subscriptions is that the company doesn't limit itself to one automaker. Instead, they have relationships with multiple automakers and auto dealers, so customers can select the brand, make, model and color from a fleet of 20,000 vehicles (6,000 in the U.S. or on-order and the balance in Germany.)
FINN works directly with original equipment manufacturers (OEMs) to order and source the cars needed to meet demand. They take delivery of the cars with support from a network of dealers. In the U.S., they work with GM (Cadillac, Chevrolet, GMC), Stellantis (Jeep, RAM), Nissan, Tesla, and Volkswagen, and they are working with other companies to add them to their growing list of offerings.
The cars come from OEMs and are purchased or leased by FINN to guarantee a steady flow of inventory. They arrange the acquisition of cars with the support of dealer partners, and FINN holds the vehicle titles. Once the car subscriptions for the vehicles are terminated – usually between 10,000 and 15,000 miles – FINN sells the cars back to their dealer network partners.
Unlike car subscriptions available through specific brands, FINN has found success by focusing on a subscription model with fixed terms, affordability and model choices. They are among the few car subscription services that are brand agnostic – they offer multiple brands, makes and models. FINN also uses automation and technology infrastructure to make the car subscription process efficient and hassle-free for customers.
Copyright © 2023 Authority Media Network, LLC. All rights reserved. Reproduction without permission is prohibited.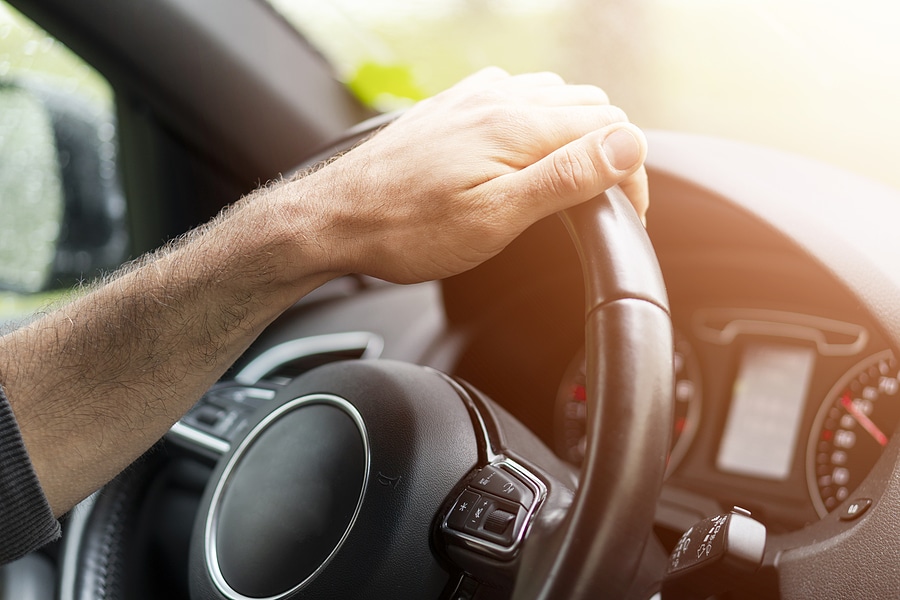 What car subscriptions have in common
Before we dive into FINN's car subscriptions, let's look at what most car subscriptions have in common:
Many car companies are looking to the subscription model to reach drivers who don't want the commitment of owning, financing or leasing a vehicle. This includes luxury car drivers who want to change out their vehicles frequently, and younger drivers who don't want the commitment of owning and maintaining a car.
The car subscription often works like a lease but without the big down payment or a long-term commitment.
Most car subscription companies offer all-inclusive pricing, though terms and conditions vary by manufacturer. The pricing typically includes routine maintenance, roadside assistance, car insurance, delivery and pick-up, concierge service and a cap to miles that are allowed without an extra charge.
Most car subscriptions can be ordered online or through an app through a relatively simple checkout process. Credit worthiness is required.
Vehicles are typically delivered directly to the consumer, but in some cases, subscribers take delivery at a participating auto dealer.
Car subscriptions can be expensive and out of reach for some consumers. This is because most subscriptions apply to new makes and models, and the all-inclusive pricing drives up the cost. For example, comprehensive car insurance is included and this increases the monthly payment.
A number of auto makers have tried the car subscription model and have either discontinued or revamped their subscription programs. For example, in 2017, Hyundai launched a subscription program for their Ioniq electric car. That car subscription faded away without fanfare. Earlier this year, Hyundai launched a (new) subscription program – but they aren't calling it a new program or a revamp, though the program itself is quite different. The automaker is marketing it as though this is their first car subscription rodeo.
Care by Volvo is another subscription that showed initial promise, but Volvo raised the ire of California auto dealers and regulators when they bypassed the traditional automaker – auto dealer relationship. Volvo put the program on pause while they worked out the car subscription's flaws and worked with local auto dealers to ensure they weren't entirely eliminating the middleman. The automaker rebooted the car subscription in California earlier this year.
Copyright © 2023 Authority Media Network, LLC. All rights reserved. Reproduction without permission is prohibited.
How FINN is different
FINN offers more flexibility than most programs. They offer 6-, 12- and 24-month terms to subscribers with 24-month terms reserved primarily for electric vehicles. Subscriptions are not automatically renewable. Once a subscription contract ends, subscribers can choose their next vehicle, whether it is the same make and model or something entirely different.
Customers select from the cars available in their area online or through the FINN mobile app, and the car is delivered directly to them. Because FINN works with so many partners, subscribers have their choice of vehicles. Almost all of the vehicles are brand new, while some are nearly new. Thirty percent of FINN's global fleet are electric vehicles.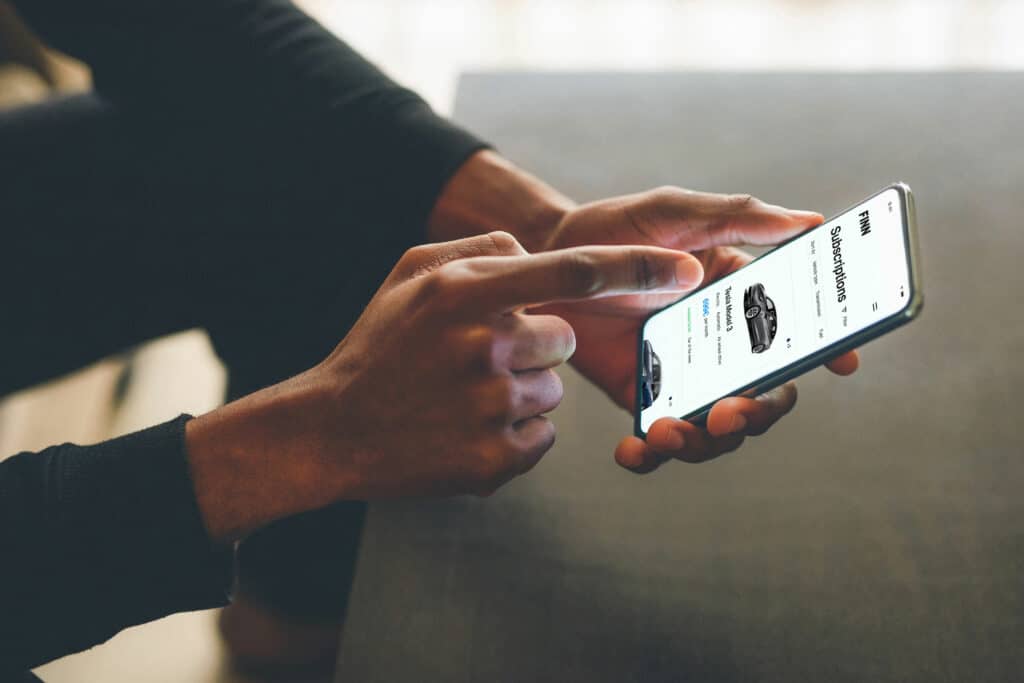 The FINN car subscription offers all-inclusive pricing which includes regular maintenance, comprehensive car insurance, 24/7 roadside assistance, and carbon neutrality via carbon offsets. The car subscription includes 850 miles per month, but additional mileage up to 1,500 miles can be purchased at checkout. FINN vehicles range from compact sedans to full-sized SUVs, and subscriptions start at $509 a month. While they operate similar to leases, there is no large down payment or long-term commitment, and the all-inclusive pricing eliminates the need for extra monthly costs like car insurance.
"We solve a problem for users (hassle-free car ownership experience, flexible mobility), and users love our product. We are growing quickly and will continue to grow as we have observed a market in the U.S. with customers looking for vehicles they can have access to without the burdens and responsibilities of ownership," said Kevin Allen of the FINN car subscription service.
User experience is also an important aspect of the FINN car subscription.
"I'm incredibly passionate about FINN's values, one of which is 'Customer First.' Our excellent customer experience is earned through a simple and easy booking process, unlocking access to a wide variety of new cars to make driving fun," said Maximilian Wühr, CEO of FINN.
FINN's story
The company's young co-founders Max-Josef Meier, Nikolai Schroder, Andreas Wixler, Maximillian Wühr and Hans-Peter Ringer saw the shift in car ownership and recognized the opportunity to use ecommerce and technology to create car buying alternatives. To date, FINN has raised a total of $150 million in equity financing through three rounds, starting with seed funding in December 2019. Two rounds of debt financing have helped them purchase their fleet of vehicles: $525 million ABS in Germany from Credit Suisse and Waterfall Asset Management and $200 million ABS in the U.S. from Waterfall Asset Management.
Three years in, the company has surpassed $132 million in annualized run rate. At the end of 2022, FINN had processed a total of 189,000 transactions. About 10% of FINN's business comes from their U.S. market which is growing at three times the rate of the German market at the same measurement in time. FINN expects the percentage of their total business in the U.S. to continue to grow. The company currently has 21,000 active subscriptions globally, including subscriptions that have been booked but are in-transit.
FINN offers four main products:
B2C Car Subscriptions: The company tries to make mobility fun and sustainable through its B2C car subscriptions, allowing consumers to select vehicles with 6, 12 and 24-month subscription terms.
B2B Car Subscriptions: FINN also supports easy, flexible fleet management for businesses of all sizes.
FINN Car Remarketing: The company works with its dealer network to remarket reliable, single-driver, low mileage vehicles.
JobAuto: In limited markets, FINN helps businesses offer car subscriptions as an employee benefit.
What we like about this model
There is much to like about the FINN subscription model. Here are a few of our favorite aspects:
The FINN car subscription service offers term flexibility.
There is a wide variety of vehicles, including electric vehicles which are growing in popularity.
The company uses carbon offsets to achieve carbon neutrality.
FINN isn't limited to one product or revenue stream. They maximize their revenue opportunities through diversification, specially through B2C and B2B subscriptions, remarketing and offering car subscriptions as an employee benefit. While these ideas may not all be popular in the U.S. yet, there is significant potential.
FINN is thinking outside the box and testing before scaling up. FINN has applied what they've learned in Germany and are growing their company one state at a time in the U.S.
Car subscriptions are the future
The auto market will likely always have a place for traditional car ownership and leasing, but as younger generations become drivers, their desire for flexibility and sustainability diminish, making room for growth in the car subscription arena. To date, no single company has nailed the car subscription model, so there is room for a lot of growth and improvement. Automakers, who are among those still learning how to make a subscription model work effectively, are trying to find other ways to infuse subscriptions into their revenue mix through infotainment systems, added features through subscriptions (e.g., heated seats), etc. Consumers have embraced the idea of pay-as-you-got and a la carte subscriptions, but car subscriptions have not yet gained mainstream popularity. We think they'll get there. Car subscriptions will eventually penetrate more markets, so there is a lot of opportunity for companies like FINN to experiment until they find a subscription model that works. Will FINN be the first to succeed?
Copyright © 2023 Authority Media Network, LLC. All rights reserved. Reproduction without permission is prohibited.