Amazon is the latest company to slash its staff, laying off as many as 10,000, reports The New York Times. The layoffs, which will mostly impact full-time corporate and technology workers, could occur as early as this week. Mirroring Meta who just laid off 11,000 employees, this round of layoffs will be the biggest in the company's history. Among those to be laid off will be employees in Amazon's devices division, including Alexa, retail and human resources, according to sources familiar with the matter.
Though 10,000 employees is a significant number, it represents about 3% of Amazon's global workforce of over 1.5 million. The Times says that the layoffs are not likely to come all at once, but team by team as projects are completed. In addition, the company has started laying off recruiting contractors, reports the Wall Street Journal.
In an exclusive report last week, the Journal reported that Amazon leadership has been evaluating the success versus investment into the company's Alexa voice assistant. The Alexa project has received significant investment capital, but that Amazon's devices unit has lost billions of dollars in recent years.
"Our senior leadership team regularly reviews our investment outlook and financial performance, including [it] as part of our annual operating plan review," an Amazon spokesman said in a statement. "As part of this year's review, we're, of course, taking into account the current macro-environment and considering opportunities to optimize costs."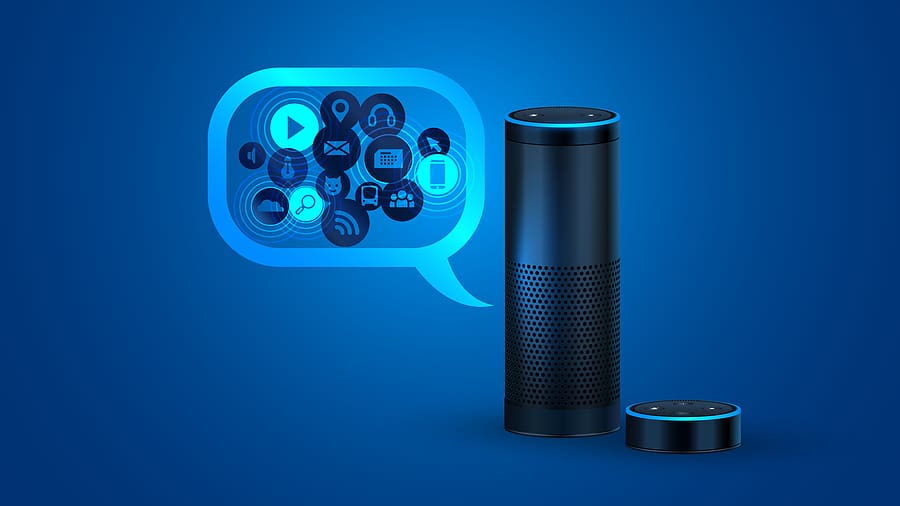 Hiring freeze
This news comes less than two weeks after Beth Galetti, vice president of people experience and technology at Amazon, announced a hiring freeze. Employees were notified on November 2, and Galetti posted a blog titled "A Note about Hiring from Beth Galetti" on Amazon's news page the following day.
"With the economy in an uncertain place and in light of how many people we have hired in the last few years, Andy and S-team decided this week to pause on new incremental hires in our corporate workforce. We had already done so in a few of our businesses in recent weeks and have added our other businesses to this approach," Galetti wrote.
"We anticipate keeping this pause in place for the next few months, and will continue to monitor what we're seeing in the economy and the business to adjust as we think makes sense. In general, depending on the business or area of the company, we will hire backfills to replace employees who move on to new opportunities, and there are some targeted places where we will continue to hire people incrementally, added Galetti.
Galetti explained that Amazon faces challenges in the current macroeconomic environment, as we are seeing across the technology sector at companies like Meta, Microsoft and Twitter. They are trying to balance hiring and investments, while also cutting costs and focusing on strategic priorities. At the time the hiring freeze was announced, Galetti said Amazon will "hire a meaningful number of people" next year. It is not clear if this round of layoffs will impact next year's hiring.
Amazon stock
As of 8:12 a.m. Eastern yesterday, Amazon stock was valued at $98.49 per share, following a dip on November 9 that brought the stock dangerously close to the company's 52-week low of $86.14.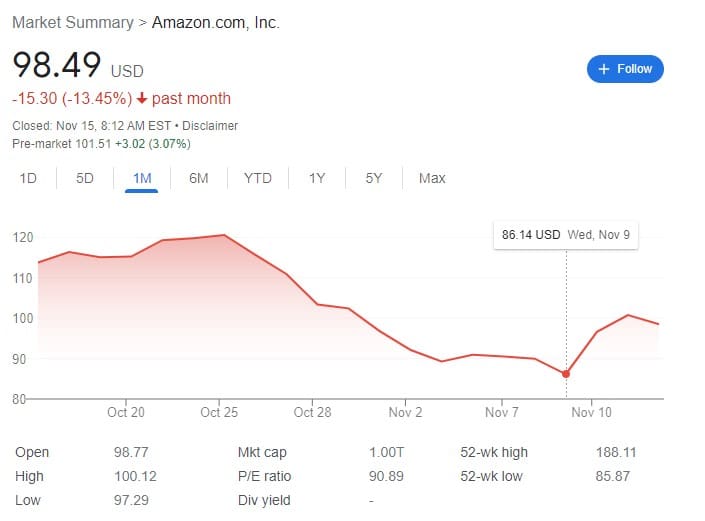 Insider Take
American tech companies are taking a major hit in the current economy, and we have not seen the worst of it yet. Companies are laying off thousands of employees after ramping up operations during the pandemic to satisfy rising demand. Demand is slowing while costs are escalating at alarming rates. Cutting staff is one of the fastest ways to reduce costs, but there are often severance costs incurred which initially offset the savings. And big moves by corporate America signal that if the big guys aren't making it, they either scaled up too quickly and weren't anticipating a downturn, or things are going to get much worse and they are trying to brace themselves for what's coming.