On Monday, Amazon CEO Andy Jassy told employees the company was eliminating another 9,000 jobs over the next few weeks. The job cuts will mostly impact AWS, PXT, Advertising and Twitch. The news followed a comprehensive review of business operations and Amazon's annual planning process. Jassy said the company added staff in the last several years to meet demand, but the company cannot sustain the current headcount. This is the third round of job cuts at Amazon since November.
"Given the uncertain economy in which we reside, and the uncertainty that exists in the near future, we have chosen to be more streamlined in our costs and headcount. The overriding tenet of our annual planning this year was to be leaner while doing so in a way that enables us to still invest robustly in the key long-term customer experiences that we believe can meaningfully improve customers' lives and Amazon as a whole," Jassy said in a message to employees that was posted to Amazon's blog.
As company leaders and managers evaluated their priorities, some staff were cut, others were moved to other divisions and, in some cases, new roles were added if they didn't have the right fit within the team. These additional changes will result in the elimination of 9,000 more positions, bringing Amazon's total job cuts to 28,000 just since November. These are the largest layoffs in company history.
"Some may ask why we didn't announce these role reductions with the ones we announced a couple months ago. The short answer is that not all of the teams were done with their analyses in the late fall; and rather than rush through these assessments without the appropriate diligence, we chose to share these decisions as we've made them so people had the information as soon as possible," Jassy added.
Amazon said the company will help terminated employees with packages that include severance payments, transitional health benefits, and external job placement support.
Copyright © 2023 Authority Media Network, LLC. All rights reserved. Reproduction without permission is prohibited.
Three rounds of job cuts since November
In November 2022, Amazon announced there would be 10,000 job cuts, approximately 3% of the company's global workforce of over 1.5 million. They also implemented a hiring freeze, citing the uncertain economy and the need to make adjustments to face those challenges. Fast forward two months and Amazon announced an additional 8,000 jobs would be eliminated from Devices, Alexa, Retail, Amazon Stores, PXT, AWS, Amazon Prime and other corporate and tech divisions.
"Amazon has weathered uncertain and difficult economies in the past, and we will continue to do so. These changes will help us pursue our long-term opportunities with a stronger cost structure; however, I'm also optimistic that we'll be inventive, resourceful, and scrappy in this time when we're not hiring expansively and eliminating some roles," the CEO said in a January 4, 2023 blog post. "Companies that last a long time go through different phases. They're not in heavy people expansion mode every year."
Amazon's 2022 financial performance
In February, Amazon reported its fourth quarter and full year 2022 financial results. While net sales were $514.0 billion for the year, a 9% increase year-over-year, operating income decreased to $12.2 billion less than half of what it was for 2021. For 2022, the company reported a net loss of $2.7 billion, or $(0.27) per diluted share.
Amazon stock
On Monday, when the news was made public, Amazon stock was valued at $97.71 per share. Yesterday, at 7:59 p.m. Eastern, Amazon stock was valued at $100.61.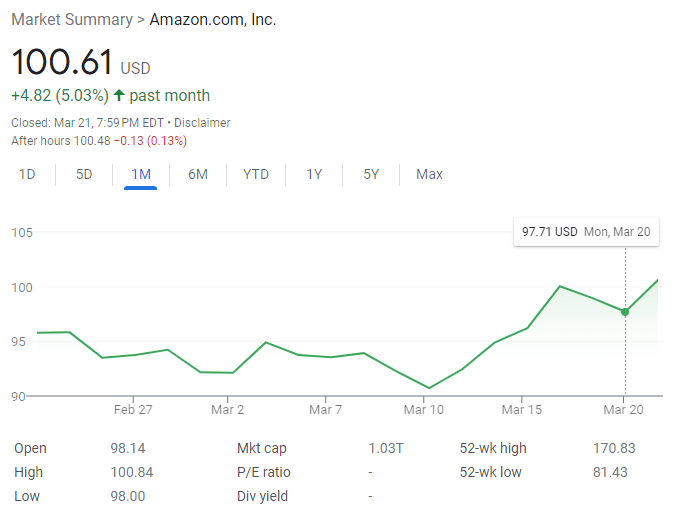 Insider Take
We've seen some media reports blame new CEO Andy Jassy for the financial straits Amazon finds itself in now. While some of these decisions were made on his watch, Jassy was not responsible for the pandemic, the war in Ukraine, an uncertain economy or deteriorating confidence in the banking system. He and his leadership team made decisions they thought were right at the time.
That said, three rounds of layoffs in four months is staggering – a loss of 27,000 more jobs. Is this the end or are Amazon employees holding their breath to see if their jobs are in danger? In addition, Amazon is touting how they make their customers' lives easier, they are cutting some of the very staff who support customer-driven products and services like Amazon Prime, Alexa, AWS and Twitch, to name a few. It seems that multiple rounds of layoffs have the potential to do more harm than good.
Copyright © 2023 Authority Media Network, LLC. All rights reserved. Reproduction without permission is prohibited.