We are two months into 2023, and we are already seeing new subscription trends emerge. As the economy weakens, consumers expect more from their subscriptions, and subscription companies have to figure out how to weather the global uncertainty, including managing the customer journey, addressing churn, and managing internal operations. To get a feel for what consumers want and how subscription companies are adapting, let's take a look at what industry experts are seeing, what their data and research shows, and we'll wrap it up with some key takeaways from Recurly, FlexPay, PYMNTS and sticky.io.
Industry Reports
We looked at three industry reports and compared and contrasted the data. Each had a different set of source data, but there were some crossovers in their data, conclusions and takeaways.
Recurly – The 2023 State of Subscriptions, Strategies and Trends for Subscription Growth
This in-depth, 31-page report includes data from Recurly merchants – 2,200 leading brands who have a recurring revenue or subscription component to their business. In total, the brands have more than 55 million active monthly users.
FlexPay – The State of Subscription Business: Best Practices and Business Performance Drivers (January 2023)
Done in collaboration with PYMNTS, this detailed, 18-page report surveyed 200 executive decision makers of companies who offer subscription products and services. The survey was conducted between September 12 and September 28, 2022. The businesses surveyed generate more than 40% of their revenue from subscriptions and have at least $100 million in annual revenue.
sticky.io – Top Subscription Economy Statistics to Grow Your Business, originally published in May 2022 and updated January 2023.
Using their Subscription Commerce Conversion Index, sticky.io prepared a report based on a "census-balanced survey" of 1,919 U.S. consumers conducted between February 24 and March 21, 2022. Also done as a collaboration with PYMNTS, the report looked at features that drive consumer loyalty for subscription companies of all sizes.
Copyright © 2023 Authority Media Network, LLC. All rights reserved. Reproduction without permission is prohibited.
Recurly
Recurly's report was the most extensive and, because it was based on first-party data from their own merchants, the data was the most comprehensive. The subscription and billing platform that boasts TIME, SproutSocial, FabFitFit and Paramount+ as customers said that, despite global macroeconomic challenges, the subscription industry is still among the fastest growing. The industry is, however, maturing and subscriptions must adapt to meet their customers needs.
Recurly believes the data is critical for any subscription company to understand the health of their business. Armed with the right data, companies can better understand their customers' behaviors, what's driving their decisions, and identify blind spots and areas for improvement. Data can also help subscription companies determine which acquisition channels are the most successful, how their payment processing is working, and help make strategic decisions that will drive future success.
"Benchmarks and best practices are a critical part of how we partner with our customers. The State of Subscriptions report provides key subscriber insights, trends and analysis by industry," said Dan Burkhart, co-founder and CEO at Recurly, in a January 24, 2023 news release. "Subscription-based businesses can use these findings to evaluate their own performance against industry benchmarks, but also identify efficiencies and execute strategies which will help them level-up in 2023."
Here are a few highlights from Recurly's report:
Free trials

Last year, 35 million free trials were accepted by Recurly merchants.

The average site level conversion rate was 38.1% with the highest conversion rate in the Digital Media & Entertainment category at 43.3%.

The most successful conversion rates were those that were less than or equal to 7 days. Those converted 42.8% of the time.

Free trials that didn't require billing information up front had an average conversion rate of 25.5%. The average conversion rate for those that did require billing information was 40.1%.

Gift subscriptions

In 2022, 289,952 gift subscriptions converted into recurring subscriptions, lasting an average of 345 days.

However, gift subscriptions we not as widely used as free trials and coupons.

Nearly 70% of consumers want to give and receive gift subscriptions, but fewer than 5% of Recurly's merchants off gift subscriptions. This is an opportunity!

Payments – top payment methods

18.8% PayPal – This was the most popular alternative payment method.

Decline rates are approximately 5.4% for credit cards, 11.1% for debit cards, and 5.8% for alternative payment methods.
Churn rates

For 2022, the average overall churn rate was 6.7% with a 2.2% average involuntary churn rate and a 4.65 average voluntary churn rate.

Recurly merchants sent more than 300 million emails in 2022, including 70 million dunning emails.

From those dunning emails, Recurly merchants recovered $214 million.
FlexPay and PYMNTS
In a collaboration that was previewed at Subscription Show 2022, FlexPay and PYMNTS conducted a survey to get subscription insights from the perspective of subscription company decision makers. They asked a range of questions including everything from what challenges are you facing now to what metrics do you track and why.
"The State Of Subscription Business: Best Practices And Business Performance Drivers, a PYMNTS and FlexPay collaboration, examines
the relationship between payments friction and customer churn in the subscription industry and takes a deep dive into the best practices of the firms that best manage these challenges," said FlexPay in the report's introduction. "This is what we learned."
Highlights from that report include the following:
Challenges in the next 12 months

37% of those surveyed said the economic downturn was their biggest concern, followed by 18.0% who were most concerned about cost increases and inflation, and 14.5% who were most concerned about attracting new customers.

Other challenges cited as the most concerning were retaining existing subscribers (14%), an ability to hire quality employees (9.5%), external funding (6.5%) and supply chain issues (0.5%).

Top operating metrics – share of companies that track certain subscription-based metrics, by failed-payments recovery performance (We are showing the metrics for all companies surveyed. FlexPay broke it out into four categories: all companies surveyed, and top, middle and bottom performers.)

Customer churn rate – 36%

Customer retention rates – 28%

Payment recovery rates – 27%

Monthly recurring revenue – 24.5%

Annual recurring revenue – 23%

Average customer lifespan – 23%

Customer acquisition cost – 22%

Customer engagement – 19.5%

Average order value – 13.5%

Customer lifetime value – 8.5%

Customer lifetime value following failed payments – 8.5%

Top reported reasons for customer churn (We cited most significant factor. FlexPay's metrics were more in-depth).

Card payment declined – 26.5%

Poor customer service – 18.5%

Subscription too expensive – 15.5%

Free or discounted trial period ends – 15%

Difficulties with customer onboarding – 8.5%

Lost to a competitor's service or product – 8.5%

Product or service loses its value – 7.5%

What subscription companies think customers value. (Again, we cited most significant factor. FlexPay's metrics were more in-depth).

24/7 customer self-service options – 41%

Seamless payment experience – 16.5%

Quality of service offering – 14%

Easy onboarding experience – 9.5%

Competitive and promotional pricing – 7.5%

Immediate customer service – 7.0%

New products and features – 2.5%

Personalized customer features – 2.0%

On an interesting side note, FlexPay reported that 27% of consumers are likely to cancel their subscriptions if there are service interruptions due to failed payments. However, only 44% of subscription merchants think that consumers value that.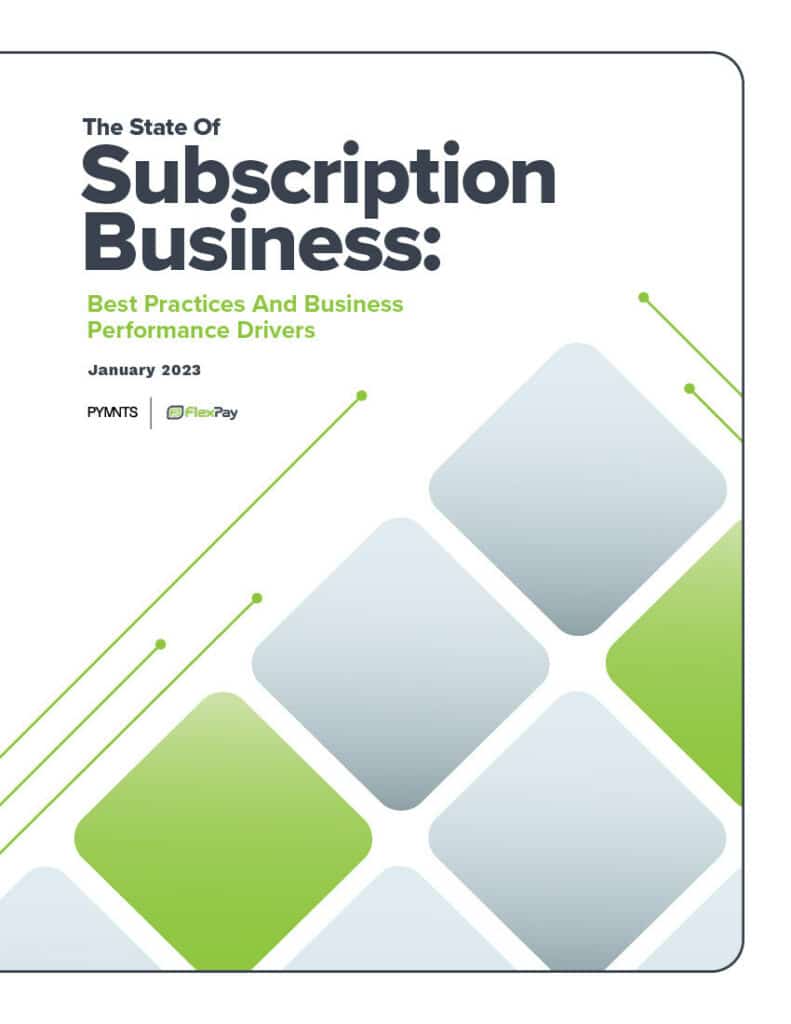 sticky.io
In their report, sticky.io, a full-stack subscription commerce platform, shared trends as of July 2022.
"The past few years have seen enormous growth in subscriptions, but our latest Subscription Commerce Conversion Index shows how recent global developments are disrupting the subscription industry," sticky.io said. "The index, a quarterly collaboration with PYMNTS.com, gives subscription merchants insight into changing consumer demands and offers actionable advice on maintaining subscription success during global disruptions such as inflation and supply chain delays."
22% of nonsubscribers said cost is the most important barrier to a retail subscription
78% of retail subscribers fell the impact of rising prices
81% of subscribers said convenience was most important reason
82% subscribers said they wanted their preferred payment methods as options
81% said they wanted the ability to cancel a subscription immediately without penalty
82% of customers see free shipping as an important subscription feature
47% of subscribers expect better prices as a subscriber to a direct-to-consumer brand

Top takeaways for subscription companies:
Tracking the right metrics can help you make informed strategic decisions about where to allocate your efforts and resources. Track, measure, evaluate, adapt.
Specific metrics to track are customer lifetime value and failed payments.
Use multiple tools and solutions to track and recover failed payments.
Working with a third-party platform with expertise in billing and payments can improve your bottom line in countless ways while also improving the customer journey for your subscribers. There is no one-size-fits-all platform or approach, but contacting a few vendors (we recommend at least three) to see how they can alleviate your pain points is worth the research.
Consider adding a chief subscription officer to your executive team to focus on customer lifetime value and aligning the company's performance with the subscriber experience.
Copyright © 2023 Authority Media Network, LLC. All rights reserved. Reproduction without permission is prohibited.