Newsletter platform Substack seeks $2 million in crowdfunding from readers and writers. In its glory days, Substack was the newsletter platform everyone wanted to be on. Though the popularity of paid newsletters is slowly fading, the five-year-old startup is holding its own and staying true to its mission: "Writers and creators can publish their work and make money from paid subscriptions while readers and consumers can directly support the work that they deeply value."
To continue their work, Substack seeks $2 million in crowdfunding from readers and writers. As of yesterday morning, Substack had more than $7 million in pledges from over 6,200 investors. Previously, Substack raised $2 million in seed funding (2018), $15 million in a Series A funding round (2019), and $65 million in Series B funding (2021).
"Substack's simple publishing tools have helped thousands of writers start thriving businesses that wouldn't otherwise have existed, and its network effects are driving the development of a media economy unlike any the world has ever known—an economy where value is measured not only in dollars but also in quality, in good-faith discourse, and in creating an internet that celebrates and supports humanity," co-founders Chris Best, Hamic McKenzie and Jairaj Sethi said in their pitch to potential investors on WeFunder.com.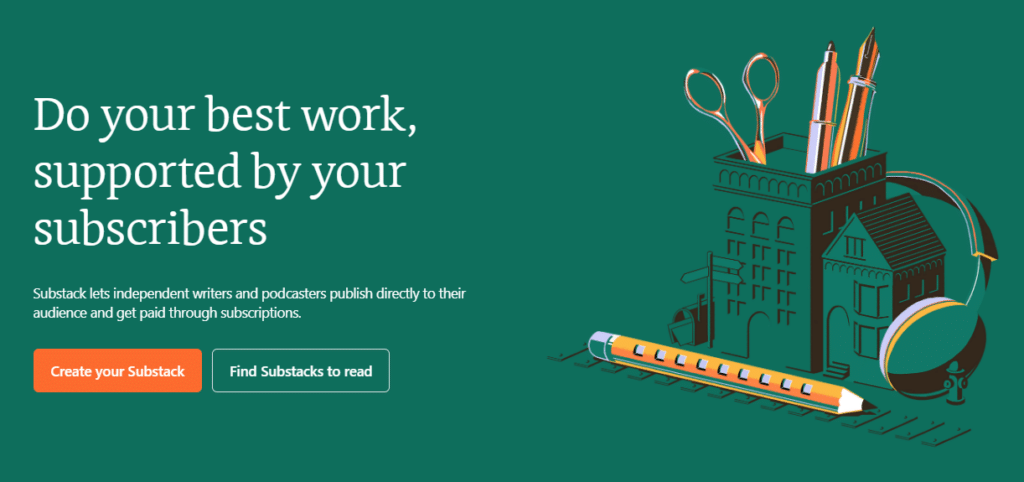 Substack stats
Currently, Substack has 35 million monthly active subscriptions and 2 million paid subscriptions to writers on Substack. More than 17,000 writers earn money from Substack with the top 10 publishers making a collective total of over $25 million a year. Since January 2019, readers have paid writers more than $300 million through Substack.
Substack breaks down the revenue like this: On average, 86% of newsletter subscription revenue goes to writers, Substack receives 10%, and the remainder – approximately 4% – covers payment processing fees.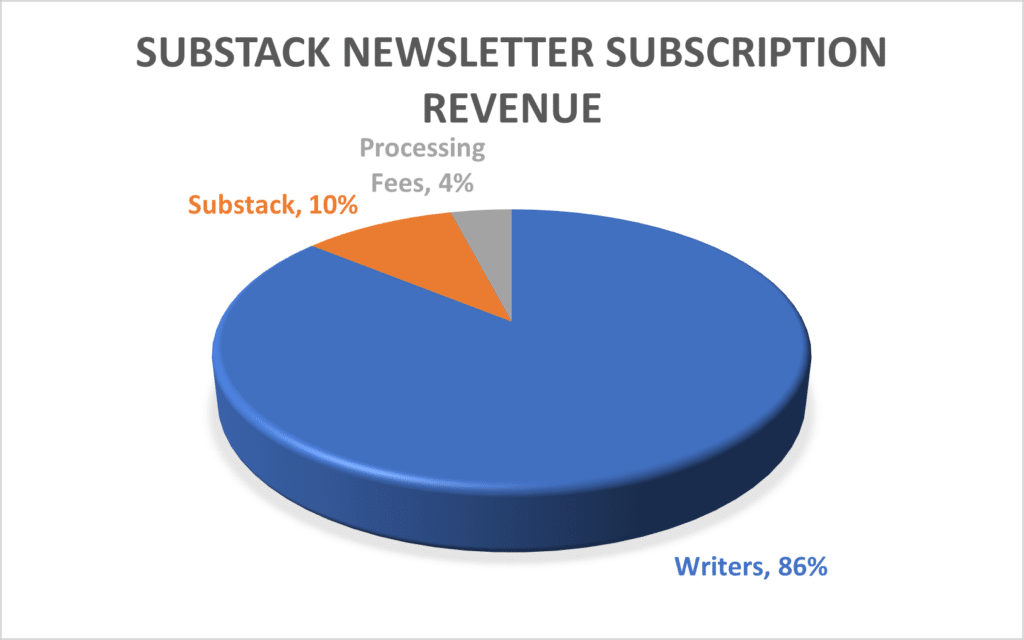 Copyright © 2023 Authority Media Network, LLC. All rights reserved. Reproduction without permission is prohibited.
Why does Substack need money
Prior to the crowdfunding pitch, Substack's valuation was $585 million. Since the platform's launch, Substack has built a larger team, attracted some of the best writers, and added support for podcasts, video and chat within the Substack community. Such changes require financial investment and ongoing support. The paid newsletter platform has also launched the Substack app for iOS and Android. Substack believes the next wave of media and connection goes beyond social media and will be through a subscription network that is based on "deep relationships, trust and creator ownership."
"As Substack grows to accommodate more writers, podcasters, videomakers, musicians, scientists—and culture-makers of all kinds—we see a path to hundreds of millions of subscriptions and a significant cultural impact, which will in turn provide ample financial opportunity," Substack said in their pitch.
The co-founders said they want the self-publishing platform to grow along with writers, and they want writers to benefit from the community they're building, including the financial benefits that come from investing in Substack. In an interesting twist, the company also said that just because a person can invest in Substack doesn't mean they should. They point out that startups are risky, and they don't always make it.
"We're not able to make lots of future projections, but we have big ambitions for the company. We are working on a new economic engine for culture. We think the best way to achieve that is to build a successful independent company, which could involve going public one day, but for now we are focused on building," said Substack. "If you don't have money to spare, don't spend it on this."
The minimum amount to invest in Substack's crowdfunding pitch is $100. Transaction fees from Wefunder apply, except for first time investors in the U.S. who invest via ACH or wire transfer.
Last May, Substack abandoned its plans to get Series C funding in which they hoped to raise $75 million to $100 million, reported The New York Times. Three months later, Substack laid off 13 staff, representing about 14% of the company. At that time, Substack said it will continue to invest in engineering and product development, though they will have to operate differently than they did in the first years of the company in reaction to the weakening economy.
Writers and news outlets on Substack
Substack has an impressive list of writers, celebrities, influencers, journalists and news outlets on their digital platform:
Margaret Atwood
George Saunders
Kareem Abdul-Jabbar
Matt Taibbi
Bari Weiss
Andrew Sullivan
Chuck Palahniuk
Robert Reich
Michael Moore
Patti Smith
The Draft Scout
The Charlotte Ledger
The Mill
City Hall Watcher
The Fifth Column
Insider Take
While Substack is doing many things right, it has competition on many platforms including newsletter rivals, podcasting platforms and media outlets. They seem to have the right idea and the best of intentions, but their business model and funding sources may need a little tweaking to ensure long-term sustainability. That seems to be what this crowdfunding round is about, though it is a less traditional way for a private company to move into the future.
We also notice a striking similarity to Medium, another self-publishing platform that has a similar mission – to focus on quality content, to bring readers and writers together, and to monetize the content so that writers and Medium can all be successful. The key difference between Medium and Substack is that Medium couldn't seem to get their business model right. They have changed so many times, including multiple rebranding efforts and leadership changes, that it is hard to tell what worked and what didn't.
Where Substack seems to excel is that their evolution and changes seem more deliberate and incremental. Instead of turning the cookie jar upside down to get all the cookies out like Medium, Substack built a stronger cookie jar and added cookies (e.g., the app, podcast support, etc.) as they had the resources to do so. They also shared their cookies in a way that attracted the right ingredients.
Copyright © 2023 Authority Media Network, LLC. All rights reserved. Reproduction without permission is prohibited.