Amazon's famous smile isn't smiling quite as big after the company reported its third quarter financials last week. On the plus side, Amazon's net sales were $127.1 billion, a 15% increase year-over-year. This includes $78.8 billion in sales from their North America segment, representing a 20% increase year-over-year, and AWS segment sales of $20.5 billion, a 27% increase year-over-year.
On the flip side, however, Amazon's operating income for the quarter was $2.5 billion, compared to $4.9 billion for the same period last year. Net income was $2.9 billion, or $0.28 per diluted share, compared to $3.2 billion, or $0.31 per diluted share, for the prior year period.
CEO comments
CEO Andy Jassy focused on the positive in his comments.
"In the past four months, employees across our consumer businesses have worked relentlessly to put together compelling Prime Member Deal Events with our eighth annual Prime Day and the brand new Prime Early Access Sale in early October. The customer response to both events was quite positive, and it's clear that particularly during these uncertain economic times, customers appreciate Amazon's continued focus on value and convenience," said Jassy in an October 27, 2022 news release.
"We're also encouraged by the steady progress we're making on lowering costs in our stores fulfillment network, and have a set of initiatives that we're methodically working through that we believe will yield a stronger cost structure for the business moving forward. There is obviously a lot happening in the macroeconomic environment, and we'll balance our investments to be more streamlined without compromising our key long-term, strategic bets," Jassy added.
Quarterly highlights
Amazon shared the following highlights in their news release:
The Lord of the Rings: The Rings of Power drew in more than 25 million viewers around the world on the first day. This was the biggest debut in Prime Video history. To date, the Amazon Original has attracted 100 million viewers.
Amazon is now the exclusive home of the NFL's Thursday Night Football. Kicking off its first season on Amazon, Thursday Night Football had more than 15 million viewers for the first game.
On October 11-12, Amazon held a Prime Early Access Sale to start the holiday shopping season for Prime members in 15 countries. Shoppers bought more than 100 million items. These sales will be reflected in fourth quarter totals.
Amazon opened a dozen more fulfillment centers around the globe, including sites in the U.S., Mexico, Canada, Ireland and Turkey.
Amazon said they are "working to protect customers from fake reviews through legal action against fake review brokers." While Amazon is fighting its own fake review legal battles, the Federal Trade Commission is turning up the heat to stop fake reviews from influencing consumer choices.
Amazon now allows Venmo as a payment choice in the U.S.
Amazon continued to build out its own product line of Fire TV devices, next generation Echo devices, new Kindle tools, expanded Ring devices and more.
The ecommerce retailer is working with top retailers and stadiums to use their Just walk Out technology for check-out free shopping.
The company is investing close to $1 billion in pay increases for employees of Amazon fulfillment centers. In the U.S., average pay at Amazon is more than $19 an hour.
Amazon plans to hire 150,000 people for seasonal, full-time and part-time jobs in the U.S. to help the company get holiday packages delivered.
In the U.S., U.K. and Brazil, Amazon rolled out an additional free mental wellness program for employees and their families through Twill Therapeutics.
The company supported those impacted by Hurricanes Fiona and Ian, and they support those in Ukraine impacted by the war.
Amazon set a goal of hiring 5,000 refugees in the U.S. by the end of 2024.
To get in on venture capital action, Amazon launched Amazon Catalytic Capital to invest $150 million for venture capital, accelerators, incubators and venture studios for underrepresented entrepreneurs.
Fourth quarter guidance
Amazon provided the following guidance for the fourth quarter.
Net sales between $140.0 billion and $148.0 billion, representing growth between 2% and 8% year-over-year
Operating income between $0 and $4.0 billion, compared to $3.5 billion for the same period last year
Amazon stock
Though the fourth quarter is typically a strong quarter for Amazon and the outlook is positive, investors are not impressed by Amazon's current position following the third quarter. Amazon stock was valued at $110.96 per share the day earnings results were announced. As of 9:23 a.m. Eastern yesterday, Amazon stock had dipped to $96.79 per share.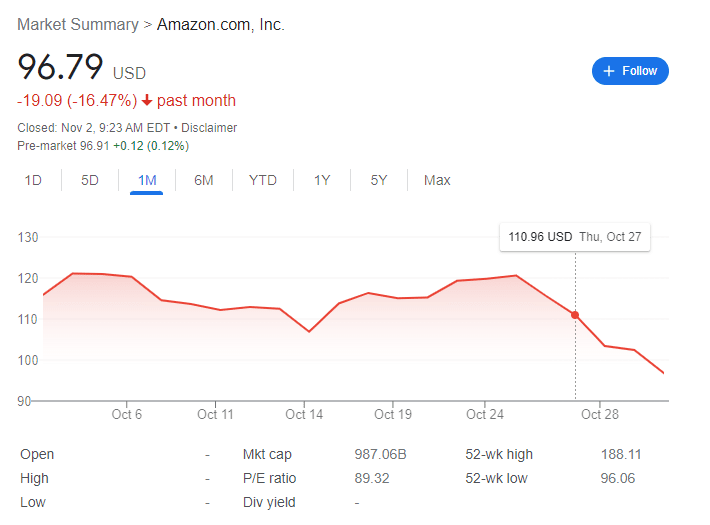 Insider Take
While investors may have concerns about slowing growth for Amazon, Amazon has always had strong long-term goals and strategies, and they pivot quickly. If something isn't working, they fix it, change it or get rid of it. The fourth quarter will include net sales from the October 11-12 savings event as well as holiday sales, so while the economy is weakening, Amazon will continue to do well. Their foray into Thursday Night Football will bring in new Prime members and advertising dollars as well. We expect Amazon to finish the year strong.