Scott Howland, global director of publishing and media for Zephr, works directly with C-level executives on subscriptions and data and technology strategies for consumer revenue projects. In this article, he shares a 40,000-foot view of the subscription technology landscape to help guide subscription professionals in selecting the right tools to optimize their subscriber journeys and maximize recurring revenue.
There are a lot of players and technology options in the subscription industry, and it is impossible to know them all. Whether you are a seasoned subscription expert or new to the industry, Howland breaks it down into manageable segments.
"To navigate this (tech) landscape is a nightmare. This space is so crowded," Howland said. "You could take demos and intros from vendors every minute of every day for a whole year and probably still not complete the whole list."
Getting started
How do you choose the ideal subscription tech stack and how do you get to that for your business? What should you do? How should you navigate? Howland suggests you start by asking yourself these questions.
What is your objective? It may sound counterintuitive, but you aren't going to focus on tech. Instead, focus on your objectives.
What outcomes are you looking for? Match your objectives with your outcomes.
What capabilities do you want to hit those outcomes?
What tech do you actually need?
"Don't have tech for tech's sake," Howland says.
It's all about the subscriber journey
Deciding on your tech stack all boils down to the subscriber journey. While there are many types of subscriptions for products and services, they all have very similar subscriber journeys with the goal to drive acquisition, retention and lifetime value.
The subscriber journey can be categorized into four segments:
Anonymous or Unknown Users: Users you can't identify who visit your website, app, etc. You have no information and no way to personalize their experience.
Registered Users or Known Users: Users for whom you gather minimal data to remove friction and to hopefully move along the subscriber journey.
Customers or Subscribers: Users you have converted from a registered user to a subscriber or someone who went directly to becoming a subscriber.
Retaining Subscribers (active, inactive and churn risk): Customers you want to keep to increase customer lifetime value.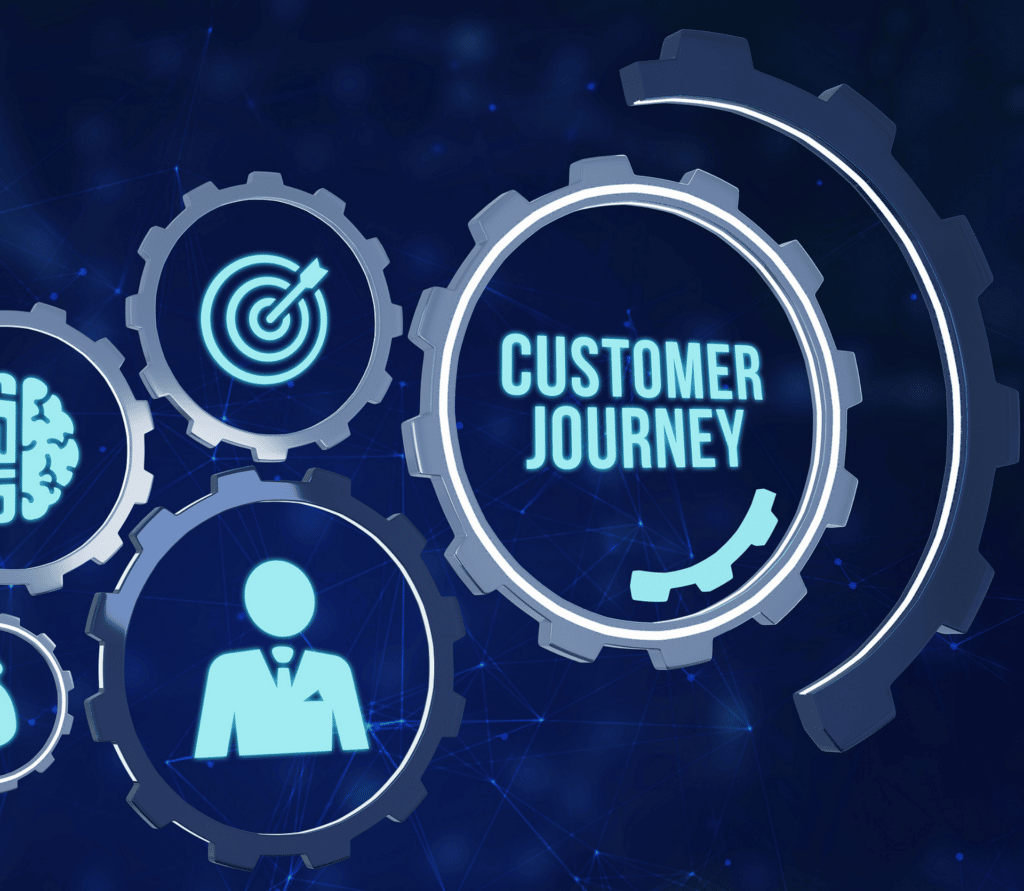 Copyright © 2023 Authority Media Network, LLC. All rights reserved. Reproduction without permission is prohibited.
Acquisition is key
"The subscriber journey begins at acquisition," Howland says.
There are three key outcomes from acquisition: gather data, nurture leads, and convert and sell subscriptions.
"Once you have a customer, your main focus is to keep them happy and paying for as long as possible," says Howland. "Continue to build an understanding of your subscribers, adding to the data you collected before acquisition, and use this information to cater to their needs."
Tech stack at this stage could be a mix of CRMs, identity access management tools and analytics tools that allow you to track engagement of customers and identify churn risks.
"You need the tech solutions to collect, store and act on data insights at scale," Howland explains. "You can automate interaction with leads and attempt to move them down that funnel and along that path to purchase."
In the industry, experts like Howland recommend starting simple – crawl, walk, run.
"Look at it in small steps to make and then increase complexity as you go," he says.
"The key outcomes here are to personalize your experiences, reduce the churn and maximize the lifetime value of your subscribers."
Here are examples of three possible outcomes of acquisition.
Turn more users from anonymous to registered/known users. Registered users are three times as likely to convert into customers/subscribers. Data collected at registration can help you understand your audience and personalize their offerings.
Convert more known users into customers/subscribers. You're looking at the next part of the subscription journey.
Ensure subscribers become advocates.
"Active users are too often overlooked. Turn them into lifelong advocates of the brand. It helps you spread the word about your services which, in turn, is going to decrease customer acquisition cost and your lead time," Howland says.
There are many ways to match tech to acquisition-related outcomes like the examples mentioned above. Consider how much data you are collecting, the amount of free views and your meter count, the trial period, different products and different pricing points.
"There are a lot of options you can look at in these environments," Howland explains. "It's always going to be a test, learn, iterate kind of approach."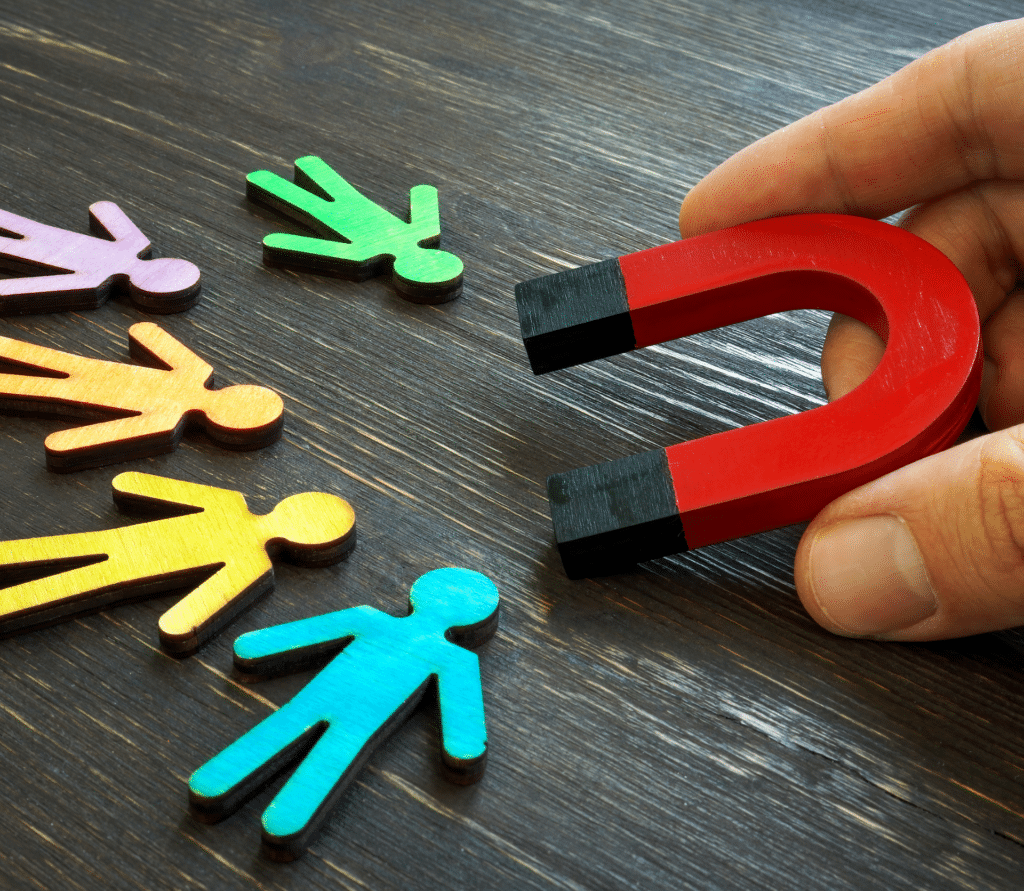 Retention
As with acquisition, when we talk about retention, we are focused on the outcomes. Let's look at a few examples of desired outcomes:
Reduce churn and identify risk markers. Any conversion efforts are undermined by high churn rates, so retention begins at acquisition by converting the right subscriber and ensuring a value fit.
Increase engagement. For example, in publishing, look at usage to try to identify which content strikes the most interest and where people are converting from. Knowing who is reaching which articles will help you personalize the subscription experience to drive more views and increase session times and engagement.
Drive the upsell/cross-sell environment. You should not forget your most satisfied customers, and they shouldn't be forgotten. Existing customers are far easier to sell to than new ones. Actively encourage your subscribers to expand their content package to drive their product usage. Make the upsell process as seamless as possible.
Examine your objectives
As previously stated, you are going to start by matching outcomes and objectives. From there, you can determine what capabilities you need and map that to the technology that meets those needs. Use this sample matrix below to help you determine the tech stack you need for each objective. In this example, we'll look at outcomes for a subscription-based publisher.
| | | | |
| --- | --- | --- | --- |
| Objective | Outcome | Capability | Technology |
| Extract value from event-based spikes in traffic. | Understand your customers. | Move visitors from anonymous to registered states via dynamic data walls and customer registration forms. | Analytics Platform + Customer Data Platform (CDP) |
| Optimize subscription offerings. | Enhance conversion rates. | Create and A/B test conversion journeys at speed using paywalls to monetize valuable content. | CRM + Payment Gateway + CMS + Subscription Management Platform + Analytics Platform + CDP |
| Manage churn. | Reduce churn. | Gain a 360-degree view of the consumer to establish triggers for churn and intervention mechanisms. | CDP + CRM + ESP + Single Customer View + Propensity Model |
| Drive subscriber stickiness. | Maximize LTV. | Use 360 customer view to serve relevant content every single day and build positive habitual interactions. | CDP + CRM + CMS + ESP + SCV Propensity Model + Data Lake + Analytics Platform |
| Build valued customer relationships. | Short-term volatility to long-term profitability. | Fully understand customer joy, pain, needs and behaviors. | A flexible, best-of-breed, customer-centric tech stack that is responsive to shifts in market dynamics. |

Now that you know what technology you need, you can begin looking at the thousands of vendors. Subscription Insider publisher and CEO Kathy Greenler Sexton recommends the "rule of three" – always talk to at least three vendors. If you don't have any technology in place yet, start small and build from that.
Subscription tech landscape – a 10,000-foot view
Where to begin? Look at vendors that provide the type of technology that you need. Here is a sampling from the thousands of companies available, broken down by technology type.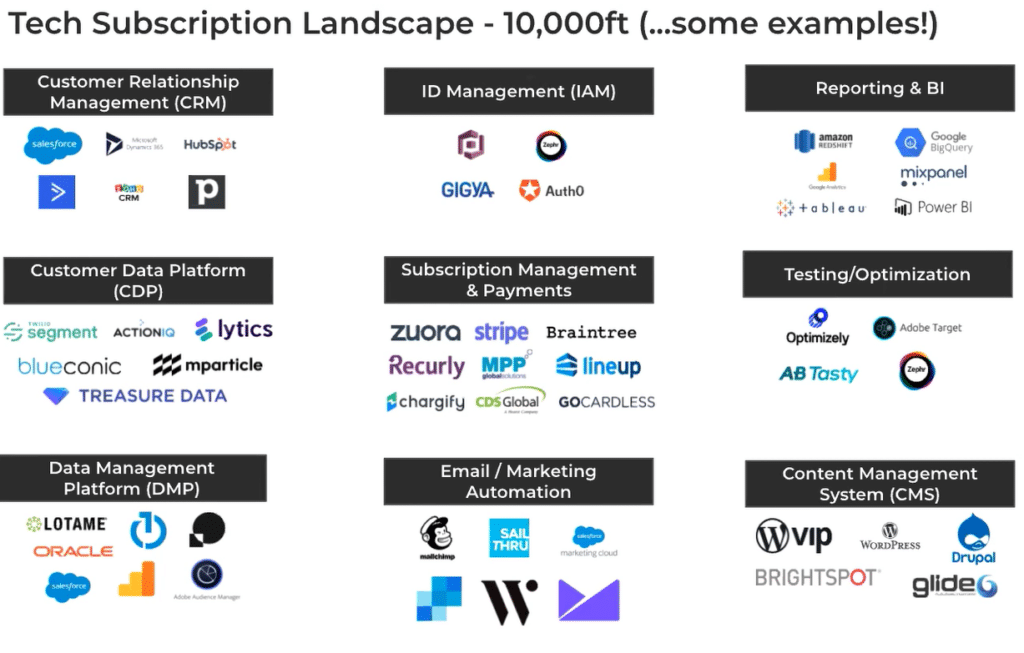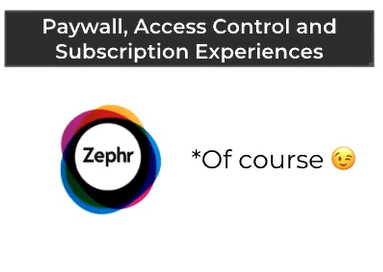 Other considerations
Howland shares other considerations when selecting subscription technology.
Best-in-breed: Plug-and-play options. They do one specific job very well. They usually invest in a lot of research and development to make their technology the very best it can be in a particular area.
All-in-one solutions: These companies do lots of different things, and they have lots of experience, but they may not necessarily be as flexible. This doesn't always work though, because you have one solution that does it all, but do you need it all? Are you wasting money paying for capabilities you don't need?
Cost of licensing and implementation: Are there any upfront onboard costs? Are there training costs? Are there advanced costs you should be aware of? What is the total ongoing cost? What's the total cost of ownership? What is the time to value to get it rolled out and implemented and for you to see that value coming back from the technology? What is the ROI?
Availability of support services and training: Does this cost extra? What are the support resolutions? What are the service level agreements? How long does it take to bring users up to speed on the technology and get it working?
The final three
Howland shares his top three considerations when thinking about subscription technology and subscriber journeys.
Work backwards from outcomes. Don't get lost in all the different capabilities and features. Focus on your outcomes.
Don't buy tech for tech's sake. You'll never be able to use all the capabilities. Pick a handful of KPIs and extract maximum value from each.
Build your strategy around the customer lifecycle. Make your tech stack fit with your customer, not the other way around. Break down the subscriber journey into smaller processes (e.g., acquisition, retention) and pinpoint the value exchange.
Copyright © 2023 Authority Media Network, LLC. All rights reserved. Reproduction without permission is prohibited.