In recent years, regulatory agencies have intensified their scrutiny of companies like Amazon, Google, and Microsoft to protect consumers, preserve competition and punish wrongdoers. Regulatory agencies including the Federal Trade Commission, the UK's Competition and Markets Authority and the European Commission have taken action against these global companies for everything from fake reviews and data privacy to dark patterns and anticompetitive behavior.
Overview
In this new Regulatory Spotlight series, we will first turn our focus to Amazon, the massive online retailer that changed the face of shopping. Now in its 29th year, Amazon continues to disrupt other industries including pharmacies, healthcare, cloud services and entertainment, just to name a few. Earlier this month, the company reported they had 200 million paid Prime members in 25 countries who pay Amazon for discounts, convenience and entertainment. This doesn't include the billions of other customers over the years who have bought products and services from Amazon.
In 2022, Amazon had net sales of $514.0 billion, a 9% increase over 2021. Despite record-breaking Prime Day and holiday sales last year, the company reported a total net loss of $2.7 billion, or $0.27 per diluted share for the year. In the last eight months, Amazon has laid off about 27,000 employees, proving that the pandemic and the shifting economy affect even the largest of companies.
Those aren't Amazon's only challenges though. They are being investigated by three of the largest regulatory agencies in the world: the US Federal Trade Commission (FTC), the UK's Competition and Markets Authority (CMA), and the EU's European Commission (the Commission). Here are some of the largest cases Amazon was involved with between January 2022 and May 2023, several of them addressing anticompetitive behavior.
February 2022: The CMA designates Amazon a "grocery retailer."
On the surface, some regulatory actions may seem innocuous, but they are usually imposed or enacted to prevent a certain behavior, protect consumers, enforce existing rules and regulations, and/or preserve fair competition. In February 2022, with Amazon continuing to gain market share in the grocery marketplace, the CMA designated Amazon a grocery retailer.
As such, the company must comply with the Groceries Supply Code of Practice. The goal of this code is to protect suppliers with whom grocery retailers do business. Companies like Amazon cannot make sudden changes to supply contracts without appropriate notice and giving the suppliers reasons for the termination of their contracts.
"Households across the UK are increasingly using Amazon to buy food and other essential items. Today's decision to designate Amazon helps to ensure a level playing field for companies active in the groceries sector as people's buying habits evolve," said CMA's Adam Land, Senior Director, Remedies, Business and Financial Analysis.
"These rules mean that the thousands of companies supplying Amazon with groceries are now protected from potential unfair business practices," Land added. "We'll continue to keep a close eye on the sector to make sure all major grocery retailers are bound by the same rules."
March 2022: FTC investigates Amazon Prime's enrollment tactics.
In March of last year, Gizmodo reported that the FTC was investigating Amazon Prime's enrollment tactics. The investigation started several years ago with a focus on how the ecommerce giant gets people to enroll in Amazon Prime. Specifically, the FTC wanted to know if the company was using, or has used, manipulative language, user experience, design and other tactics – called dark patterns – to entice unsuspecting shoppers into signing up for a costly Prime membership. At that time, a Prime membership was $119 a year. It is currently $139 a year, or $14.99 a month.
According to (Business) Insider, Amazon Prime's cancellation process was "excessively hard." Amazon allegedly created barriers to canceling memberships, so when new members found out they'd been enrolled, they weren't able to easily cancel the subscription and get refunds. Instead, they had to go through a series of pages to end their subscriptions. Each subsequent step was an attempt to keep the member enrolled. This is a common tactic used by subscription companies, but it bleeds into dark pattern territory when there are excessive attempts to save the business.
When (Business) Insider asked Amazon to comment on the allegations, they received an email response from Jamil Ghani, vice president of Amazon Prime.
"Customer transparency and trust are top priorities for us. By design, we make it clear and simple for customers to both sign up for or cancel their Prime membership. We continually listen to customer feedback and look for ways to improve the customer experience," Ghani said.
At that time, a formal complaint had not been filed with the FTC, nor did the FTC comment on the allegations or any pending investigations. That would come later.
Copyright © 2023 Authority Media Network, LLC. All rights reserved. Reproduction without permission is prohibited.
July 2022: CMA investigates Amazon over suspected anti-competitive practices.
Following an investigation by the European Commission, the CMA opened its own investigation to determine if Amazon held a dominant position in the UK and whether Amazon was using that dominance to get an unfair advantage in the Amazon Marketplace. In a July 6, 2022 notice, the CMA said their investigation would focus on three areas:
How Amazon collects and uses third-party seller data and whether this gives Amazon an unfair advantage made by the company's retail division
How Amazon sets criteria for allocation of suppliers to be the preferred/first choice in Amazon's "Buy Box," which is displayed prominently on Amazon product pages. Preferred choices also have a one-click selection process with "Buy Now" or "Add to Cart" options.
How Amazon sets eligibility criteria for selling under the "Prime label," which are eligible for certain benefits including free and fast delivery.
Sarah Cardell, general counsel at the CMA, commented on the investigation.
"Millions of people across the UK rely on Amazon's services for fast delivery of all types of products at the click of a button. This is an important area so it's right that we carefully investigate whether Amazon is using third-party data to give an unfair boost to its own retail business and whether it favors sellers who use its logistics and delivery services – both of which could weaken competition," Cardell said.
"Thousands of UK businesses use Amazon to sell their products and it is important they are able to operate in a competitive market. Any loss of competition is a loss to consumers and could lead to them paying more for products, being offered lower quality items or having less choice," added Cardell. "A formal investigation will allow us to consider this matter properly."
In their notice, the CMA said the European Commission had opened two of its own investigations that cover the same areas of concern. The CMA will communicate with the Commission as their investigation continues.
December 2022: European Commission settles claims against Amazon for anticompetitive behavior.
Initially opening their investigation in July 2019 and expanding it in November 2020, the Commission settled its claims with Amazon in December 2022 regarding Amazon's use of non-public marketplace seller data and possible bias in giving sellers access to Amazon Prime benefits.
Amazon committed to not use non-public data for its retail business, treat all sellers equally when ranking offers for the Buy Box preferred choice, set nondiscriminatory criteria to treat all marketplace sellers the same, allow Prime sellers to choose any logistics carrier and delivery services, and not use any information gotten via Prime for its own logistics services.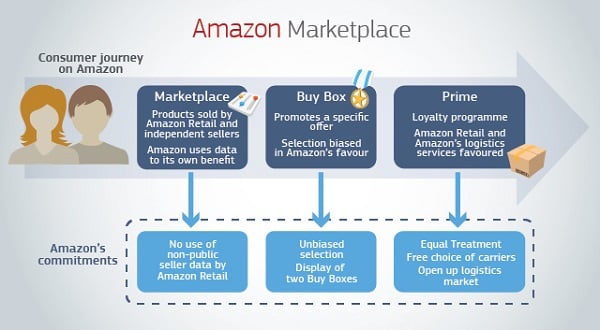 May 2023: Amazon agrees to pay $30 million to settle two data privacy lawsuits brought by the FTC.
In two separate cases, Amazon has reached a settlement of more than $30 million with the Federal Trade Commission which sued the ecommerce giant for privacy violations for its Ring and Alexa services. The FTC alleges that, in multiple instances, Ring and Alexa violated their customers' privacy by not securing access to data and not deleting data, both of which had wide repercussions for Ring and Alexa customers.
In one case, the FTC filed a complaint that alleged that Amazon-owned Ring, a home security camera company, violated their customers' privacy by allowing employees and contractors access to customers' private videos without first implementing basic privacy and security protections. In another security breach, a Ring employee viewed thousands of video recordings of female customers when they were in intimate spaces in their homes. This conduct occurred over several months and wasn't stopped until another Ring employee discovered and reported the behavior. After the report was made, Ring was not able to tell how many employees inappropriately accessed private videos.
In a settlement with the FTC, Ring will pay $5.8 million which will be used for customer refunds. In addition, Ring has been ordered to delete any customer videos and data collected including face embeddings prior to 2018. Ring must also delete any work products derived from the misused videos and will be required to notify the FTC if unauthorized access or exposure of customer videos occurs again.
"Ring's disregard for privacy and security exposed consumers to spying and harassment," said Samuel Levine, Director of the FTC's Bureau of Consumer Protection, in a May 31, 2023 news release. "The FTC's order makes clear that putting profit over privacy doesn't pay."
In a separate action, the FTC filed a complaint against Amazon for allegedly violating the Children's Online Privacy Protection Act (COPPA) by ignoring parents' requests to delete their children's information and voice recordings obtained from Alexa and for not being transparent with parents about their data deletion policies. Amazon also violated the FTC Act by misrepresenting how Alexa app users could delete their geolocation data and voice recordings, the FTC alleges. Amazon has agreed to a $25 million settlement in this action.
Among the FTC's concerns is the fact that Alexa retains a lot of private data from customers. Though customers have some control over their data, even when they tried to delete it, the data was deleted in some places but still retained in others. Transcripts of recordings were also saved for "product development" purposes.
According to the FTC, Amazon first identified the problem in early 2018, but did not make changes until September 2019. Those changes did not completely solve the problem, however. In early 2022, Amazon finally corrected the problem. The FTC also alleges that 30,000 Amazon employees had access to Alexa users' voice recordings, even though those staff had no reason to use or access those files.
The FTC said more than 800,000 children use Alexa through their own Amazon profiles via products like Echo Dot Kids Edition, FreeTime on Alexa, and FreeTime Unlimited on Alexa, a subscription service. These profiles link to their parents' profiles and the information obtained includes the child's name, date of birth and gender. Amazon saved voice recordings from children as both audio and text files, violating the Children's Online Privacy Protection Act (COPPA).
---
In Part 2 of the Amazon Regulatory Spotlight, we'll look at regulatory actions taken by the FTC, CMA and European Commission against Amazon, starting in June 2023
Copyright © 2023 Authority Media Network, LLC. All rights reserved. Reproduction without permission is prohibited.