Social media platform Threads launched a web app last week to attract and retain users, especially for users who prefer to access apps on their desktop or laptop PCs. Threads made the announcement via a 10-second video on Facebook and Instagram head Adam Mosseri mentioned it in a Threads post last week. Neither announcement contained any details about Threads.net, what to expect or when upgrades would be made.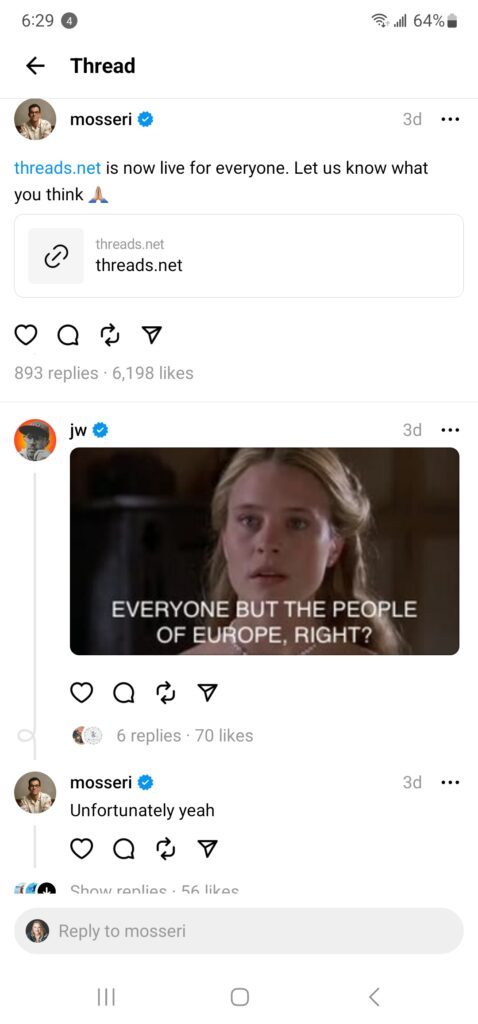 The web version of Threads has limited functionality so far. For example, there are no search or post scheduling features but those are on the way. Journalists, in particular, have been eager to post to Threads via desktop and to monitor activity such as likes, comments, reports and shares, reports Social Media Today.
Meta CEO Mark Zuckerberg teased improved search functionality and the web app in early August.

The web app, while not feature-laden so far, does make the new social media platform more competitive with X and other platforms trying to garner their share of the "global town square" traffic: Bluesky, Mastodon, Spoutible and Post, Wired reports.
Other new features
Another update designed to improve the user experience is a new section where users can view the Threads posts they've liked. The feature was rolled out in beta earlier this month, TechCrunch says. It was supposed to be made available to all users, but we weren't able to view it in Settings in our personal and professional accounts.
Threads is also testing a "media quality" option where users can determine the quality of images and videos they want to upload. This is accessible through Settings /Account /Media Quality, according to TechCrunch, but we were not able to access this feature either. Another feature now available to some users is the ability to sort their Followers list by "latest first" or "earliest first."
While direct messages are not yet available on Threads, users can share posts on Threads through DMs on Instagram, reports The Washington Post. This new feature reportedly is responsible for a slight gain in daily users. Threads – the app or the web version – is not available in the European Union yet, due to regulatory limitations, reports Wired.
Threads traffic
In its first week, Threads amassed more than 100 million sign-ups. Since then, the social media platform has seen traffic drop dramatically, though users continue to sign up. According to Quiver Quantitative, as of last week, Threads had 125 million users. While they may not all be daily users, that is a sizable number considering the platform is less than two months old.
Insider Take
Can Threads surpass the waning popularity of X, formerly known as Twitter, which has taken a nosedive since Elon Musk took over? Threads is in its infancy and, like other social media platforms, it doesn't do all the things users want it to do out of the gate. The idea was conceived late last year, and it has already become a reality. No, it doesn't have all the bells and whistles yet, but it will get there despite the critics. Look where Facebook is now versus where it was when it launched in 2004. It has grown and evolved, attracting 3 billion users around the world. Threads will grow and evolve too, and much faster than Facebook ever did.
Copyright © 2023 Authority Media Network, LLC. All rights reserved. Reproduction without permission is prohibited.