As Twitter continues its tailspin under Elon Musk's rule, plenty of competitors are vying to become the new digital town square. Meta's Threads is the latest social media platform to compete against Twitter, and the new app is garnering a lot of attention. Threads launched July 5 and, within the first five days, had attracted 100 million users, reports TechCrunch. Estimates put the number of Threads downloads at about 150 million as of last week.
In three weeks' time, the social media app has one-fifth of the weekly active user base of Twitter and 86 times the active weekly active user base of Truth Social, Twitter's largest competitor in the US, according to Data.ai. Since launch, 33% of Threads users are in India, 22% from Brazil, 16% from the US, 8% from Mexico, 5% from Japan, and the balance from other countries.
At launch, Threads was available in more than 100 countries for iOS and Android which are available from the App Store and Google Play Store, respectively. A web version is not yet available, though they have reserved the Threads.net website. The home page includes a QR code people can scan to download the app to their smartphones.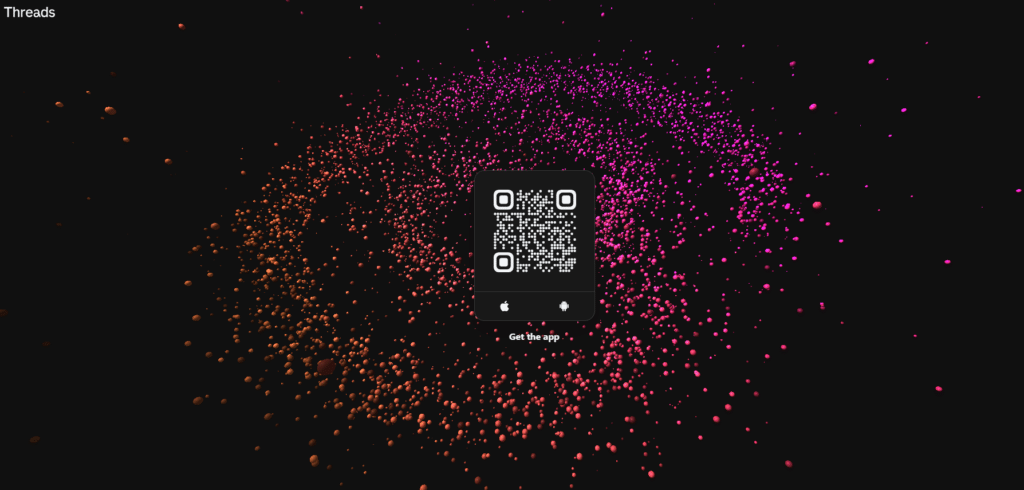 Meta founder and CEO Mark Zuckerberg is on Threads as @Zuck. He has 3.1 million followers already. In a post three days ago, he said tens of millions of users are coming back to the app daily.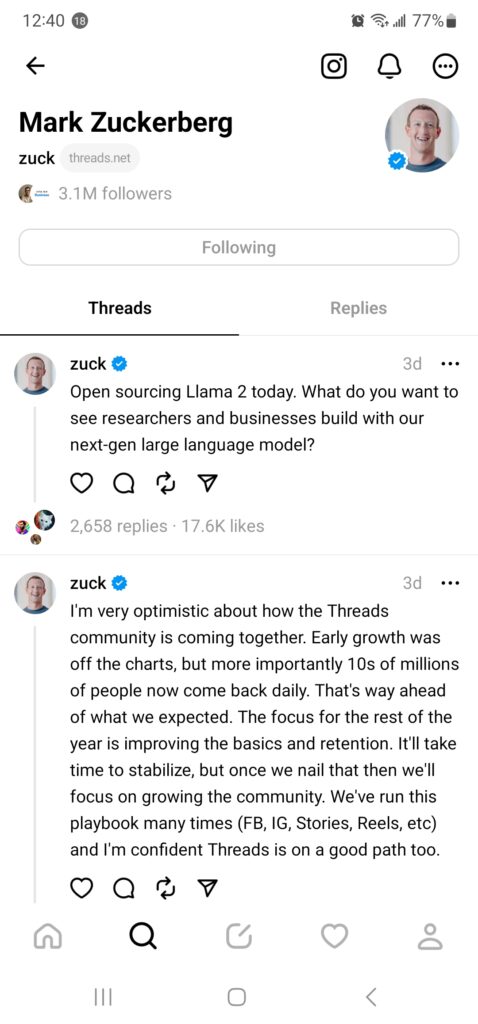 What is it?
We know Threads is wildly popular, but what is it exactly? Built by Meta's Instagram team, Threads is a microblogging app for sharing text updates and joining public conversations in real time. Posts, which are the equivalent of tweets, can be up to 500 characters in length, and they can include links, photos and videos up to five minutes. Though similar in many ways to Twitter, Threads differentiates itself by encouraging positive interactions and conversations.
"Instagram is where billions of people around the world connect over photos and videos. Our vision with Threads is to take what Instagram does best and expand that to text, creating a positive and creative space to express your ideas," Meta said in a July 5, 2023 blog post.
"Just like on Instagram, with Threads you can follow and connect with friends and creators who share your interests – including the people you follow on Instagram and beyond," added Meta.
Each user on the social media app has a feed, or timeline, that includes posts and conversation threads from users they follow. When a user initially signs up for the app, their feed will include suggested content and celebrities, influencers and others to follow. Like Instagram, users have the option to follow public accounts and filter out replies with specific words. They can also unfollow, mute, block restrict or report a profile on Threads. If a user signs up through Instagram, anyone they have blocked there will transfer to Threads, so they will remain blocked.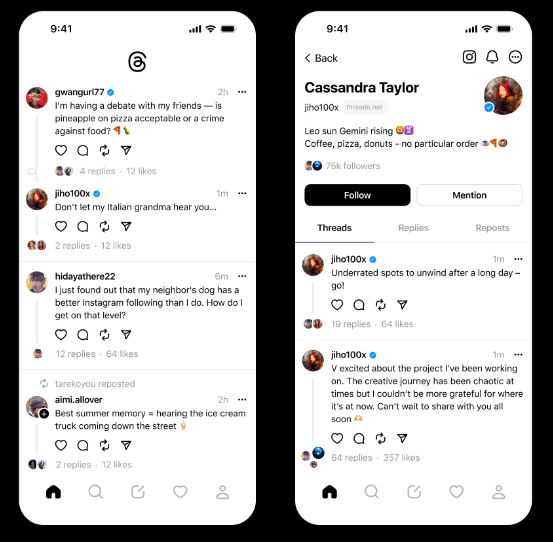 One of the most unique facets of Threads is that Meta's goal for the app is for it to be compatible with ActivityPub, an open social networking protocol. Doing so gives users more control over their audience, allowing them to transfer content to another platform.
"Our vision is that people using compatible apps will be able to follow and interact with people on Threads without having a Threads account, and vice versa, ushering in a new era of diverse and interconnected networks. If you have a public profile on Threads, this means your posts would be accessible from other apps, allowing you to reach new people with no added effort," Meta explained.
Adam Mosseri, head of Instagram, has been active on Threads sharing updates on the app, giving video tutorials, etc. In a post from six days ago, Mosseri said the focus right now is not engagement, though they are thrilled with the public's response to Threads.
"…getting past the initial peak and trough we see with every new product, and building new features, dialing in performance, and improving rankings," Mosseri said.
He also noted there has been an increase in spam attacks, so they may be unintentionally limiting active users until they figure out how to stop them. As with any new product, there are glitches too. It is also light on features, but it's only been three-plus weeks. In a recent video, Mosseri addressed some of the features they want to build into the app:
A following feed
Edit button
Post search
Ability to support multiple accounts and to toggle between accounts
Hashtags
Web presence
Translations
One thing you won't see on the social media app is ads – not yet anyway. They will likely build that into the business model at some point, but for now the Threads experience is clean and, dare we say, carefree.
How does it work?
To start, users have to download the iOS or Android app to their smartphones. If they already have an Instagram account, creating a Threads account is easy and the app will walk you through the steps, and give you a few set-up options. If you don't have an Instagram account, you can still create a Threads account, but it is a different process.
The main page includes a row of icons at the bottom: home, search, post, like and account/profile.
To post something, click on the post button, type the post with photos, links or video, if desired, and click post in the lower right-hand corner of the app. To add to the post – creating a thread – tap the enter button on your smartphone's keyboard and a thread appears below the original post. Before selecting Post, users can change who can reply to a post in the lower left-hand corner.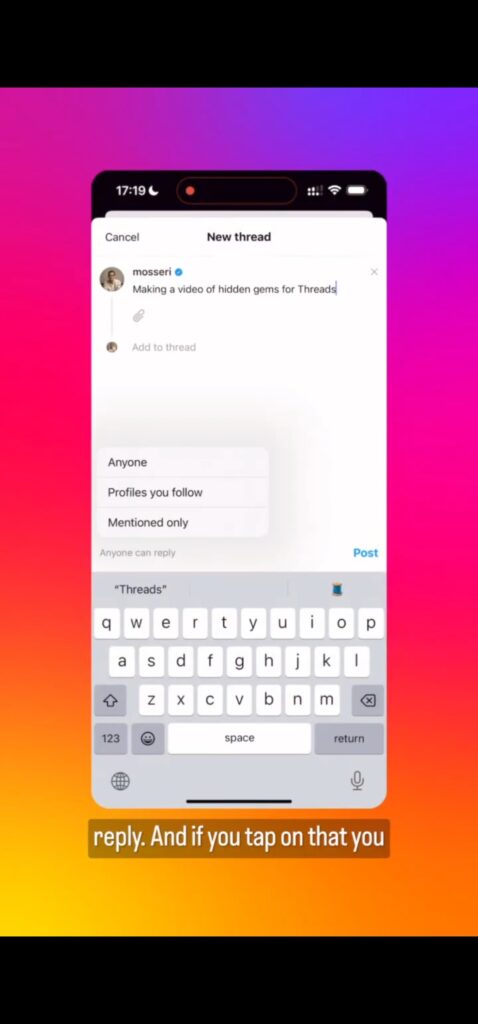 To see your past posts, go to the account icon and click on Threads. To see all your replies on other posts, click on Replies. If a user appears in your feed that you are not following, you can click on the + sign on their profile picture to follow them easily. If you don't want to see that user's posts anymore, click the three dots in the upper right-hand corner of their post, and select Mute, Hide, Block or Report.
Not sure if you should post to Threads or Instagram? Mosseri suggests the user consider whether their focus is a text post or a photo/video post and about the conversations users want to have. If they want a one-way conversation and post visually, Instagram is the way to go. If they want to post something and have a conversation about it, Threads is probably the better choice.
Do you need to be on Threads?
So now you know what it is and how it works. The next question is do you need to be on Threads. That is a choice every individual and business needs to make for themselves. We think you should download it and give it a try immediately! We signed up on day 3 because we wanted to know what the hype was about, and we were immediately impressed. The lack of ads (for now) creates a nice, clean experience, and users on the app (so far) have been largely positive. Creators are joining every day.
What we're seeing now is more of a B2C connection with businesses reaching out to consumers they want to engage with. They may be customers or prospects, but businesses do not want to be left behind. You'll find most of the major news outlets, tech tools and streaming subscription accounts on Threads, as well as millions of celebrities, influencers and creators with more to come.
What we aren't seeing is a lot of B2B connections. Initially, we saw very few, if any, card issuers, payment platforms or payment processors. We are now seeing some of the major ones – Visa, Mastercard, American Express. Subscription platforms are scarce too, but there is at least one major subscription management company on Threads now.
That's a great reason to be on Threads. It's fresh, it's new, and it's full of possibilities. Start slow and build your audience organically, so when you've really got something to say, you'll have an audience to listen to you. This is another social media app to put in your marketing strategy toolbelt. If Twitter does implode, or continues its chaotic trajectory, there is a good solid alternative that doesn't feel toxic.
Accounts to follow
Of course, who to follow is subjective. Some follow their favorite media outlets and subscription companies (yes, that would be us), others follow their favorite sports teams and influencers (also us), while still others want their daily dose of celebrities and influencers. You can find accounts to follow by clicking on the Search button on the bottom row of the app. Here are some accounts with interesting posts worthy of a follow:
Mark Zuckerberg (@zuck), 3.1M followers
Adam Mosseri (@mosseri), head of Instagram, 544K followers
Satya Nadella (@satyanadella), chairman and CEO of Microsoft, 9.2K followers
Threads (@threadsapp), official Threads account, 1M followers
Spotify (@spotify), 1.2M followers
Microsoft (@microsoft), 396K followers
Instagram (@instagram), 8.9M followers
Netflix (@netflix), 2.9M followers
Subscription Insider (@subinsider), a handful of followers – we're just getting started!
Is it worth the hype?
In our humble opinion, yes. It is absolutely worth the hype but take it for a spin and decide for yourself…and be sure to follow @subinsider when you do! We'd love to hear your thoughts.
Copyright © 2023 Authority Media Network, LLC. All rights reserved. Reproduction without permission is prohibited.