Prices are rising everywhere, most noticeably at the gas pump and grocery store. In February alone, the Consumer Price Index was up 0.8% for the month and 7.9% over the last 12 months, not seasonally adjusted, for all items. This is the highest rate of inflation our nation has experienced seen since 1981, and it is going to get worse before it gets better.
Impact to subscription companies
Rising prices impact virtually every product and service, but some industries or categories will be more impacted than others. Subscription companies like those who provide SaaS or digital goods, for example, are less likely to experience an increase in costs than a subscription box company that has physical goods to transport or a meal kit service that gets hit with both skyrocketing fuel and food costs.
Mark Stiving, Ph.D., Chief Pricing Educator for Impact Pricing LLC, shared his perspective on pricing and inflation.
"All prices are going to go up," Stiving said. "The question is will subscriptions behave differently than other products and services?"
Should subscription companies raise their prices?
The simple answer is "it depends." SaaS companies may see increases in their fixed costs (e.g., lease, insurance, labor etc.), but those costs are rising slower than hard costs, so their pricing can remain stable longer. However, subscription companies that don't deal in physical goods, like SaaS, digital media outlets or streaming services, might still raise their prices during an inflationary period. But should they?
In an August 2021 blog post, "Pricing When Costs Go Up," Stiving says that pricing should not be driven by inflation and a company's own increased costs. Instead, pricing should be driven by a customer's willingness to pay.
"A cost increase is NOT a reason to raise prices, rather it is a SIGNAL that it's time to revisit pricing," Stiving wrote.
How inflation affects different industries
When consumers make purchasing decisions, key factors include discretionary spending and essential products and services versus nonessential. If income doesn't keep pace with inflation, consumers will cut some of their discretionary spending, which means something different to everyone. For example, some consumers may decide they don't need a clothing subscription, wine-of-the-month club, or five streaming video on demand subscriptions. However, they might still be willing to pay for a produce subscription, cat food on auto-ship, or auto-replenishable razors or health and beauty products. During an inflationary cycle, subscription companies want to make their pricing decisions very carefully, because if they raise their prices on nonessential items, more subscribers will leave.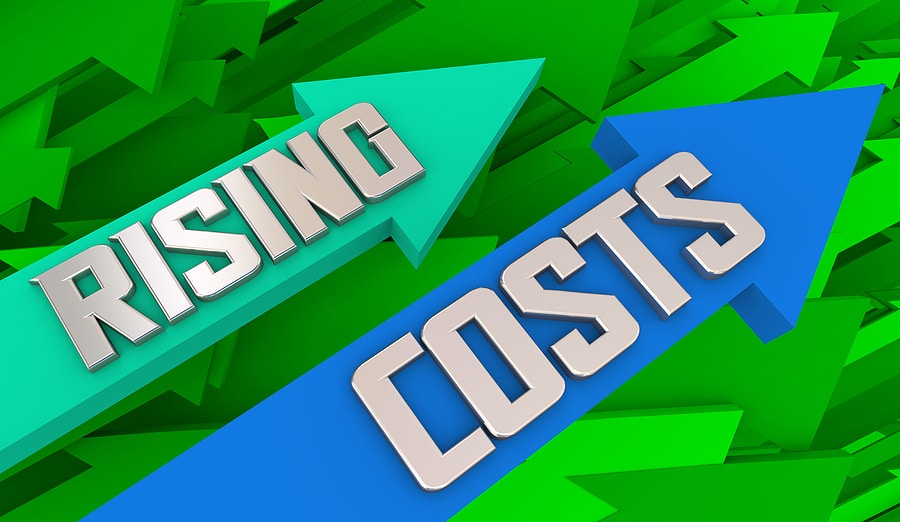 Stiving shared the example of a gym membership. A lot of consumers sign up for a gym membership with every intention of going X times a week. They get busy, the pandemic hits, and they rarely go to the gym, yet they continue to pay for the gym membership because it is automatically deducted from their bank account. After they enroll, they never have to think about it again. If the gym decides to raise prices, however, they will have to alert their members, and members have to choose a course of action – pay to stay or leave.
That's actually the beauty of a subscription service – the one-and-done decision to subscribe. The customer makes an initial decision to subscribe to a product or service, because they find value in it. They make the decision once, and they don't have to make it again unless something like a price increase gives them a reason to reevaluate their previous decision. Most subscribers want to believe their initial decision was the right one.
"Are you going to ask them to make that decision again by raising the price?" Stiving asked. "The moment you raise somebody's price, you cause them to rethink the decision."
There is no one-size-fits-all solution to pricing, but Stiving said that the wise move toward these customers is to not raise prices at all. Not all companies will take that position, however. Whether their costs have gone up significantly or not, some companies will choose to raise their prices to take advantage of the opportunity to bring in more recurring revenue. Others will do so to stay in line with their competitors who may have already raised their prices.
How to raise prices
For companies who want to test the impact of increased pricing on their subscriber base, Stiving recommended they raise prices by cohorts based on usage. For example, a company might test a price increase on the top 20% of their subscribers, those who use their product or service the most. Very few if any will churn. The company would then test the next 20% of subscribers, based on usage. A few at this level will churn. As the company goes through each cohort, the level of churn will increase.
"Eventually, you will find the cohort where the amount of money you made in the price increase is offset by the money you lose in churn," Stiving said. "People who use my product the most get the most value and have the highest willingness to pay."
Testing price increases is critical to avoid some of the very public pricing debacles that occurred when subscribers spoke out about price increases they didn't see coming. For example, in January 2021, Microsoft announced a controversial price hike for its Xbox Live Gold gaming subscription. The company doubled the price incrementally, depending on the subscription plan. For a six-month subscription, Microsoft doubled the subscription fee, and fans took to social media to express their displeasure. Fifteen hours after Microsoft announced the price hike, they walked it back.
"We messed up today and you were right to let us know. Connecting and playing with friends is a vital part of gaming and we failed to meet the expectations of players who count on it every day. As a result, we have decided not to change Xbox Live Gold pricing," Microsoft's Xbox Live Gold Team said.
How to successfully communicate a price increase
After the decision to raise prices has been made, it is important for subscription companies to communicate this to subscribers. The most successful companies will communicate these four things.
Our costs have increased. [No one wants to know a company is raising prices just because they can. The only excuse they will accept is that the company's costs went up.]
We delivered a lot of value to you recently (e.g., added content, special discounts, exclusive features, new benefits).
We haven't increased your price in ______ years. [Only if this is true.]
Do something nice for the customer. For example, companies might impose the new rates on new customers only and hold the current rates for existing subscribers for six months. Netflix and Amazon have recently done a version of this. They imposed price increases immediately for new subscribers, but they did not increase prices for existing subscribers until their next billing cycle. For Netflix, this was a month. For Amazon Prime members who pay annually, members may not get hit with the price increase for an entire year. Another technique is to raise prices in a particular market before imposing it across the board.
What to do for subscribers who churn anyway
When raising prices, subscription companies will inevitably lose some subscribers. There is no avoiding that. However, there are saving techniques to try. For example, if a subscriber wants to cancel because of the price increase, a subscription company could offer the old price if they stay or offer an even lower rate than they were paying previously. While this may seem counterintuitive, it costs much more to acquire a new customer than to keep an existing one, so giving a little now could save the company in the long run.
Is it all doom and gloom?
Higher prices are inevitable, but inflation is not all "doom and gloom" for everyone. There are some companies who could potentially benefit from it, especially services that tout the ease and value of subscriptions versus ownership. Car subscriptions, for example, could benefit when subscribing to a car lowers the cost and the commitment.
Max-Josef Meier, CEO of FINN, shared how he sees inflation impacting car subscriptions.
"Customers are increasingly concerned about the volatility in today's economy and steep increases in prices of goods – especially those of cars. This uncertainty may decrease their willingness to take the financial risk of buying new vehicles. Now, car subscriptions such as FINN can help ease concerns: customers pay one monthly rate that includes everything but fuel (or electricity) to have their own new vehicle experience for 6 or 12 months. This flexibility and transparent pricing bring peace of mind. Plus, this model helps the whole industry as FINN enables auto manufacturers to access highly attractive customer segments such as young families in their thirties and forties," Meier said.
Peloton is another company that could potentially benefit, especially with the new One Peloton Club. A subscriber no longer has to purchase a pricy piece of equipment. They can essentially rent one and bundle it with the fitness membership to replace a gym membership with a long-term commitment.
The downside to these two examples, however, is they are currently only available in limited markets. If they see success, however, expansion is possible. In fact, FINN continues to add new markets. They initially launched in Eastern Pennsylvania and New Jersey. Last week they announced they will expand to Western Pennsylvania, Massachusetts, Connecticut and Washington, D.C.
Another potential positive is from a recurring revenue standpoint. Subscription companies who raise their rates will lose some subscribers, but if they do it right, the increased revenue will more than make up for the subscribers they lost.
"When inflation happens, it gives us an excuse to raise prices. If my cost structure is stable, I still have inflation as an excuse to raise prices, I can probably make more money," Stiving said.
Subscription cancellation services
Another trend we could see is the growth of services like Truebill and Trim that help consumers identify subscriptions they are paying for but aren't using and probably forgot they had. As discretionary income decreases, consumers are going to look for places to cut back their budget. These services look at spending, including subscription services, to help consumers analyze where their money is going and helping them cancel services they no longer want or use. The services even help negotiate bills like cable, internet and medical bills. Subscription companies can proactively reduce potential churn by keeping their prices stable, adding more value to their subscription products and services, or even just reminding subscribers of the value they are already receiving.
Bottom line
The bottom line is that rising prices impact every person and every business. Subscription companies who haven't already raised their prices have time to revisit their pricing and, more importantly, identify and test their customers' willingness to pay. If they decide to raise prices and they follow best practices, they have an opportunity to reduce potential churn and maybe win their subscribers win back some day.