Meta is not having a good week. Earlier this week, the tech giant was fined $1.3 billion for violating the General Data Protection Regulation. And now, the UK's Competition and Markets Authority has forced Meta to sell GIPHY, the animated GIF search engine the company acquired in May 2020 for $400 million. Meta sold GIPHY to Shutterstock for $53 million in cash, a fraction of what they paid for it three years ago, reports the BBC. GIPHY is the world's largest collection of GIFS and stickers.
The CMA originally investigated Meta's acquisition of GIPHY because they believed the purchase would give Meta the ability to limit other social media platforms' access to the animated GIFs. The CMA felt the lack of other platforms' access, or limited access, could impact the user experience on other platforms like Snapchat, TikTok and Twitter and negatively impact competition for display advertising in the UK. In November 2021, the CMA ordered Meta to sell GIPHY.
"This deal would significantly reduce competition in two markets," Stuart McIntosh, chair of the CMA's independent investigatory panel, said in a press statement. "It has already resulted in the removal of a potential challenger in the UK display ad market, while also giving Meta the ability to further increase its substantial market power in social media. The only way this can be addressed is by the sale of GIPHY."
Meta appealed CMA's decision but lost and, in October 2022, agreed to sell GIPHY.
"We are disappointed by the CMA's decision but accept today's ruling as the final word on the matter. We will work closely with the CMA on divesting GIPHY," said Meta in a statement. "We will continue to evaluate opportunities — including through acquisition — to bring innovation and choice to more people in the UK and around the world."
Copyright © 2023 Authority Media Network, LLC. All rights reserved. Reproduction without permission is prohibited.
Shutterstock shares the news
Shutterstock issued a press release Tuesday, celebrating the news. They said that GIPHY's library of GIFs and stickers gets more than 1.3 billion search queries every day, and it has garnered more than 15 billion daily media impressions.
"GIPHY's content serves as a critical ingredient in text- and message-based conversations on platforms such as Meta, other social media platforms such as TikTok, Twitter and Snapchat and team collaboration platforms such as Slack and Microsoft Teams, in addition to integrations with most mobile devices," said Shutterstock in a May 23 news release.
"GIPHY's content library is fueled by both individual artists who contribute original content and top verified media partners such as NBC, Disney, Netflix, NFL, MLB, and NBA, ensuring a steady supply of fresh culturally relevant content which can be inserted into everyday conversations and shared via social media," Shutterstock added.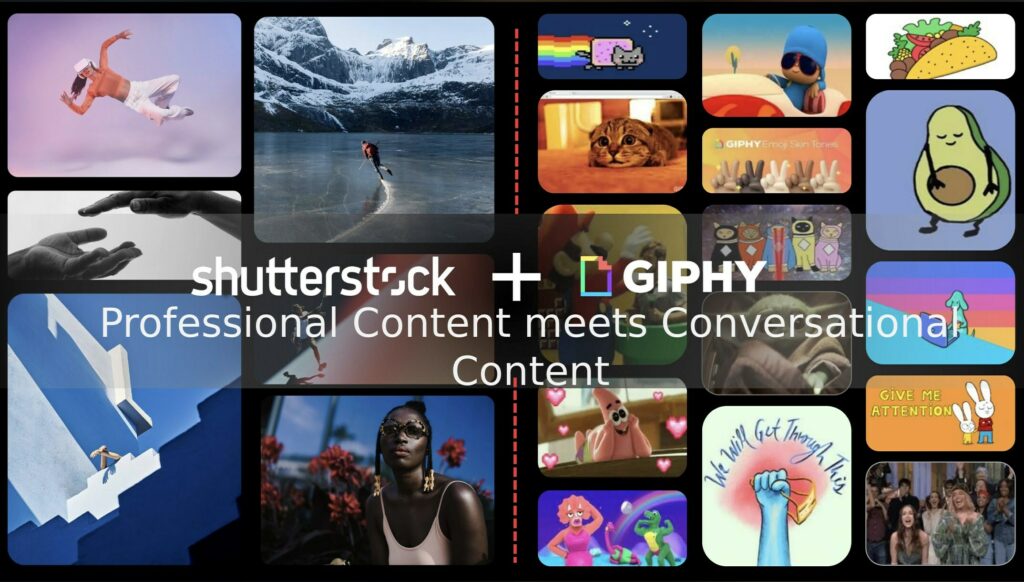 Shutterstock CEO Paul Hennessy said the purchase of GIPHY will help people and brands tell their stories.
"Through the GIPHY acquisition, we are extending our audience touch points beyond primarily professional marketing and advertising use cases and expanding into casual conversations," Hennessy said. "We plan to leverage Shutterstock's unique capabilities in content and metadata monetization, generative AI, studio production and creative automation to enable the commercialization of our GIF library as we roll this offering out to customers."
The company said they are maintaining their revenue and adjusted EBITDA guidance for the year, because GIPHY will add minimal revenue this year. However, the company plans to focus their monetization efforts in 2024 to maximize GIPHY's potential.
Insider Take
This has been a tough week for Meta, but also a tough year. With restructuring costs, staff layoffs and regulatory hurdles, Meta is getting hit from all sides. But they won't get much sympathy because these challenges didn't happen overnight, and they won't get resolved overnight either. Meta investors are probably unhappy about the financial hit, selling GIPHY as a loss, while Shutterstock investors may be doing a happy dance with the potential this purchase has for Shutterstock.
Copyright © 2023 Authority Media Network, LLC. All rights reserved. Reproduction without permission is prohibited.