Want to know what the single biggest opportunity in subscription businesses is? According to Subscription Show 2021 speaker, Robert Skrob, it's customer onboarding.
Customer onboarding is the process through which a customer moves after subscribing. It's during this process that companies can educate their subscribers on how to use their product; address common concerns or questions; and, most importantly according to Skrob, upsell the customer.
"Your onboarding is usually the thing that's most overlooked. Most businesses focus on their customer acquisition and then the thing that they send," says Skrob. "Onboarding is usually something that is certainly way later and is one of the biggest opportunities."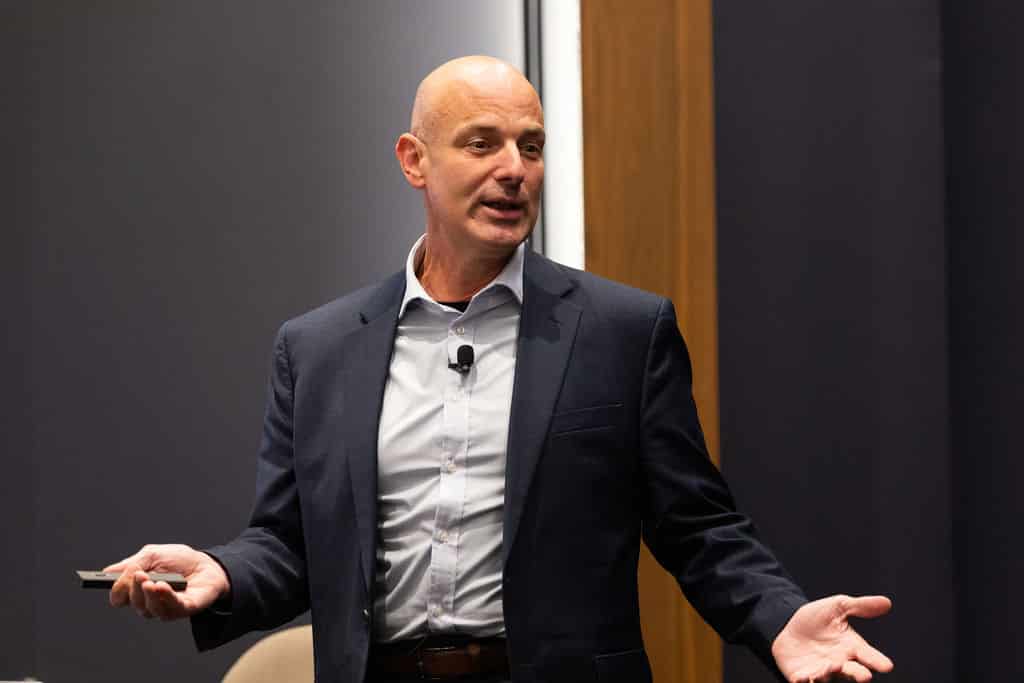 What is onboarding and why does it matter?
Skrob, President/Owner of Membership Services, Inc., has seen a lot of drop-off in customer retention for his clients in their businesses over the years. While they may be successful in acquiring new customers, keeping them turns out to be a major obstacle. To decrease this form of churn, Skrob recommends a change in perspective on what companies should place value.
"There are two core views that I see: First, that the customer is where all of the value is within the business. Your relationship with your customers, those names are the core value. It's not the publication, it's not the SaaS product. It's where the customers are, that's where the value is. Second, your business is a system and each one of those systems has to work together and work well to be efficient," says Skrob.
While customer acquisition may be one of the processes that works well, its efforts will be for naught if other processes like onboarding aren't also working well. For Skrob, one of the main focuses of all subscription businesses should be onboarding. And he offers three key tips:
Onboarding is the biggest opportunity within subscription businesses.
Nothing works until onboarding is working.
Onboarding powers subscriber acquisition with shortened CAC Payback Period.
"Your business just doesn't really work without your onboarding," says Skrob.
One of the key reasons for this is the Customer Acquisition Costs (CAC) Payback Period. Calculating a CAC payback period wrong can steer decisions in the wrong direction. For example, if a company has a CAC of $500 and the average Revenue Per Member (RPM) is $75, most people would calculate the payback period as approximately six months. (By dividing the $500 by the $75.)
In reality, the cohort analysis of the churn rate must be included in the calculation. In this example, if there's an 8% churn rate, this company is losing more customers each month. This means that the initial $75 it took to acquire 100% of the subscribers drops to around $58 because of the churn rate.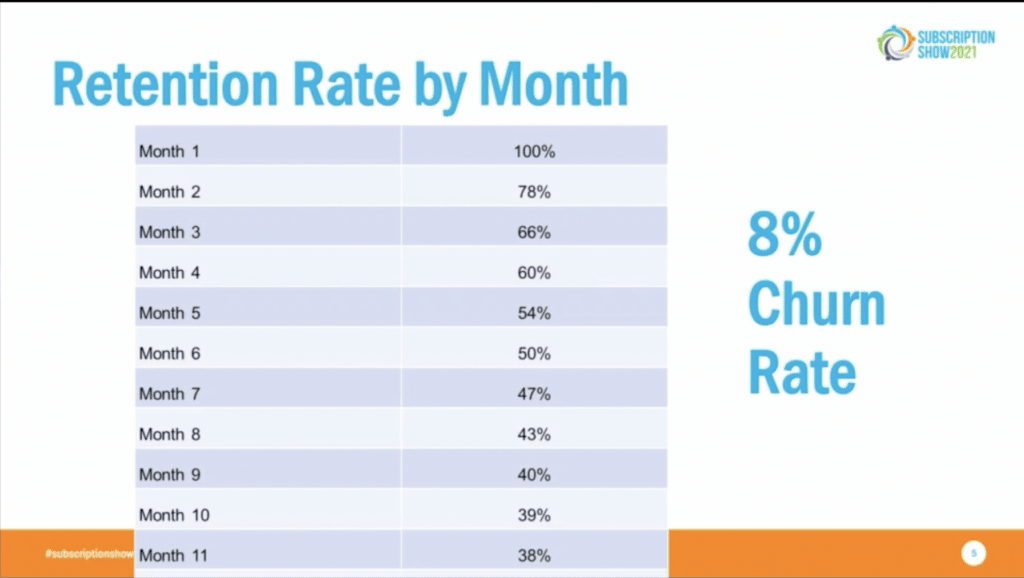 With each month, the average RPM continues to drop as the churn rate continues steadily. Thus, the payback period takes 13 months instead of only taking six months. If businesses fail to calculate the payback period correctly, they will run out of cash without understanding why.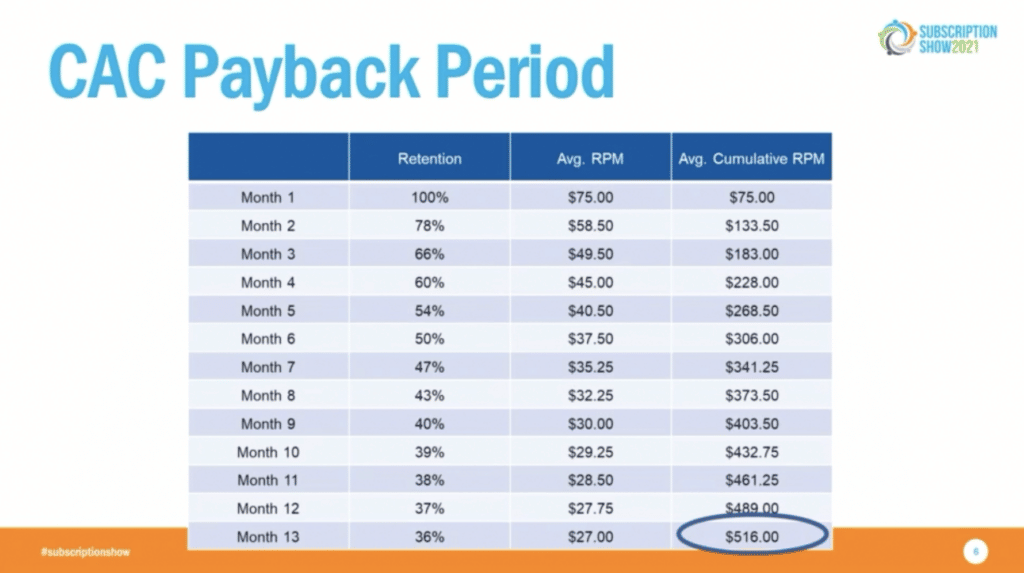 [GRAPHIC #2]
When this happens, subscription businesses fall into what Skrob calls the CAC Payback Period Trap: customer acquisition costs increase so much that the business ends up with a logarithmic growth in subscribers because they're not recovering the CAC quick enough. This is a key problem in the subscription business industry that Skrob sees time and again. But one of the quickest wins to recover from this trap is onboarding.
"Even back in the early days when we couldn't track [as many data points], we could still track those who used their user ID and password. And we'd find that when subscribers would come in, they would have a lot more use and then it would tail off," says Skrob.
To illustrate his point about onboarding, Skrob used three success cases from businesses he's worked with: Drumeo, VectorVest, and Charity Water.
Drumeo – Publisher
One of Drumeo's keys to drawing customers in is a big selling proposition, "You'll learn the drums faster with the best teachers in the world…guaranteed."
As soon as customers land on Drumeo's sales page, they're presented with three core benefits they'll experience by signing up: Sign up, onboard, and engage. Though Drumeo offers coaching options, hundreds of hours of video and live events, they focus instead on the three key benefits of their platform in their marketing.
"Do you have a starting point for your subscribers that says, 'Click here to begin the process!'?" Skrob asked audience members.
By creating a clear onboarding process, subscribers are led into step-by-step instructions on how to play the drums. While Drumeo is a B2C platform, this works for B2B situations as well. Onboarding like what Drumeo provides accelerates the information about how to play the drums and work with their platform. Subscribers aren't left to navigate the platform themselves and figure out how to use it.
Also, users also receive an email from the founder that encourages new students to follow the onboarding process. Finally, a survey is sent to users that allows them to customize the information they want to receive and gets them started right away in a manner that best suits their ability level.
Subscription businesses must consider where the starting line is for their customers. This is very important for publishing companies in particular. For publishers to sell a subscription, they have to establish the uniqueness and importance of the content they're offering. Then, when subscribers sign up, the onboarding process must make it easy and simple for them to get started. Customers need a fast win where they can get in quickly and start right away.
One of the ways publishers can create an onboarding process is through ascension levels, a common practice for subscription publishing.
Level 1 – Mailboxes
The relationship between the subscriber and the publisher is the subscriber receives and the publisher gives. There is very little interaction. Engagement is tracked through views, listens and shares. For subscription publishers that have a niche audience, this is a great offering.
Level 2 – Remote Relationship
The relationship between the subscriber and the publisher is more personal. There is a group coaching or meeting element, typically handled virtually. Engagement is tracked through attendance and participation.
Level 3 – Personal Relationship
The relationship between the subscriber and the publisher is very personal. Examples of this include in-person group coaching, one-on-one coaching, and consulting. Engagement is tracked through appointments and progress made.
The pricing for each of these is based on the level of interaction you're having with the subscriber. Within each of these parts of the onboarding process is the chance to upsell the next level and increase the customer's lifetime value.
Vectorvest – SaaS
During Skrob's session, he shared how VectorVest used upselling effectively in their onboarding process. The premise of VectorVest is to teach people how to be a successful investor in the stock market. To get people started, they offer users a 30-day free trial.
"In order to really engage and get long-term subscribers, you have to have the subscriber interpret, use the information, and recognize that this information is for them. It's the process they want to achieve their goals," says Skrob.
This is a great reminder for many subscription businesses, especially those selling a SaaS product, as they're essentially selling a tool.
"In order for your subscriber to want to use your tool, they've got to believe that the tool is the very best tool that they need. And that it's worth learning how to use that tool to accomplish something in their lives," says Skrob.
VectorVest is a B2C business where they only have to convince their buyers. But in a B2B situation, the selling company not only has to convince their buyers, but they have to convince the buyer's team to not revolt when they go to implement their product.
"The more work that your product is to implement, the more you're going to have to help your subscribers be able to grow," says Skrob.
In the case of VectorVest, they start users with a series of emails that helps the user understand how to navigate their platform. But VectorVest continues to send sales emails after the end of the free trial. Think of the trial as a lead in this situation; even though the customer has engaged with the product, they're not yet a paid subscriber.
"If they're a lead, how are you going to talk to them for 30 days to convert them into a fully-paid subscriber?" asked Skrob.
The messaging used during the free trial period is of utmost importance. VectorVest, for example, uses the terms "your goal" and "our goal" to make it clear to the user what they can expect from the product and the company. This messaging is very transparent about the nature of the trial.
"That's one of the things that I've found reduces chargebacks: you talk about the trial within the trial," Skrob pointed out.
There are some systems of belief that encourage businesses to not discuss the fact a customer is in a trial at all. But Skrob has found the opposite to be effective in converting leads to subscribers. When companies talk to their leads about the trial and point out the "deal" they've made with the company, they can often get customers to do more of what they want.
All of this is accomplished by a series of emails that has an onboarding process that repeats the same three steps over and over again in different ways. Each of the emails continues to resell the product to improve conversion.
"Particularly with SaaS, you're selling a tool that comes with ideas about how they should do something that doesn't involve your tool. So you have to show them why those misconceptions aren't useful to them," says Skrob.
To handle this, VectorVest offers a handout called 5 Wall Street Lies that addresses ideas that would not be conducive for VectorVest users. This kind of material should be designed to undercut useless beliefs and help customers understand what they need to do to be successful. VectorVest's handout was also expanded into a video series that offered a more elaborate way to show customers how to use the product. It also serves as an effective and simple way to resell the product.
Charity Water – Unlimited Model
Skrob also discussed how video can be an incredibly effective tool for getting customers to increase their lifetime value. Charity Water is a non-profit that provides water to people around the world who do not have access to it.
"You learn the most from non-profits that are doing well because they don't have stuff to send. They're sending a belief and a movement," says Skrob.
When Charity Water first initiated a subscription model, there were many people within the organization that felt supporters would give fewer donations if presented with the offer to subscribe. What Charity Water found, however, is that subscribers had a lifetime value of 20 times that of people who donated once. Though it didn't have a significant impact on conversions, the impact on contributions was so much higher that it was well worth offering subscriptions on the front end.
After becoming a subscriber, a video appears that states why users should give. Though welcome videos focus on teaching or giving instructions to their customers, Charity Water's video is a resell. It tells donors how smart they are for donating, thanks them for what they're doing and shows them how their donation impacts others.
After the welcome video, donors are led to their dashboard where they can see a plot graph of the impact they will make over a lifetime. By showing this graph, Charity Water flips the offer — from a monthly to a lifetime contribution — encouraging people to think long-term. The organization also immediately focuses on reestablishing value by showing people who have benefitted from receiving water.
"In your subscriber onboarding, are you reselling your customer on what they just bought with other content that helps them recognize the value that they are experiencing?" asked Skrob.
Charity Water does this through its leader board of contributors. As a subscriber, other donors and their badges for certain milestones achieved are visible.
For many businesses, a video is used to sell to a customer and then the customer is never seen again. In the case of Charity Water, they put the sales video inside of the member portal to continue to resell the customer on why they're part of the organization. Charity Water finds those customers are the most interested in re-watching it to reaffirm the decision they've already made when they went to sign up. When it comes to onboarding, that's one of the keys to winning — within the first 30 days continue the sales process.
Each of the above organizations offers three examples of effective onboarding. Though each of these models has unique key subscription growth drivers — VIP model, horizontal and pre-approved — they each have successfully onboarded customers. These companies have a unique subscription offer, retention process, and customer lifetime value. The health of each of these aspects depends on the success of their onboarding processes.