The fall air is crisp, speakers and sponsors are on their game, and subscriptions are the talk of the town as we share industry insights, tools and tips, and hospitality at the one and only Subscription Show 2022. We kicked off the week on Tuesday with an epic series of subscription bootcamps, and now Day 1 of Subscription Show is in the books. Here are highlights and takeaways so far.
Welcome and official kickoff with Kathy Greenler Sexton
Subscription industry veteran and CEO and publisher of Subscription Insider, Kathy Greenler Sexton welcomed attendees – virtually and in-person – to Subscription Show 2022 with her signature smile and infectious enthusiasm. Participants from all around the world looked on as Kathy explained the three tracks for the event: subscription marketing, recurring payments and strategy. For the streaming audience, there are hosts in the grand keynote hall as well as the breakouts that will take questions during each session, so the experience is valuable, whether participants are joining in person in New York City or virtually through the livestream.
"Why are we here? We are here to learn and understand what's happening and what's about to impact our businesses, and get the information, the tools and the connections to help us really thrive through changing times," Greenler Sexton said.
Darryl Hicks, founder and CEO of FlexPay, one of two event co-hosts, shared his thoughts on the value of Subscription Show 2022 and what attendees should watch for.
"Every time we've been through an economic cycle where we're facing some headwinds, businesses that didn't just survive but thrived through a more difficult time were the ones who were focused on operational efficiency, so finding a way to batten down the hatches," Hicks said.
"In the previous cycle, money and capital were at an all-time low cost and we could grow our way out of a lot of problems. I don't think that's going to be the case now. I think we have to get back to really good fundamentals, unit economics and focus on building a really efficient business," added Hicks.
Marco Sarich, CEO of Keylight, another event host, shared his thoughts as well.
"Subscriptions have evolved a lot over the last five years. It is not only about finance, payment and pricing topics. There are so many more aspects that you need to look out for and unify like sales channels, user experience, customer journeys, and analytics. It is getting more and more important," Sarich.
Hicks and Sarich will both be leading sessions on days 1 and 2.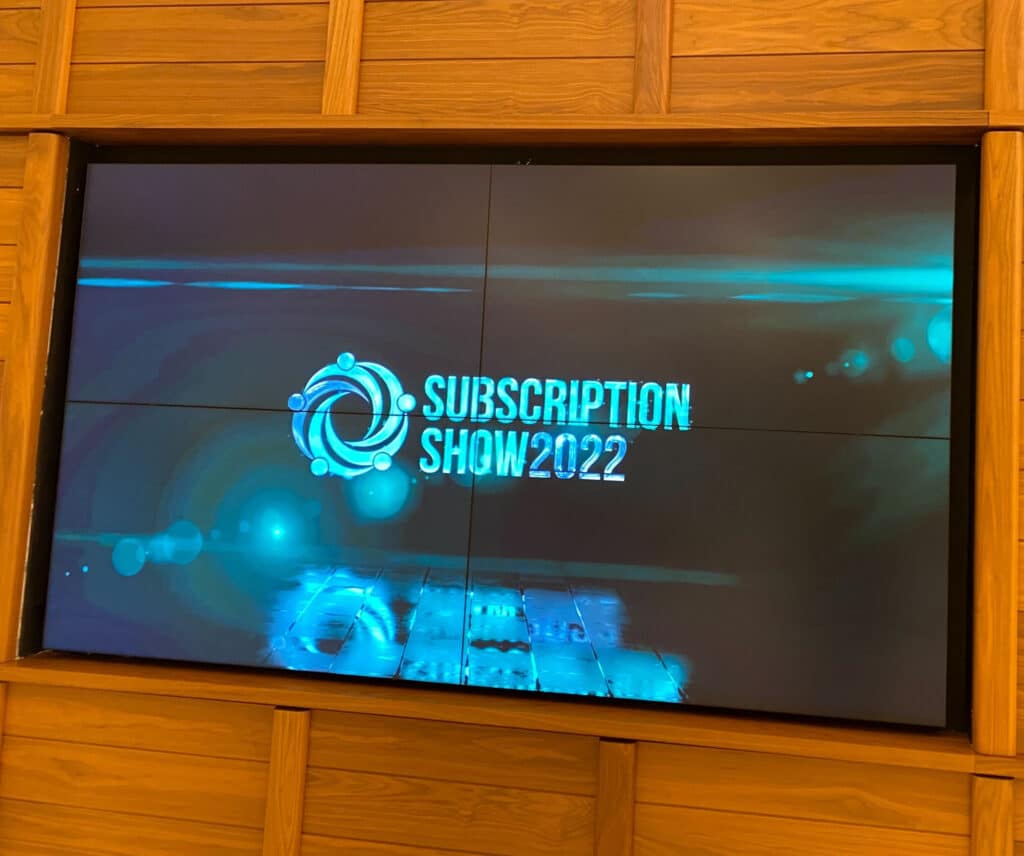 Sponsors
Hosted by FlexPay and Keylight, Subscription Show 2022 will feature more than two dozen sessions on the state of the industry, payments and profitability, downturns and disruptions, subscription growth and strategies, data, churn and chargebacks, case studies and customer lifetime value and much more.
Kathy thanked Subscription Show 2022's amazing sponsors for making the premier subscription event possible:
Gold sponsors: Recharge, Optimized Payments, Recurly, Vindicia, Worldpay from FIS
Silver sponsors: ACI Worldwide, Aptitude, Chargeback Gurus, Cybersource, d-local, Equifax, Verifi, Wiland
Bronze sponsors: AdvantageCS, Nacha, PWX Solutions, Nuvei, Minna Technologies, Paymentus, SheerID, Vertex, xfactrs, Zephr, Omeda
Lanyard sponsor: churn buster
"Our sponsors are amazing," Greenler Sexton said. "They are leaders in what they do. We have processing, we have billing, we have subscription management, we have marketing platforms. We have amazing expertise in our exhibit halls."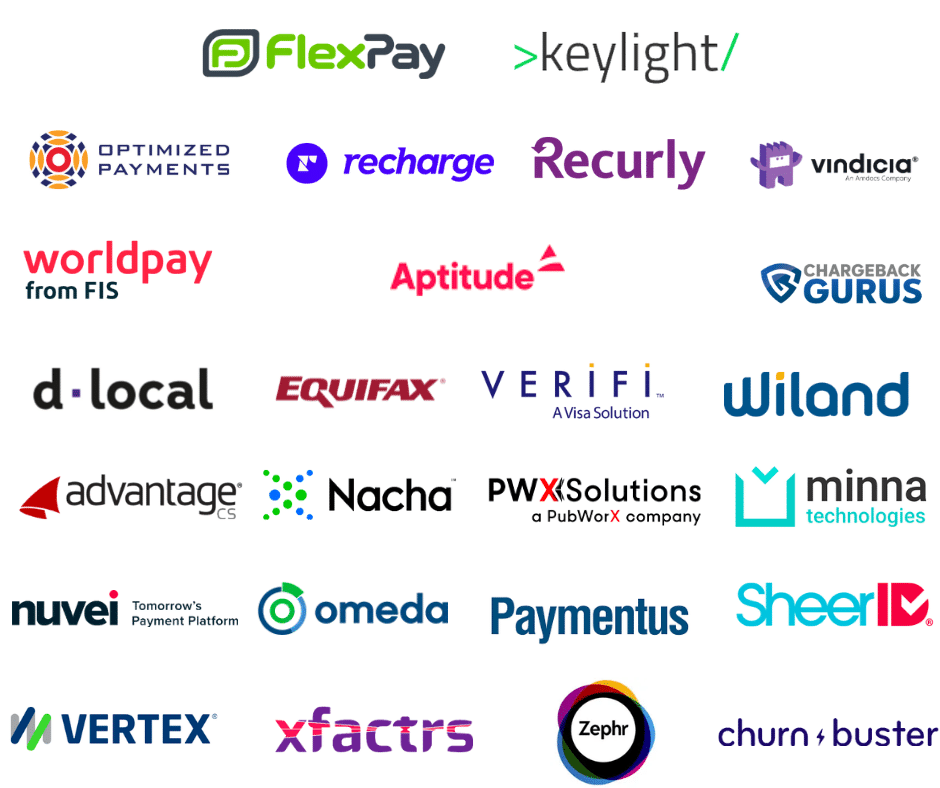 Subscription Show keynotes and sessions
Grand Keynote: Thriving Through Change, Nicholas Thompson, CEO of The Atlantic
COVID changed everything, and technology continues to change everything. Global dynamics and a potential recession threaten to potentially change everything. How can you prepare today before it all kicks in tomorrow? Nicholas Thompson revolutionized The New Yorker's online platform, was editor-in-chief of Wired, covering the forefront of digital innovation, and now leads The Atlantic as its CEO.
He was the perfect person to kick off Subscription Show 2022 to educate us on the tech advancements and changing market dynamics that are shifting the ways we think about traditional methods of doing business. Attendees left the session with a full understanding of how these developments intersect with our jobs, our economies, our communications, and our subscription businesses—and think about how to be prepared.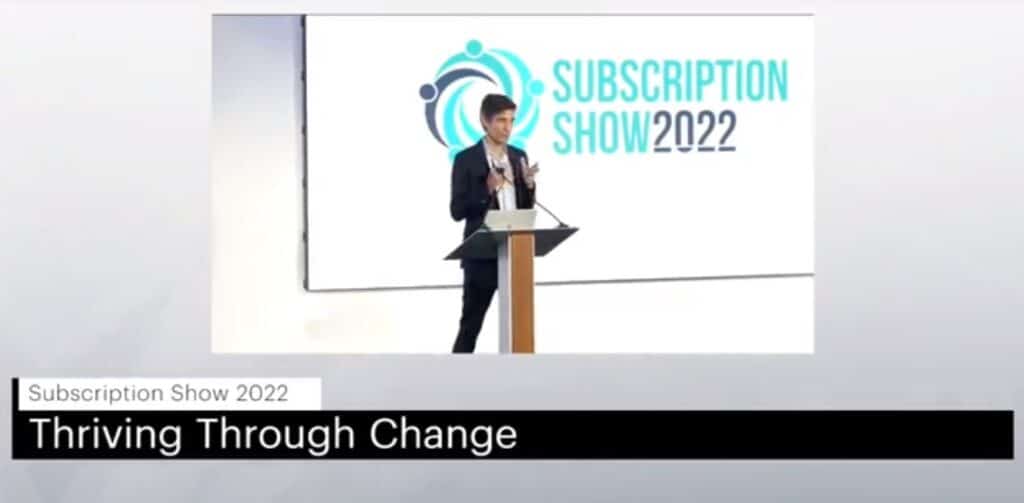 Spotlight: Ravin Checker, founder and CEO, xfactrs announced the launch of an AI-based decision intelligence platform for subscription companies.
Marketing Keynote: State of Subscription Marketing, Leo Fascione, Principal, BCG – Boston Consulting Group
Subscription marketers have unique challenges: from achieving profitable subscriber acquisition and maximizing subscriber retention, to user experience optimization, working across the organization, and staying on top of rapidly changing marketing technology and best practices. What is working for subscription marketers? What is no longer working? What do subscription Marketers need to understand and plan for moving forward? Fascione shared his insights during this keynote session.
Payments Keynote: Payments and Profitability, Paul Larsen, Senior Payments Director, Optimized Payments
What are the subscription-specific payment trends that are eating into your profitability right now?
Paul Larsen, a leading expert in card-not-present recurring payments, outlined key trends your business will need to stay on top of and the strategies you will need to implement to minimize their impact.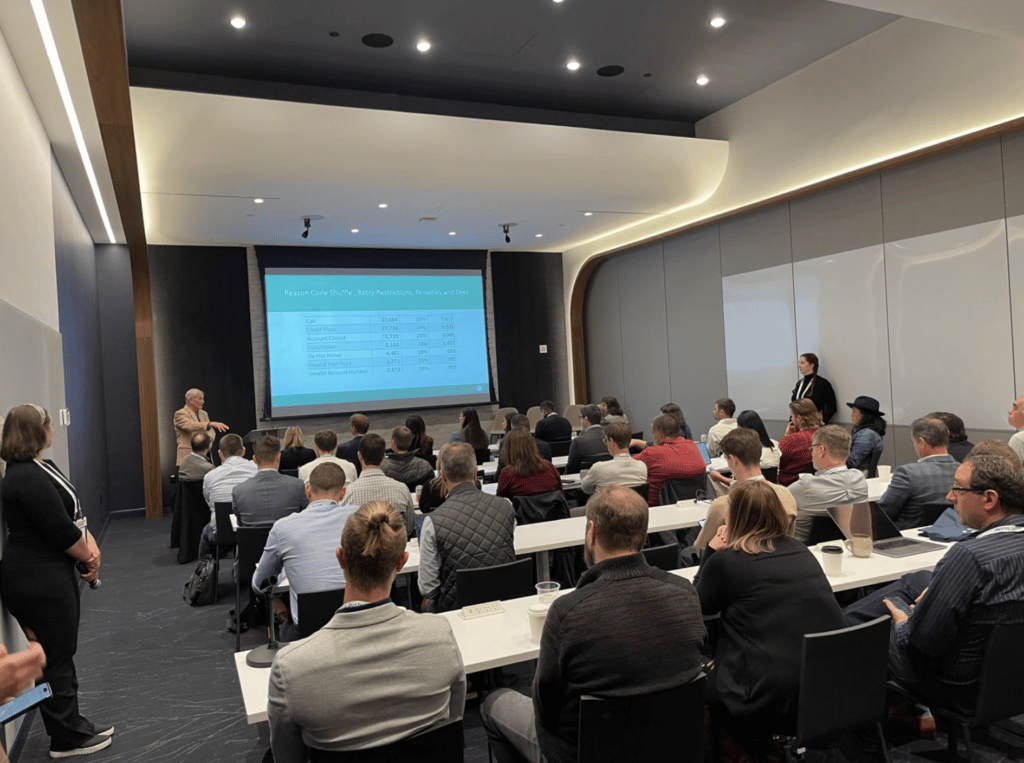 Strategy Keynote: Battling the Black Swam: Downturns, Disease and Disruptions. Diane Pierson, Founder and Chief Market Strategist, Innovate on Purpose
COVID-19 lockdowns and the loosening of those restrictions; rapid inflation and a brewing recession; ongoing supply-chain uncertainty: sometimes, threats come out of nowhere. Whether or not you believe that these were "Black Swans" – rare, unpredictable events beyond normal expectations that have potentially severe consequences – how can you be ready to not only survive them but thrive? This session will use examples and cautionary tales to outline a workflow to beat the Black Swan if (or more likely when) you encounter one. Key takeaways included how to define Black Swan; examples of diving, surviving and thriving in Black Swan situations; weapons to vanquish a Black Swan; and workflow best practices.
Marketing: Which One Won? Tearing Down Growth Experiments from Subscription Leaders. Matt Nowen, Director of Customer Experience and Melissa Miller, Senior Manager Subscriber Insights, House of Kaizen
Leading subscription product teams know that sustainable net growth comes from ongoing experimentation to improve lifetime value through subscriber experience optimization. In this session, House of Kaizen presented specific tests from a variety of subscription products in publishing, content, membership, and consumer goods to demonstrate how experimentation for subscriptions is unique and how leaders are using this insight to create better experiences and generate net growth.
Payments: VISA Briefing: Compelling Evidence. Erich Franken, Vice President, Bill Payment Industry, VISA; Natalie England, Senior Director, Global Risk, VISA; Collette Bednarczyk, Senior Director, North America Merchant, VISA.
VISA is committed to partnering with clients to drive performance in digital commerce by facilitating secure and seamless CNP payment experiences. Data exchange between merchants and issuers to identify trusted customers is key to securing payments in today's digital commerce environment. To further support the benefits of data exchange and help mitigate fraud for all ecosystem participants, VISA is modifying its dispute rules and creating a CNP dispute remedy. During the session, attendees heard from VISA directly to get insight on how merchants can leverage compelling evidence data to reduce chargebacks.
Strategy: The Hidden Growth Engine: Retention as Acquisition. Jesus Luzardo, Vice President, Global Head of Partnerships & International Sales, Vindicia.
This session explored how retention is the hidden growth engine for subscription businesses and it included key findings from the Total Economic Impact report, a study commissioned by Vindicia, to help attendees understand the value of retention. Participants also learned how to keep customers connected to their favorite services, extend subscriber lifetime by up to five months, achieve a 5% improvement in customer service and recovery payment team efficiencies, and realize a three-year ROI of 522% to break even in less than six months.
Spotlight: Minna Technologies discussed why subscription companies need to engage subscribers in banking apps.
Grand Keynote: The Secret Behind Adobe's Continued Recurring Success. Matt Wegner, Head of Global Payments and Risk, Adobe.
Adobe's transition from boxed software to SaaS subscriptions is one of the most well-known examples of how to successfully migrate to a recurring-revenue model. As Adobe subscriptions scaled to a $10B+ annual recurring book of business in over 90 countries, the secrets to success have evolved. Wegner shared how Adobe has stayed relevant and on point with their customers, lessons learned, and details that have made a difference to recent growth.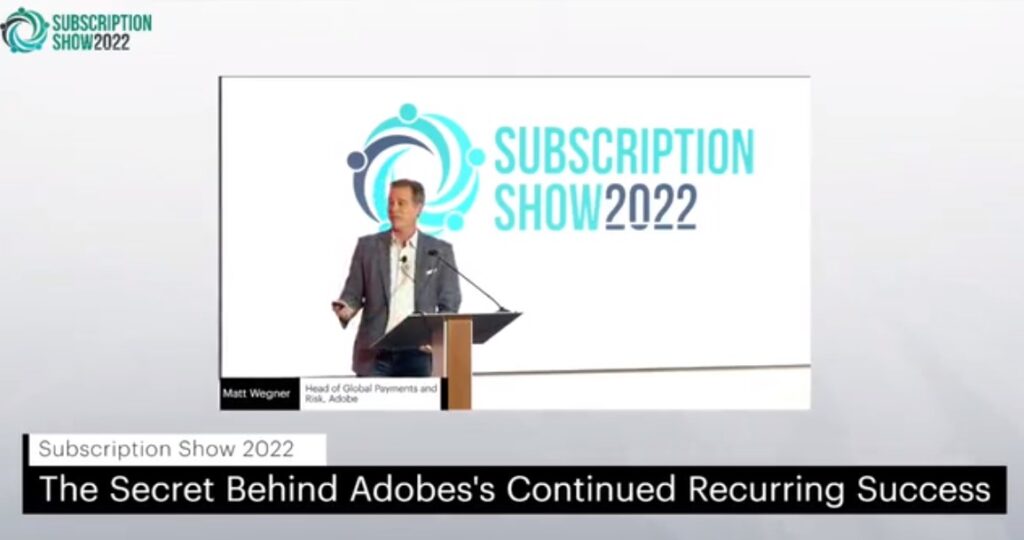 Marketing: Using Data to Drive Renewals. Dan Fink, Managing Director, Money-Media.
Have you ever wondered how other subscription companies leverage data to drive renewals and growth? Dan Fink, Managing Director of Money-Media, a Financial Times (FT) company with 11 brands providing online news and intelligence across multiple industries, walked conference attendees through how his businesses leverage renewal data to drive longer subscriber lifetime value.
Payments: Optimizing the Subscription Payments Experience to Reduce Churn and Grow Revenue. Jerry Krayzman, Director, Product Management, Billing & Payment, Momentive-AI; and Darryl Hicks, CEO and founder of FlexPay.
During this session, Krayzman and Hicks hosted a conversation critical to every subscription business: he best practices and strategies to deliver great payments experiences that lead to increased customer loyalty and retention. They shared learnings from their combined four decades of payments in optimizing the little-understood and often-ignored third pillar of the subscription customer experience.
Strategy: How to Raise Prices Now. Mark Stiving, PhD, Chief Pricing Educator, Impact Pricing.
Inflation is here and it's time to raise prices, yet there are conflicting objectives: covering increasing costs, winning new customers, and minimizing churn. How do you balance all three? The answer is by understanding how different buyers perceive value. In this session, Stiving showed how to think about pricing for each type of customer and gave actionable tactics that are sure to help increase revenue and profit.
Marketing: On-Boarding: The Secret to Creating a Subscriber for Life. Joe Brown, Founder and CEO, DearDoc.
In this session, Brown explained why onboarding matters, how to get subscribers hooked in less than 30 days, what data you should be sending and what you should omit, best practices for scripts to handle cancellation and more.
Payments: The Future of Fraud and Chargebacks. Melanie Stout, Head of Recurring Services, Optimized Payments; Chris Marchand, Vice President of Business Development, Verifi; Casey Zenner, VP of Global Sales, Kount, an Equifax company.
The nature of fraud, disputes and chargebacks is evolving, and evolving fast. The time, wasted resources, lost revenue, and "noise" is only increasing and harder to manage- to the detriment of your margins. In this discussion, attendees gained a better understanding of the future of first-party misuse of subscription products and payments, the evolution of the dispute experience, and why it's so critical to get ahead of it.
Strategy: How AllTrails, TIME and BarkBox Burned Churn. Sarah McCredie, Director of Product Marketing, Recurly.
A global economic slowdown is impacting industries across the board—retention is more critical than ever. To remain competitive, subscription brands need to optimize their subscriber lifecycle to drive conversion, upsells, cross-sells and solve the churn challenge. These three brands did. This session shared how. Specifically, McCredie discussed the latest industry benchmark data around churn metrics and share how AllTrails, TIME and BarkBox optimized the subscriber lifecycle, drove loyalty, and slashed involuntary churn, catapulting retention and subscription revenue growth.
Payments: Recurring Financial Management Best Practices. John Sullivan, Senior Payments Director, Optimized Payments and Mark Aubin, Senior Vice President, Solutions Consulting, Aptitude.
You have acquired and retained subscribers, optimized payment processing, and delivered products and services to happy subscribers. Now what? You need to make sure your team is following the latest best practices for RECURRING revenue recognition, reporting, compliance, and more. In this session, the speakers discussed best practices, what has changed, and what to expect moving into 2023 for recurring financial management best practices.
Strategy: Going Global: A Master Class in What You Need to Know. Kevin Lussie, General Manager, Keylight and Daniel von Jeinsen, Head of Sales and Partner Strategy, Keylight.
This session touched on many important topics including how to localize product offerings, using local currencies, different market price points for different countries using the same currency, taxation, invoicing, localized payment methods, chargebacks, localized recurring fees, managing shipments, and more.
Grand Keynote: The State of the Subscription Industry. Darryl Hicks, CEO & Founder of FlexPay and Karen Webster, CEO, PYMNTS.com.
The research proves it! Subscription companies that operate their business leveraging best practices achieve higher growth and profitability. Darryl Hicks and Karen Webster presented the world premiere of the PYMNTS industry benchmark study, The State of the Subscription Industry. They explored the differences between subscription companies leveraging best practices and those that don't– from how subscription companies manage their subscribers, market to them, and retain them to how they organize their team. Subscription Show 2022 attendees learned the trends and key insights from this first benchmarking study, including performance benchmarks of top-performing companies.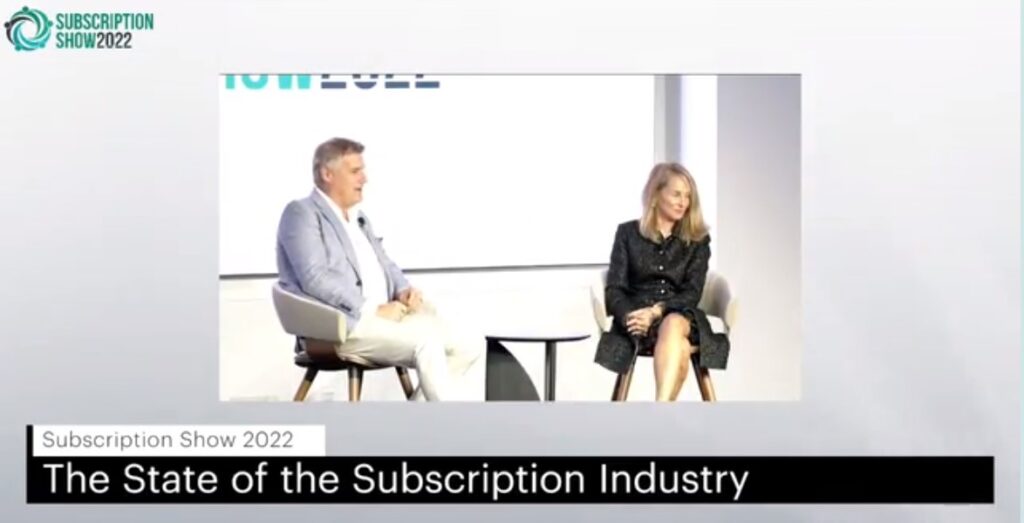 We can't wait to see what Day #2 holds! See you there.