In a drastic attempt to slash expenses, Gannett is making major cuts that will directly impact staff. CEO Mike Reed notified employees in a memo that outlines the changes they can expect in the immediate feature. New York Times reporter Ben Mullin shared the news on Twitter yesterday afternoon.
"These are truly challenging times. The company continues to face headwinds and uncertainty from the deteriorating macroeconomic environment which has led the executive team to take further immediate action," Reed said.
Reed went on to say the company has promised transparency so, in the memo, they are explaining their decisions and why Gannett believes they are necessary.
"In order to sustain the mission of our company to empower communities to thrive, sustain local journalism and support small businesses with digital solutions, we need to ensure our balance sheet remains strong," wrote Reed.
Pending changes
401(k) matching: Gannett will temporarily suspend 401(k) matching contributions made on or after October 24, 2022. This will not have any impact on employee contributions, but employees will not see matching dollars from Gannett until the suspension is lifted.
Mandatory leave in December: During the month of December, employees must take five days of unpaid leave between December 19 and December 30. The Christmas holiday will be paid. Employees will work with their managers to be sure staffing and coverage are sufficient.
Voluntary severance offer (VSO): Gannett will pay severance to employees in exchange for their voluntary resignation and the signing of a separation and release agreement. Employees who are interested in the VSO must let Gannett know by October 18, and they must work through November 4.
Hiring freeze: Gannett said it will freeze new hiring except for "key revenue and operating roles" and other critical positions.
Voluntary options: Employees may opt for an adjusted work week with fewer hours and a 20% reduction in compensation while maintaining their status as full-time employees. Also, employees can take a one to six-month unpaid sabbatical leave. Employees on sabbatical can continue their health benefits by paying the employee portion of premiums to Fidelity.
"This is a lot to process. This mix of temporary and permanent actions allows us the near-term flexibility we need to drive improvement while preserving our ability to quickly pivot as we see the economy and areas of our business progress," Reed concluded.
Reactions to the news
Many people commented on Twitter about the news. Here is a sampling:
On the heels of 400 job cuts
This news comes on the heels of major jobs cuts that started after the company's second-quarter earnings report in which Gannett reported total revenue of $748.7 million, a 6.9% decrease year-over-year, and a net loss of $53.7 million. Gannett confirmed they laid off approximately 400 employees, or 3% of the company's U.S. workforce, according to Poynter.
In addition, Gannett has chosen now to fill 400 open positions. Gannett has also made significant cost reductions to their marketing budget, cut other non-payroll related expenses, and eliminated three of Gannett's 10-member executive team as part of a companywide restructuring. Gannett announced the restructuring in June, dividing the company into two distinct units: Gannett Media and Digital Marketing Solutions.
"We are not satisfied with our overall performance in the second quarter and have quickly responded to this rapidly deteriorating economic environment by implementing a significant cost reduction program that we believe will better position the company to realize its long-term growth goals, with a lower and more variable cost structure. The changes and reductions to our cost structure are focused primarily on our legacy print business," Reed said in an August 4 news release.
Gannett stock
As of 5:53 p.m. EDT yesterday, Gannett stock had dropped to $1.40 per share, just above the company's 52-week low of $1.32 per share and nowhere near the company's 52-week high of $6.38 per share.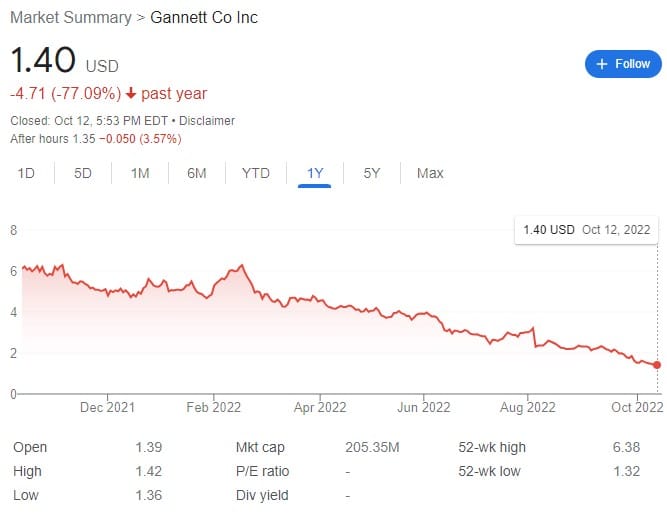 Insider Take
Wow. This is a low blow to Gannett employees as the company continues to take hit after hit. The staff, on whom Gannett relies to produce their products and services, is bearing the brunt of the cost cutting measures and at a very difficult time of year. Not only is our nation facing a recession, but costs are rising, and the holidays can be an expensive time even for the most frugal of shoppers. This is also in line with Gannett's MO since being bought by Alden Global Capital in November 2019.