Last week, The Walt Disney Company announced a strategic restructuring of the company which will include cutting 7,000 jobs, representing just over 3% of Disney's workforce of 220,000, reports CNBC. In addition, Disney plans to reduce expenses by $5.5 billion, including about $3 billion in content savings and the balance from non-content related expenditures. Iger said the content savings will not come from sports programming. Christine McCarthy, senior executive vice president and chief financial officer, said marketing would absorb 50% of the cost savings, labor 30%, technology, procurement and other expenses the remaining 20%.
The company is also reorganizing into three core divisions: Entertainment, ESPN, and Disney Parks, Experiences and Products. Each division leader will be in charge of operations and hold financial responsibility for everything from creative development and marketing to sales and distribution. Disney's strategic restructuring will center around creativity, empowering creative leaders while holding them accountable for results, and focusing on making Disney's streaming business profitable and sustainable.
The announcement was made shortly after Disney posted its first quarter financials for fiscal year 2023. However, Disney's official statement about the strategic restructuring wasn't released until the following day.
"For nearly 100 years, storytelling and creativity have fueled The Walt Disney Company, with virtually every interaction we have with our consumers emanating from something creative," said Robert A. Iger, Chief Executive Officer of The Walt Disney Company in a February 9, 2023 announcement. "I am committed to positioning this company for a new era of growth. Our strategic restructuring will return creativity to the center of the company, increase accountability, improve results, and ensure the quality of our content and experiences."
Alan Bergman and Dana Walden will run Disney Entertainment which includes Disney's streaming services: Disney+, ESPN+, Hulu, Star+ and Hotstar. Jimmy Pitaro will be responsible for ESPN, including ESPN networks and the subscription app ESPN+. Chairman Josh D'Amaro continue to oversee Disney Parks, Experiences and Products which includes Disney theme parks, cruise line, resort destinations, Adventures by Disney and National Geographic Expeditions and the company's consumer products, games and publishing businesses.
Iger spoke about Disney+'s early success after its 2019 launch.
"Three years later, its meteoric rise is considered one of the most successful rollouts in the history of the media business. Now, it's time for another transformation, one that rationalizes our enviable streaming business and puts it on a path to sustained growth and profitability while also reducing expenses to improve margins and returns and better positioning us to weather future disruption, increased competition, and global economic challenges," Iger said on the earnings call.
Iger said Disney will no longer provide long-term subscriber guidance "to move beyond an emphasis on short-term quality metrics." The CEO said they are focused on growth and profitability of their streaming business, and he projects that Disney+ will achieve profitability by the end of fiscal year 2024. Iger said the company would adjust their pricing strategy to include an evaluation of their promotional strategies.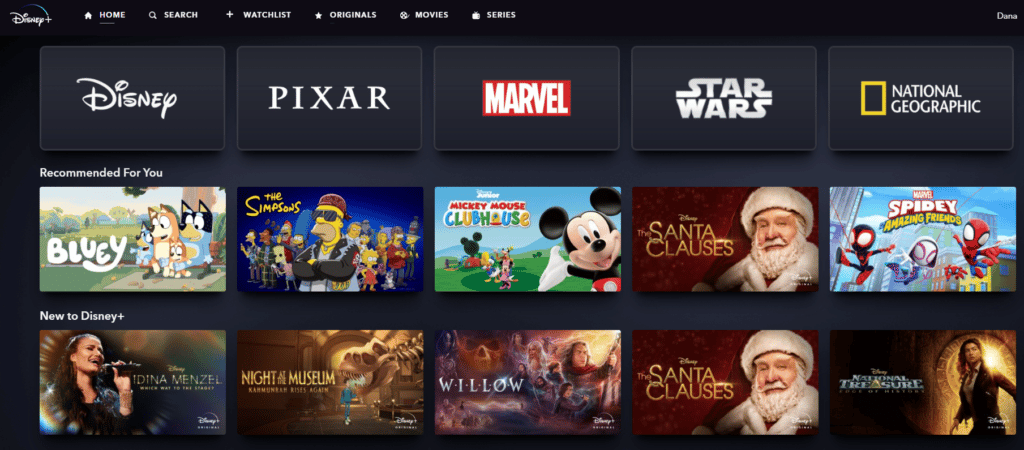 First quarter earnings report for fiscal year 2023
The day before the strategic restructuring was announced, The Walt Disney Company released its earnings report for the quarter ended December 31, 2022. This was the first quarterly financial report since Iger returned to the helm of the organization in November. The company reported total revenue of $23.5 billion, an 8% increase year-over-year. Diluted earnings per share from continuing operations for the quarter grew $0.07 to $0.70, an 11% increase year-over-year.
"After a solid first quarter, we are embarking on a significant transformation, one that will maximize the potential of our world-class creative teams and our unparalleled brands and franchises," said Robert A. Iger, Chief Executive Officer, The Walt Disney Company. "We believe the work we are doing to reshape our company around creativity, while reducing expenses, will lead to sustained growth and profitability for our streaming business, better position us to weather future disruption and global economic challenges, and deliver value for our shareholders."
Direct-to-consumer results
Direct-to-consumer revenue for the quarter grew 13% to $5.3 billion, but the operating loss doubled, increasing $0.5 billion to $1.1 billion. Disney attributed this loss to higher losses at Disney+ and a decrease in results from Hulu, which were partially offset by positive results from ESPN+. Disney+ had higher programming and production costs and increased technology costs, which were partially offset by higher subscription revenue and a reduction in marketing costs.
Disney reported the following paid subscriber* counts, in millions:
| | | | |
| --- | --- | --- | --- |
| | As of 12/31/22 | As of 10/31/22 | % Change |
| Disney+ | | | |
| Domestic (U.S. & Canada) | 46.6 | 46.4 | 0% |
| International (excl. Disney+ Hotstar) | 57.7 | 56.5 | 2% |
| Disney+ Core | 104.3 | 102.9 | 1% |
| Disney+ Hotstar | 57.5 | 61.3 | (6)% |
| Total Disney | 161.8* | 164.2 | (1)% |
| ESPN+ | 24.9 | 24.3 | 2% |
| Hulu | | | |
| SVOD Only | 43.5 | 42.8 | 2% |
| Live TV + SVOD | 4.5 | 4.4 | 2% |
| Total Hulu | 48.0 | 47.2 | 2% |
*A paid subscriber includes anyone for whom Disney received subscription revenue during the quarter. If a subscriber cancels or a payment fails and has yet to be resolved, those subscribers are not included. Also, if a subscriber subscribers to a bundle like the Disney+ bundle, they are counted as a paid subscriber for each service in the bundle.
**While a 1% decline in paid subscribers does not seem significant, Disney+ lost 2.4 million subscribers in the last quarter, which is significant.
Disney+ core average revenue per user (ARPU) decreased $0.19 compared to the previous quarter which was partially offset by the company's recent price increase in the U.S. The company anticipates Disney+ core subscriber and ARPU growth in Q2. McCarthy said she does not expect the launch of the ad-supported tier to have a meaningful impact to Disney's financials until later in the 2023 fiscal year.
According to TechRadar, the decline in Disney+ subscribers is due to its library of content and the absence of appealing new content from Marvel and Star Wars, failing to cater to Indian or Southeast Asian audiences, and cost-of-living impacts. TechRadar said the lower-priced, ad-supported tier may appeal to first-time subscribers and to customers outside the U.S.

Insider Take
Bob Iger is back, and he's making big changes. That's not necessarily a surprise though. Now that he has returned to the helm of Disney, he wants to see successful management of each line of business. Iger is making bold moves – and enforcing results and accountability – to ensure that the company has a sustainable and profitable future. The strategic restructuring and job cuts, while drastic, are in line with where other massive companies are cutting costs first. The reduction in content spending is interesting. If TechRadar is right and Disney content isn't competitive enough, then reducing content spending may be a risky move. Iger needs his Entertainment team to make very calculated cost and content decisions to avoid more subscriber loss. Another message we picked up on was Iger's comment about adjusting their pricing strategy. Could this potentially mean yet another price increase, or perhaps a change in promotional pricing?
Takeaways for subscription companies: In the current climate, no company is immune to the economy's effect on their core businesses. Making bold moves is difficult, but sometimes necessary to ensure the long-term sustainability of their companies and the continued satisfaction of their customers. Making the wrong moves can be disastrous.