On Sunday, the Walt Disney Company announced they are tapping Disney veteran Bob Iger to fill the CEO position once again. Iger had previously worked at the company for four decades, including 15 years in the CEO seat from 2005 to 2020 before retiring 11 months ago. According to Disney's November 20, 2022 announcement, Iger will serve as CEO for two years to set the company's course for strategy and growth. He will also work with the board of directors to identify and train a successor. Iger replaces Bob Chapek, who was fired by Disney on Sunday. Chapek had been in the CEO role since 2020.
Comments from Disney's board chair
"We thank Bob Chapek for his service to Disney over his long career, including navigating the company through the unprecedented challenges of the pandemic," said Susan Arnold, board chair, in the announcement. "The Board has concluded that, as Disney embarks on an increasingly complex period of industry transformation, Bob Iger is uniquely situated to lead the Company through this pivotal period."
"Mr. Iger has the deep respect of Disney's senior leadership team, most of whom he worked closely with until his departure as executive chairman 11 months ago, and he is greatly admired by Disney employees worldwide–all of which will allow for a seamless transition of leadership," Arnold added.
Trying to right the ship
Returning to Disney, the 71-year-old Bob Iger is trying to bring Disney back to stability, reports The New York Times. Iger is focused on bringing the executive leadership team to work together as they make organizational and operating changes to Disney without disturbing the creativity and past successes of the company. Sources say that morale at Disney is quite low. Under Iger's past leadership, the company saw many years of success in virtually every aspect of their business, but COVID changed things, piling on debt, as did the $71.3 billion acquisition of 21st Century Fox in 2019.
Among the topics being discussed is the future of Disney's streaming services, which have changed even since Disney+ first launched. Competition and costs have increased, so Disney has raised prices for all three of its streaming services (Disney+, Hulu and ESPN+) but they are still seeing growth. In August, for example, Disney announced they had 221.1 million total paid subscribers across their streaming services. For the same time period, Disney also reported an operating loss of $1.1 billion in their direct-to-consumer segment due to higher losses at Disney+ and ESPN+ and lower operating income at Hulu.
"Disney+ is still a young business and we are learning more every day about the service's ability to attract new fans to our powerhouse franchises," said Chapek on the August earnings call.
Iger must also focus on finding a successor, balancing expenses and revenue in a challenging economy, and investors who want a voice in the changes to be made. According to The New York Times, in his email to more than 190,000 Disney staffers, Iger noted that these are challenging times, but he is optimistic.
"…if I learned one thing from my years at Disney, it is that even in the face of uncertainty – perhaps especially in the face of uncertainty – our employees and cast members achieve the impossible," Iger said.
Disney stock
The news caused a slight increase in Disney's stock price. At close on Friday, November 18, Disney stock was valued at $91.80 per share. On Monday, November 21, stock was valued at $97.58. It dipped slightly yesterday, closing at $96.21 at 7:59 p.m. Eastern.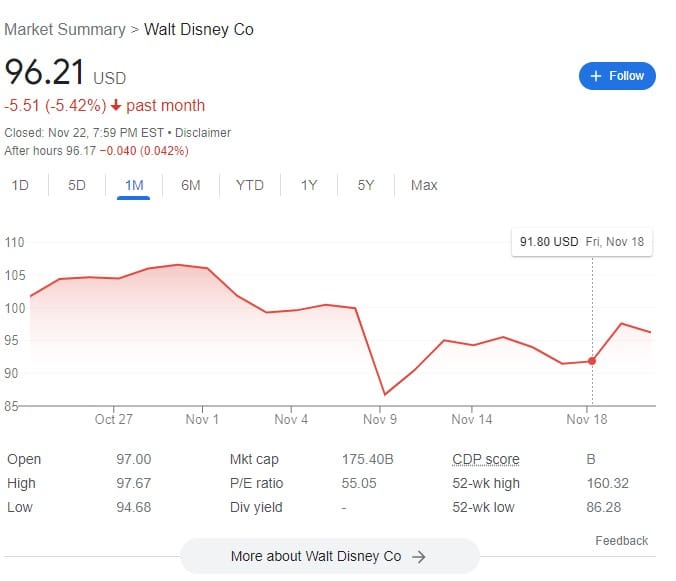 Insider Take
No business right now is immune to the effects of ever-changing economic and political climates in the wake of a pandemic that continues to plague us. Based on his vast experience and Disney-specific track record, Bob Iger is the right man for the job. If anyone can help Disney dig themselves out of the hole they've found themselves in, it is Iger.