The holidays are just around the corner, and Amazon plans to be ready to handle their customers' holiday shopping needs. Last week, the ecommerce giant announced they are hiring 250,0000 employees for the 2023 holiday season. In hundreds of cities across the US, Amazon is looking for part-time and full-time employees for roles in their seasonal fulfillment centers and transportation. Jobs include picking, packing, sorting, shipping customer orders and more.
"The holiday season is always a special time at Amazon and we're excited to hire 250,000 additional people this year to help serve customers across the country," said John Felton, Amazon's senior vice president of Worldwide Operations, in a September 19, 2023 blog post. "Whether someone is looking for a short-term way to make extra money, or is hoping to take their first step toward a fulfilling and rewarding career at Amazon, there's a role available for them."
Felton also said new employees can expect health care benefits on their first day and qualify for prepaid college tuition through their Career Choice program. Fulfillment and transportation employees can expect to see a 13% wage increase over the next three years in addition to benefits. New hires will get improved on-the-job training and Power Industrial Trucks (PIT) training to prioritize personal and site safety, the company said.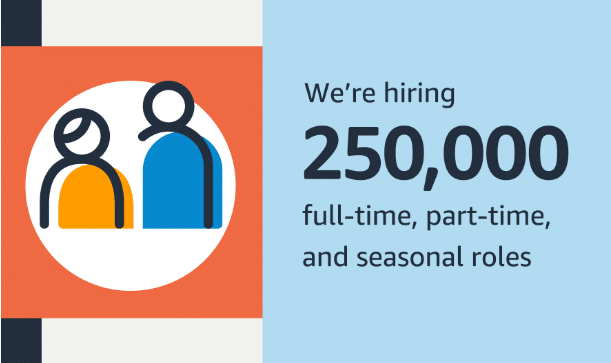 $1.3 billion investment in pay increases
Amazon are making a $1.3 billion investment – their largest investment ever – in pay increases for their customer fulfillment and transportation employees. This brings their average pay to over $20.50 per hour, more than 50% more than they made five years ago. Overall, hourly wages are between $17 and $28 per hour, depending on location. Amazon will pay signing bonuses between $1,000 and $3,000 at certain locations. Amazon said they increase hourly wages annually, and over the last five years, have invested over $10 billion in hourly pay along with benefits that begin on their first day of employment.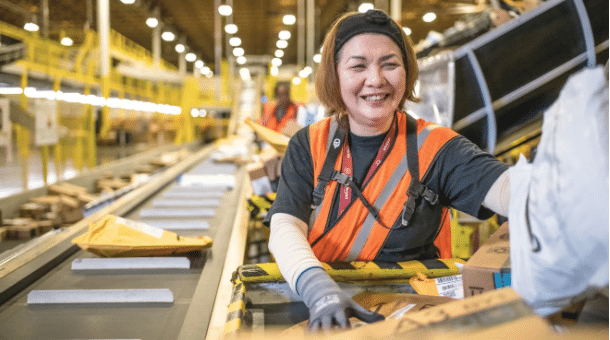 Prime Big Deal Days, October 10-11
The holiday hiring announcement came just two days after Amazon shared the dates for this year's Prime Big Deal Days promotion. For Prime members, Big Deal Days start at 3 a.m. Eastern on October 10 and go through October 11. Prime members can shop their favorite brands, but Amazon will also offer them personalized recommendations based on past purchases, browsing history and items saved to their personal lists. Big Deal Days are only available to Prime members. People can sign up for a 30-day free trial. A Prime membership is $139 per year or $14.99 a month after the free trial.
Insider Take
Big Deal Days will help kick off Amazon's holiday shopping season and encourage more shoppers to become Prime members. With an uncertain economy and growing competition, Amazon wants to ensure it retains market share and that it has a strong fourth quarter. Promotions like Amazon Prime Day and Big Deal Days introduce the online shopping giant to new prospects which is more important than ever.
The timing is key too. Amazon needs to offset the news that the Federal Trade Commission has amended its complaint against Amazon, naming three senior executives in what the FTC calls their Amazon Prime Enrollment scheme. The scheme was designed to enroll customers in Prime without their consent and to make it difficult, if not impossible, to cancel, the FTC alleges. Amazon could use some goodwill to offset the bad press.
Copyright © 2023 Authority Media Network, LLC. All rights reserved. Reproduction without permission is prohibited.