Netflix added nearly 9 million new subscribers during the third quarter, ending the period with 247.2 million paid streaming memberships worldwide. This represents 10.8% growth year-over-year and the largest percentage of growth over the last five quarters. Revenue was solid at $8.5 billion, representing 7.8% growth year-over-year. Based on their results, Netflix has raised its full-year guidance for operating margin and free cash flow.
Other financial highlights include the following:
Operating income was $1.9 billion.
Operating margin was 22.4%.
Net income was $1.68 billion.
Diluted earnings per share were $3.73 compared to $3.10 for the third quarter of 2022.
Netflix ended the quarter with $7.4 billion in cash and cash equivalents.
"The last six months have been challenging for our industry given the combined writers and actors strikes in the US. While we have reached an agreement with the WGA, negotiations with SAG-AFTRA are ongoing," Netflix said in yesterday's shareholder letter. "We're committed to resolving the remaining issues as quickly as possible so everyone can return to work making movies and TV shows that audiences will love."
Price increase for some plans
The big headline, buried on page five of the shareholder report, is the price increase for some streaming plans in the U.S, U.K. and France, effective immediately. This is the second price increase in less than two years. In the U.S., the Basic plan will now be $11.99, a $2 increase per month, and the Premium plan will be $22.99, a $2 increase per month. The ad-supported and Standard plans priced at $6.99 and $15.49 per month, respectively, will remain the same. The Basic plan is being phased out in the U.S., the U.K., Italy and Canada.
"While we mostly paused price increases as we rolled out paid sharing, our overall approach remains the same — a range of prices and plans to meet a wide range of needs, and as we deliver more value to our members, we occasionally ask them to pay a bit more," said Netflix.
"Our starting price is extremely competitive with other streamers and at $6.99 per month in the US, for example, it's much less than the average price of a single movie ticket," the company said.
Better-than-expected results for paid sharing
This is just one aspect of the company's focus on monetization and growth. Netflix reported the performance of paid sharing is better than expected with "strong membership growth" and low churn to date. Netflix has now rolled out its paid sharing plans in all markets, and they hope to continue to convert viewers into either full paying members or extra household members who pay a lesser fee to be added to a household's plan.
Ad-supported plans
Netflix launched ad-supported plans last fall with lackluster results. That is improving, but they want to be "an essential buy for advertisers." During the third quarter, subscriptions to the ad-supported plans increased 70% quarter-over-quarter and now represent about 30% of all new sign-ups to the streamer. Frito Lay, T-Mobile and Nespresso are among the brands advertising on Netflix. Next year, the company will roll out a "hero spot" where a brand can sponsor a particular episode of a program so it is available to viewers ad free.
Engagement and content
Aside from financial results and subscriber growth, a key to Netflix's success is engagement. They attribute this to the wide range and quality of content. Streaming viewing now accounts for 37.5% of TV screen time in the U.S. with Netflix garnering the number two spot at 7.8% of the streaming market, under YouTube which garners 9.0% according to Nielsen data for September 2023.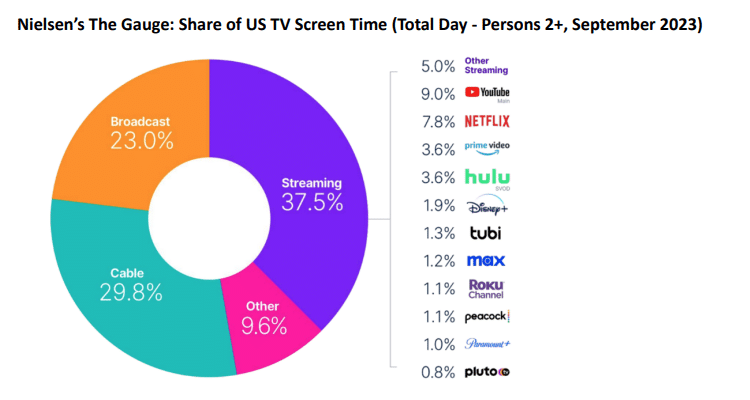 Netflix reports strong viewership for One Piece (Season 1), Suits, The Witcher (Season 3), Love at First Suit, Dear Child, Sintonia (Season 4) and Class Act. In the fourth quarter, viewers can expect to see Leo with Adam Sandler; Chicken Run: Dawn of the Nugget, a sequel to Chicken Run; the final season of The Crown; Berlin; Rebel Moon; Squid Game: The Challenge and more. Netflix is also branching into new endeavors such as consumer products and experiences, restaurant pop-up Netflix Bites, and the coming Netflix House.
Insider Take
Netflix had a really strong quarter with growth in revenue and paid subscribers, so it is hard to fathom why a price increase is necessary. When the rumors circulated earlier this month, there was speculation that Netflix would raise prices to compensate for the renegotiated contract with writers, but that Netflix would hold off until the actors' strike was resolved before making a move. They didn't wait.
We have a hard time understanding why a company in a good financial position – and a better position than some of its top competitors – feels the need to raise prices again. Is it a cash grab? Maybe they are increasing prices because they can, and they can afford to lose subscribers over it.
Copyright © 2023 Authority Media Network, LLC. All rights reserved. Reproduction without permission is prohibited.