Kroger wants to make finding nutritious food convenient for its customers. They recently launched Tempo, an affordable single-serve, heat-and-eat meal subscription service that will help those looking for affordable alternatives to takeout.
Tempo stems from Home Chef, also owned by Kroger. Home Chef offers subscribers customizable meal kits to fit the needs of each customer. There are pre-portioned ingredients to make cooking easier and cut down on food waste. Home Chef currently offers meal kits, express meal kits that cook in 15 minutes or less, or oven-ready meals. With oven ready meals, there is no preparation needed, just a warm oven.
"The Home Chef team is constantly looking for new ways to make mealtime achievable for more people. Tempo, our first new brand launch in Home Chef's decade-long history, allows us to service easy meals to households that prioritize convenience and balanced eating in their routines," Erik Jensen of Home Chef shared in an October 4, 2023 press release.
Tempo takes the oven-ready meal to the next step, only requiring a microwave. With meal services like Factor and Tovala growing in popularity, it makes sense that more brands want to cash in on the opportunity. Each meal comes balanced and flavorful and can start as low as $10.98 per serving. Most meals on Tempo's menu appear to take five minutes or less in the microwave. Each week, they offer more than 12 options made by chefs, Supermarket News shared.
The meals are made using nutrient-rich ingredients will whole grains, lots of vegetables, and 30 or more grams of protein per serving. They are also calorie conscious, the company says. A few upcoming meal options include:
Garlic Sesame Chicken Stir Fry with Brown Rice and Green Beans
Green Chili Pork with Quinoa, Fire Roasted Corn, and Peppers
Harissa Beef Meatball and Couscous Bowl
As much as microwaveable meals have been scoffed at in the past, there is still a market for them. According to a survey from PYMNTS, at least one in 10 people are subscribing to ready-to-eat meals delivered to their doors every month. While that still seems small, it adds up to 25 million consumers a week.
Tempo is trying many things to attract new subscribers. Through the end of November, they are offering 50% off a customer's first Tempo box, then 20% off their next four boxes, Winsight Grocery Business shared.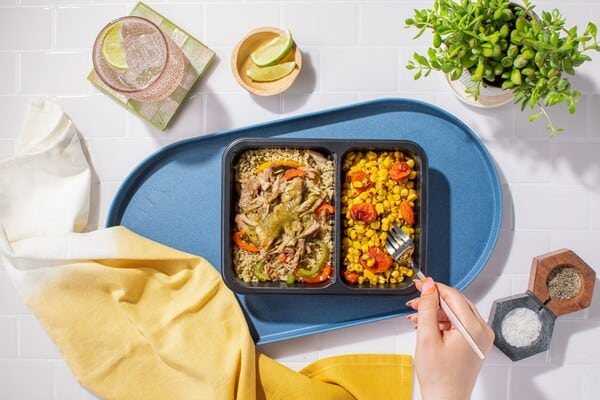 Insider Take
While some of the meal kit and heat-and-eat meal subscription services seem out of reach for some consumers, eating out is expensive for one person, let a lone a family. The cost of a combo meal at a fast food chain starts at about $12 per person, and these meals are fresher, healthier and far more creative than anything you can get in a paper bag. There's a place for fast food too, but having meals delivered to your door that are less or equal to in price seems like a great alternative. Hey, if The New York Times can sell meal subscription services, why not a company that's already doing it?
Copyright © 2023 Authority Media Network, LLC. All rights reserved. Reproduction without permission is prohibited.