In the company's second-quarter financials yesterday, Microsoft reported mixed results for the quarter ended December 31, 2022. The software company reported revenue of $52.7 billion, a 2% increase year-over-year. Microsoft had operating income of $20.4 billion (GAAP), a decrease of 8% year-over-year. Net income of $16.4 billion, a 12% decrease year-over-year, or $2.20 diluted earnings per share (GAAP), an 11% decrease over the prior year period.
On the earnings call, chairman and CEO Satya Nadella spoke about the changing environment and the company's priorities.
"Just as we saw customers accelerate their digital spend during the pandemic, we're now seeing them optimize that spend," Nadella said. "Also, organizations are exercising caution given the macroeconomic uncertainty. And the next major wave of computing is being born, as we turn the world's most advanced AI models into a new computing platform."
In the technological environment, Nadella said that Microsoft is focused on three things:
"This is an important time for Microsoft to work with our customers helping them realize more value from their tech spend and building long-term loyalty and share position, while internally aligning our own cost structure with our revenue growth," Nadella said.
"This, in turn, sets us up to participate in the secular trend where digital spend as a percentage of GDP is only going to increase. And lastly, we're going to lead in the AI era, knowing that maximum enterprise value gets created during platform shifts," added Nadella.
Financial highlights for Q2
Microsoft reported the following financial highlights for the second quarter of fiscal year 2023:
As announced last week, Microsoft took a $1.2 billion hit to operating income due to severance, hardware-related impairment and lease consolidation costs. This impacted gross margin by $152 million and earnings per share by $0.12.
Revenue in Productivity and Business Processes was $17.0 billion, a 7% increase.
Office Commercial products and cloud services revenue increased 7%, driven by Office 365 Commercial revenue growth of 11%.
Office Consumer products and cloud services revenue, however, decreased 2%.
The company now has 63.2 million Microsoft 365 Consumer subscribers, up 1.9 million from the first quarter of fiscal year 2023.
LinkedIn revenue grew 17%, and Dynamics products and cloud services increased 15%.
Revenue in Intelligent Cloud was $20.3 billion, an increase of 20% year-over-year.
Server products and cloud services revenue increased 22% and other cloud services revenue grew 35%.
Revenue in More Personal Computing was $13.3 billion, a slight decline year-over-year.
Windows OEM revenue decreased 15%, and Xbox content services revenue dropped 3%.
Windows Commercial products and cloud services revenue increased 8%.
Search and news ad revenue, excluding traffic acquisition expenses, increased 16%, and Devices revenue increased 2%.
Microsoft returned $9.7 billion to shareholders through share repurchases and dividends in the first quarter, a decline of 11% year-over-year.
Amy Hood, executive vice president and CFO for Microsoft, commented on the strength of Microsoft Cloud in the news release.
"This quarter Microsoft Cloud revenue was $25.7 billion, up 24% (up 31% in constant currency) year-over-year. We continue to see healthy demand across our commercial businesses including another quarter of solid bookings as we deliver compelling value for customers," said Hood.
Copyright © 2023 Authority Media Network, LLC. All rights reserved. Reproduction without permission is prohibited.
Third quarter guidance
On the earnings call, Hood shared the company's third-quarter outlook, which does not include any potential impacts from the Activision acquisition which is still awaiting regulatory approval:
Foreign exchange rates are expected to have a negative impact on total revenue growth, along with cost of goods sold, and revenue growth in specific product and service lines.
Windows OEM and Devices will continue to experience declines as the PC market returns to pre-COVID levels.
LinkedIn and Search ad revenue will be negatively impacted by more cautious customers.
Customers in general will be more cautious about their spending.
In commercial bookings, the company expects growth of Azure contracts to be flat.
Productivity and Business Processes revenue will be between $16.9 billion to $17.2 billion.
In Office Consumer, revenue growth will be in the low-single digits, driven by subscriptions to Microsoft 365.
Microsoft anticipates mid-single digit growth for LinkedIn, and Dynamics growth in the low to mid-teens.
Intelligent Cloud growth is expected between $21.7 billion to $22 billion.
Insider Take
Microsoft preemptively announced layoffs and the $1.2 billion hit due to restructuring last week. They were likely preparing investors and financial experts for what was to come. In many ways, Microsoft still had a decent quarter, but growth is slowing, and they are bracing themselves for what's next. They can paint a rosy picture that they are betting bit on AI – and they might very well lead the pack – but there is still uncertainty. Investors don't seem worried though. On Monday, Microsoft stock was valued at $242.58 per share. Yesterday, stock was valued $242.04 per share as of 7:59 p.m. EST.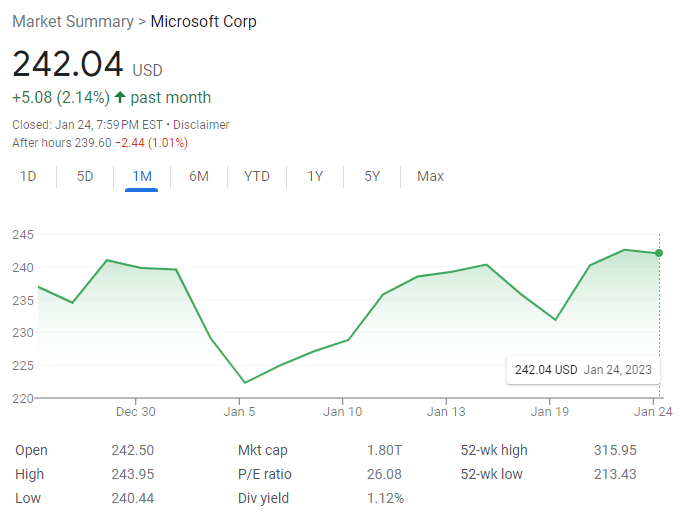 Copyright © 2023 Authority Media Network, LLC. All rights reserved. Reproduction without permission is prohibited.