It's Christmas in October for Amazon Prime members. The ecommerce retailer announced they are hosting a 48-hour holiday shopping event exclusively for members, beginning at 12 a.m. on October 11 through October 12. The two-day shopping extravaganza will be available to Amazon Prime members in 15 countries including Austria, Canada, China, France, Germany, Italy, Luxembourg, the Netherlands, Poland, Portugal, Spain, Sweden, Turkey, the UK, and the U.S. Holiday deals will be available across the site, including special pricing for brands like Peloton, New Balance, Caudalie, Murad, and Philips Sonicare.
Amazon says the Prime Early Access Sale gives Prime members an opportunity to start their holiday shopping early. As part of the event, Amazon has curated a top 100 list of what they believe will be the most popular gifts this season. Items from the top 100 list will offer special deals across Amazon's top categories including home, fashion, electronics, pets, toys, and Amazon devices. Amazon will also offer holiday gift guides and Amazon's Toys We Love list to help shoppers choose the perfect gifts.
"We are so excited to help Prime members kick off the holiday season with Amazon's new Prime Early Access Sale—an exclusive opportunity for members to get deep discounts on top brands we know they are looking for this time of year," said Jamil Ghani, vice president of Amazon Prime in a September 26, 2022 news release. "And members can start enjoying exclusive Prime benefits and offers now, plus find gift ideas for the family with our holiday gift guides and this year's Toys We Love list."
The sales event is a few weeks away, but Amazon wants their members to start planning their shopping now. Amazon's toy gift guide, toys we love list, and home gift guide are already available. Amazon is also encouraging Amazon Prime members to try Amazon Music Unlimited, their streaming audio subscription service that features 90 million songs ad-free. Through October 12, Amazon Prime members can get three months for free. As an alternative, if they buy an Echo Dot (3rd generation) for $0.99, they get a one-month subscription free.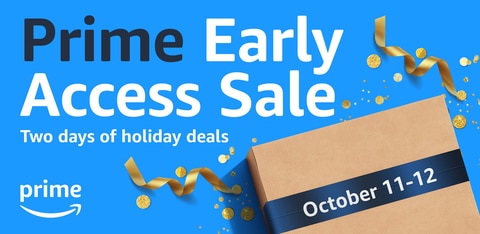 Other membership perks
Amazon Prime members in the U.S. have access to additional deals. For example, members get a Grubhub+ membership free for a year. This includes unlimited, $0 delivery fees on orders over $12. The membership also includes special offers and rewards. A Grubhub+ membership is valued at $9.99 per month. Also, from September 30 through October 7, Prime members can save on new and popular titles to rent or buy at up to a 50% discount.
Members who want to participate in this exclusive shopping event can set up personalized deal notifications on their recent Amazon searches and recently viewed items. They can set up the alerts by visiting the Early Access Sale event page and sign up for the deal alerts. Members can also create deal lists with Alexa, who will notify members up to 24 hours in advance of eligible deals.
Not a Prime member? No problem. Shoppers can sign up for Amazon Prime for $139 a year, or $14.99 a month, with a free 30-day trial. Qualifying recipients of government assistance, including SNAP EBT and Medicaid, can sign up for Amazon Prime for $6.99 a month. Amazon also offers student pricing on a Prime membership.
Insider Take
Amazon's Prime Day savings events have been big money makers for the ecommerce giant. This will help them recover from losses earlier this year, while also helping them space out deliveries throughout the holiday season. Current Amazon Prime members already recognize the value of a Prime membership, and Amazon continues to reinforce that value, reminding members of all the perks they get with a Prime membership. This is a great strategy for all subscription companies to follow – remind customers of their value so they stick around for the long-term.