Christmas came early for Google and YouTube TV. Last week, the National Football League announced a multi-year deal with Google, giving YouTube TV and YouTube Prime Channels exclusive residential rights to broadcast NFL Sunday Ticket to U.S. customers. The deal begins with the 2023 NFL season. Google beat out strong competitors including Amazon, Apple and Disney-owned ESPN.
Sunday Ticket is a subscription-only offering that gives subscribers access to Sunday afternoon out-of-market games. It will be available as an add-on package with YouTube TV and as a separate, a la carte offering on YouTube Prime Channels. New product features and functionality for NFL Sunday will be announced prior to the start of the 2023 season.
"We're excited to bring NFL Sunday Ticket to YouTube TV and YouTube Primetime Channels and usher in a new era of how fans across the United States watch and follow the NFL," NFL Commissioner Roger Goodell said in a December 22, 2022 announcement. "For a number of years, we have been focused on increased digital distribution of our games and this partnership is yet another example of us looking towards the future and building the next generation of NFL fans."
YouTube CEO Susan Wojcicki also commented on the deal and what it means for YouTube.
"YouTube has long been a home for football fans, whether they're streaming live games, keeping up with their home team, or watching the best plays in highlights," said Wojcicki. "Through this expanded partnership with the NFL, viewers will now also be able to experience the game they love in compelling and innovative ways through YouTube TV or YouTube Primetime Channels. We're excited to continue our work with the NFL to make YouTube a great place for sports lovers everywhere."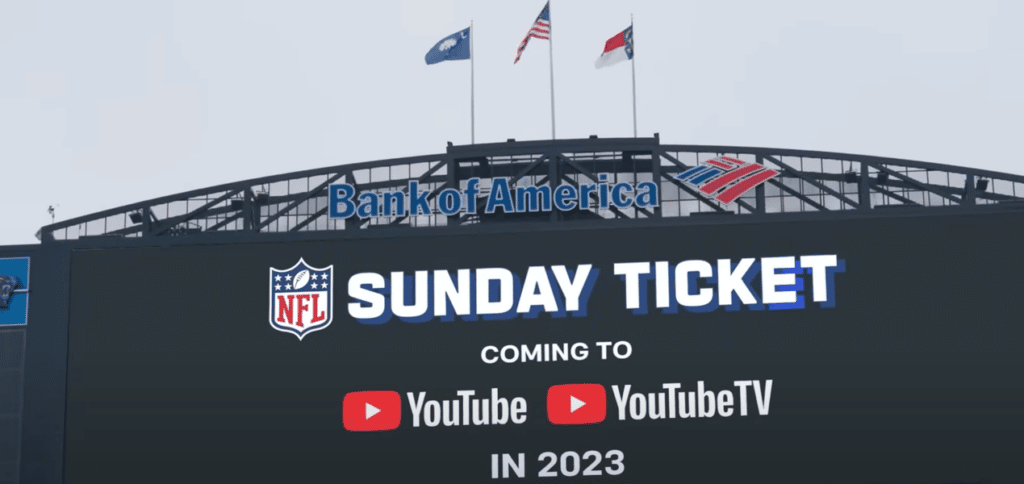 Replaces DirecTV deal
The deal replaces NFL's current deal with DirecTV which expires at the end of the current season. The YouTube-NFL deal is reportedly good for seven years, and YouTube will pay about $2 billion a year for the residential rights, reports the Wall Street Journal. The NFL is still shopping commercial rights to bars and restaurants for access to the Sunday Ticket. They are reportedly looking to make an additional $200 million for those rights.
NFL and Google partnership
The NFL and Google have partnered since 2015 when the NFL launched a YouTube channel, which now boasts 10.3 million subscribers who watch videos, shorts, clips, highlights, game-day compilations, top plays, original content, and exclusive game-day access. In 2020, the NFL expanded its partnership to bring the NFL Network and NFL RedZone to subscribers of YouTube TV.
About YouTube TV
YouTube TV is a subscription-only streaming service that gives subscribers access to live and on-demand programming from more than 100 channels. YouTube TV can be watched on TVs, smartphones, tablets and computers. The streaming subscription service currently has 5 million subscribers, including those watching YouTube TV on a trial basis. YouTube TV has a free trial (for new users), and costs $54.99 for the first three months and $64.99 thereafter fo­r the base plan, though pricing may vary for different subscribers in different markets.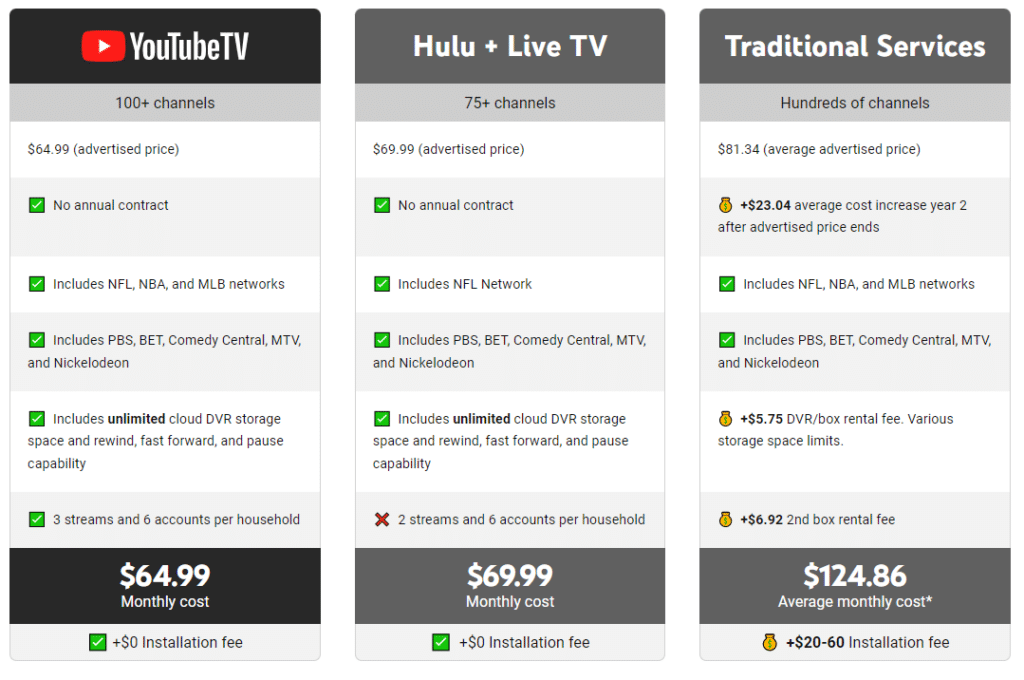 YouTube launched the Primetime Channels hub in November. Similar to dashboards of other streaming services, viewers can sign up for over 30 premium streaming channels like Showtime, STARZ, Paramount Plus, Epix, AMC+, Gaia and Curiosity Stream. The Primetime Channels hub is still in the early stages, but it plans to add more options – including NFL Sunday Ticket – over time. Each streaming channel has its own pricing, and the NFL has not released pricing for the NFL Sunday Ticket as a standalone service on Primetime Channels yet.
Insider Take
This is a huge win for YouTube TV. While YouTube has billions of viewers, it only has 5 million subscribers to its YouTube TV streaming service, and some of those are on the free trial. This is comparable to Disney, who reported 4.4 million paid subscribers to Hulu's Live TV and SVOD package in their fourth quarter fiscal year 2022 earnings. With comparable pricing, the way YouTube TV will grow its subscriber and revenue base is through exclusive programming. The NFL Sunday Ticket is a huge step in the right direction. The NFL-Google deal will give some viewers access to programming they can't get otherwise, and it will attract new subscribers to either YouTube TV or to YouTube Prime Channels, giving that product additional visibility.
This is a successful tactic tried by other streaming subscription services that have attracted and retained subscribers by serving up exclusive and original content not available elsewhere. Sports is a relatively new addition to this tactic, but we expect this to be a streaming trend in 2023, though not every streaming subscription service has the resources of Amazon and Google to secure such exclusive sports content.
It is also a big win for the NFL which is looking at new media and partnership opportunities to stay current with the times. This year, NFL awarded exclusive rights to Thursday Night Football to Amazon, they are letting Apple host this season's Super Bowl halftime show, bumping Pepsi, and the NFL launched their own direct-to-consumer streaming service, NFL+, for $4.99 a month last summer.