Last week, an investment firm filed suit against certain current and former executives of Disney for misleading investors about losses sustained by Disney+, driving down the value of company stock. In the 63-page complaint filed August 23, 2023 by Stourbridge Investments LLC, derivatively on behalf of nominal defendant The Walt Disney Company, the plaintiff alleges Disney leaders (a) violated the Securities Exchange Act of 1934; (b) breached their fiduciary duty for insider trading; (c) received unjust enrichment; and (d) wasted corporate assets.
Former CEO Robert Chapek, current CEO Bob Iger and former CFO Christine McCarthy are among the defendants named in the lawsuit. The complaint outlines each defendant, their employment term, and compensation received during their employment. For example, Chapek was employed as Disney's CEO from February 2020 to November 20, 2022. For fiscal years 2020, 2021 and 2022, Chapek received $14.2 million, $32.5 million and $24.2 million, respectively, in compensation. Iger worked at Disney from 2005 to 2020 and again as CEO from November 2022. For fiscal years 2020, 2021 and 2022, Iger received $21.0 million, $45.9 million and $15.0 million, respectively, in compensation.
Disney accused of lying about costs of Disney+
According to The Hollywood Reporter, the lawsuit accuses Disney leadership of lying about the high costs of operating the Disney+ streaming subscription service, producing content, and growing their subscriber base. The complaint alleges Disney executives issued false and misleading statements and omitted material information in their public filings and proxy statements from December 10, 2020 to the present.
Specifically, in December 2020, Chapek boasted that Disney+ had exceeded the company's "wildest expectations" with 86.8 million subscribers. He predicted the service would reach profitability by the end of fiscal 2024 with an estimated 230 to 260 million paid DTC subscribers. However, subscriber growth slowed in 2021. By July 1, 2023, Disney+ had 105.7 million subscribers, including 46 million from the US and Canada and 59.7 million internationally, not including Disney+ Hotstar. In 31 months, Disney+ subscribers only grew by 18.9 million.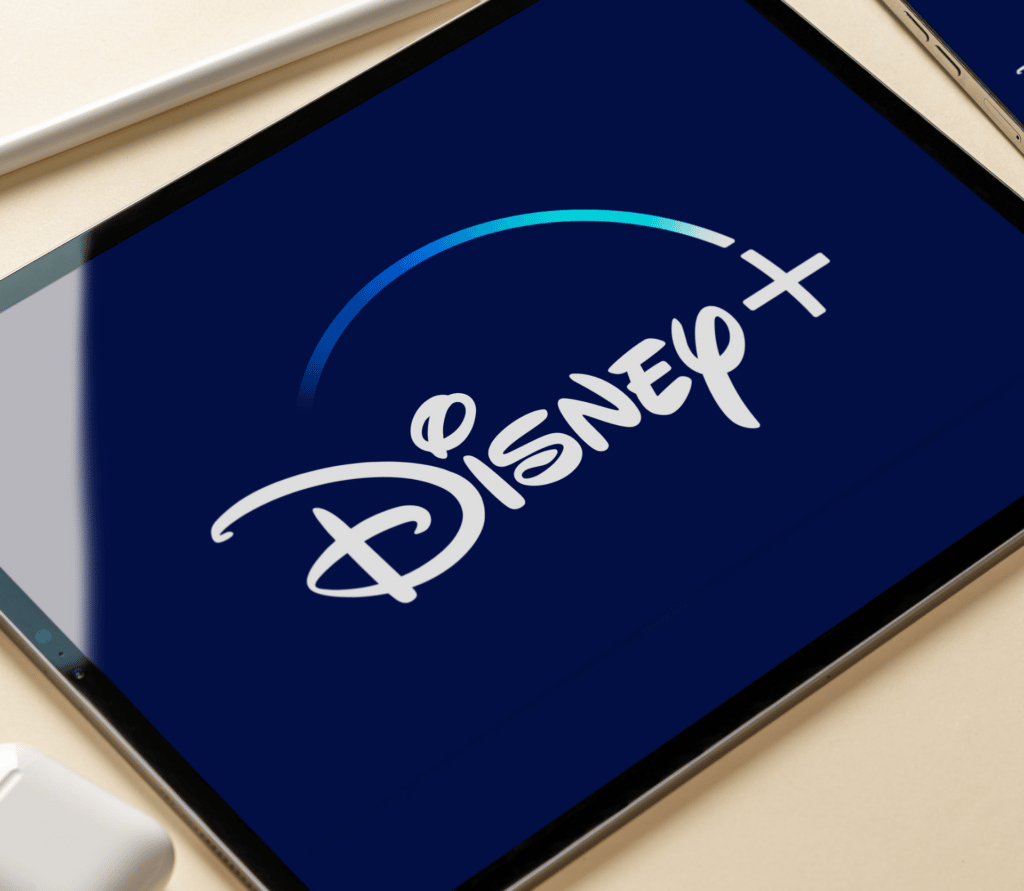 Third-quarter DTC loss of $512 million
In its third-quarter financial report for the fiscal year 2023, Disney reported a loss of $512 million from the company's direct-to-consumer streaming subscription services (Disney+, Hotstar, Hulu, ESPN+).
When the financials were issued, Iger said the company was focused on being more cost effective, better coordinated and streamlined operationally. He also said they would exceed their initial goal of saving $5.5 billion and improving their direct-to-consumer operating income by about $1 billion in three quarters.
"Our results this quarter are reflective of what we've accomplished through the unprecedented transformation we're undertaking at Disney to restructure the company, improve efficiencies, and restore creativity to the center of our business," said Iger said in an August 9, 2023 news release.
"While there is still more to do, I'm incredibly confident in Disney's long-term trajectory because of the work we've done, the team we now have in place, and because of Disney's core foundation of creative excellence and popular brands and franchises," Iger added.
The lawsuit alleges that due to Disney's "wrongful acts and omissions," followed by the "precipitous declines in the market value of Disney's securities, the plaintiff and the company "have suffered significant losses and damages."
Major reorganization
One of the issues in the case is the company's major reorganization of the media and entertainment operations announced in October 2020. The purpose of the reorganization was to focus on direct-to-consumer streaming subscription services, based on the success of Disney+. The new Media and Entertainment Distribution Group became responsible for monetization content through distribution and ad sales, oversee the direct-to-consumer streaming subscription services and have "sole P&L accountability for Disney's media and entertainment businesses."
The lawsuit alleges that this shift took budgetary and distribution control away from heads of Disney's content groups and gave control to Kareem Daniel who reported directly to Chapek.
"Daniel oversaw the profit and loss management, distribution, operations, sales, advertising, data, and technology functions for all of the Company's content worldwide. In this way, defendants Daniel and Chapek exerted near complete control over the Company's strategic decisions around content," the complaint says.
Also, through the new structure, Disney was able to "inappropriately shift costs out of the Disney+ platform and onto legacy platforms" to help disguise Disney+ losses and make the estimated growth appear to be achievable, according to the lawsuit. During multiple presentations and in SEC filings, Disney adjusted expectations, but never giving the full picture, misleading investors.
Copyright © 2023 Authority Media Network, LLC. All rights reserved. Reproduction without permission is prohibited.
The dominoes begin to fall
The lawsuit alleges that the truth emerged on November 8, 2022 when Disney provided financial results for the fourth quarter of fiscal 2022 which ended October 1, 2022. Sales fell about $1 billion short of analyst expectations and earnings dropped to $0.30 per share, compared to the $0.51 per share estimate. At that time, the company's direct-to-consumer streaming subscription services had a loss of $1.47 billion compared to $630 million loss year-over-year. Disney also reported a decrease in average revenue per user. Based on the fourth quarter fiscal 2022 financials, the company's stock price dropped 13% in one day. Two weeks later, the board terminated Chapek and brought Iger back on board, and Iger reorganized the company again. In addition to explaining the structure of the reorganization, Iger explained they would no longer provide long-term subscriber guidance for Disney+.
"Like many of our peers, we will no longer be providing long-term subscriber guidance in order to move beyond an emphasis on short-term quarterly metrics, although we will provide color on relevant drivers. Instead, our priority is the enduring growth and profitability of our streaming business," Iger said.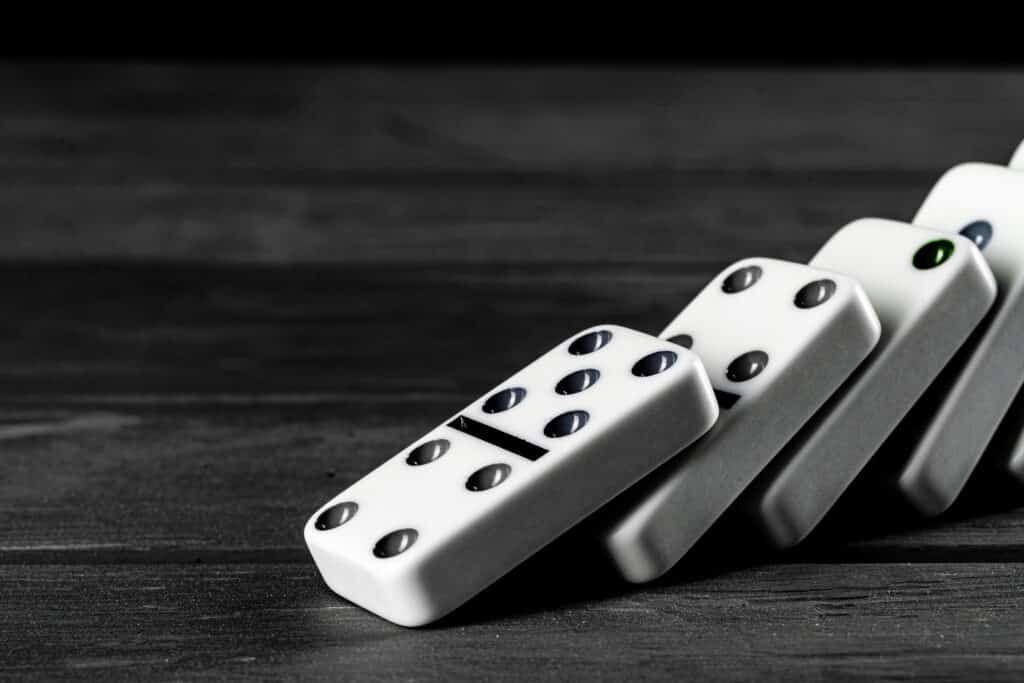 Fast forward to the second quarter of fiscal year 2023, and Disney+ had lost subscribers for the second quarter in a row. The company reported the loss of 4 million paid subscribers from the prior quarter, when analysts had predicted 1.7 million paid subscribers. Disney stock dropped 8% in a single day following that earnings report, according to the complaint.
The lawsuit accuses Chapek and McCarthy of insider trading, selling large quantities of Disney stock with suspicious timing. The sale of their shares allegedly netted them $14.81 million. As a result of all the allegations, the plaintiff claims that Disney has been and will continue to be severely damaged and injured by the conduct of the defendants.
To date, Disney has not responded to requests for comment from Forbes or The Hollywood Reporter on this lawsuit. Another lawsuit was filed on May 12 by a group of investors for Chapek's fraudulent behavior, including a "cost-shifting scheme" and concealing "decelerating subscriber growth, losses and cost overruns," according to The Hollywood Reporter.
Following the filing of that lawsuit, Disney said, "We are aware of the complaint and intend to defend vigorously against it in court."
Disney stock
As of 6:39 p.m. EDT yesterday, Disney stock was valued at $84.28 per share, down $27.80 from this time last year and hovering dangerously close to the 52-week low of $82.46.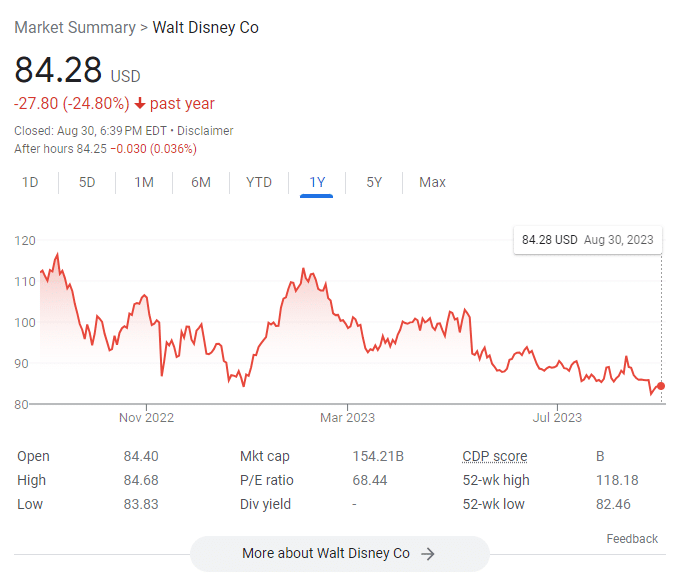 Insider Take
We aren't lawyers and won't try to argue the legal merits of the case, but it is clear that Disney executives – past and present – had and have a fiduciary responsibility to the company and investors and an obligation to disclose material facts, and represent and report the truth. At the very least, Disney executives were overly ambitious and overstated and overestimated the success of Disney+. Based on the detail provided in the complaint, and the volume of documents reviewed and researched, it seems there is much more at play here. It seems the House of Mouse's attempts to clean house and return it to order have not been enough to satisfy investors. This complex mousetrap is now in the hands of the legal system.
Copyright © 2023 Authority Media Network, LLC. All rights reserved. Reproduction without permission is prohibited.