Yesterday, Warner Bros. Discovery's Max platform launched CNN Max, a 24/7 streaming news offering that expands CNN's reach, in the US. CNN Max will allow the network to experiment with and learn from new product features, content and originals based on feedback from Max subscribers. Max subscribers can access CNN Max in the top navigation bar under News Beta or through the CNN Max hub.
"This new 24/7 streaming service will bring the immediacy and value of global breaking news with top analysis, context, and reporting across all the biggest stories in the world to the Max streaming audience and enhance the product with the convenience of viewing news at anytime, anywhere, and on your preferred screen," said CNN in a September 27, 2023 news release.
CNN Max will include popular CNN anchors like Anderson Cooper, Jake Tapper, Jon Acosta and Wolf Blitzer along with other CNN anchors, correspondents and contributors. Tailored to the Max streaming audience, CNN Max will combine programming viewers are used to along with new content. At launch, much of the content is familiar.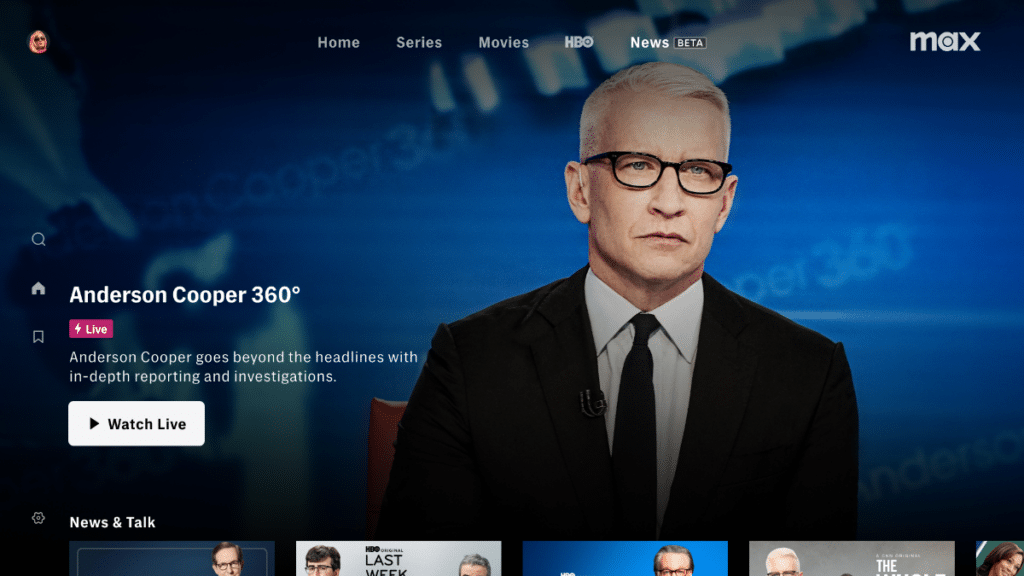 CNN released the following Monday through Friday schedule. Times listed are in the Eastern time zone.
| | |
| --- | --- |
| Time | Programming |
| 5 – 6 a.m. | Early Start with Kasie Hunt |
| 6 – 8 a.m. | CNN This Morning with Poppy Harlow and Phil Mattingly |
| 8 – 10 a.m. | CNN Newsroom with Amara Walker, Fredericka Whitfield and Jon Acosta |
| 10 – 11 a.m. | CNN Newsroom with Rachel Solomon |
| 11 a.m. – Noon | State of the Race with Kasie Hunt |
| Noon – 1 p.m. | One World with Zain Asher & Bianna Golodryga |
| 1 – 2 p.m. | Amanpour |
| 2 – 3 p.m. | CNN Newsroom with Jim Sciutto |
| 3 – 4 p.m. | Quest Means Business |
| 4 – 6 p.m. | The Lead with Jake Tapper |
| 6 – 7 p.m. | The Situation Room with Wolf Blitzer |
| 7 – 8 p.m. | Erin Burnett OutFront |
| 8 – 9 p.m. | Anderson Cooper 360 |
| 9 – 10 p.m. | The Source with Kaitlan Collins |
| 10 – 11 p.m. | CNN NewsNight with Abby Phillip (launching fall 2023) |
| 11 p.m. – Midnight | Laura Coates Live (launching fall 2023) |
| Midnight – 1 a.m. | CNN Newsroom with John Vause |
| 1 – 2 a.m. | CNN Newsroom with John Vause and Michael Holmes |
| 2 – 3 a.m. | CNN Newsroom with Rosemary Church and Kim Brunhuber |
| 3 – 4 a.m. | CNN Newsroom |
| 4 – 5 a.m. | CNN Newsroom with Max Foster and Bianca Nobilo |

Saturday and Sunday programming includes a lot of CNN Newsroom shows with different hosts and original content. Saturdays have original programming from 6-7 a.m.; noon to 1 p.m.; 3-4 p.m.; 5-6 p.m.; and 7 p.m. to midnight. Sundays offer original programming from 6-7 a.m.; noon to 2 p.m.; 5-6 p.m.; and 7 p.m. to midnight.
Max subscribers will also have expanded access to CNN originals and additional news content within CNN Max, including 900 episodes of current and legacy programming and CNN Originals including "Who's Talking to Chris Wallace" and "The Whole Story with Anderson Cooper."
To access CNN Max, viewers must be subscribers to the streaming platform Max. There is no additional cost to view CNN Max. Current pricing for Max is as follows:
$9.99 a month with ads, stream on 2 devices
$15.99 a month for an ad-free experience, stream on 2 devices, 30 downloads
$19.99 a month for the ultimate ad-free experience, stream on 4 devices, 100 downloads


Launch follows the spring demise of CNN+
CNN Max replaces CNN+, a short-lived streaming service that only lasted a month earlier this year. Though CNN hoped CNN+ would become a popular complement to CNN on cable, new leadership at Warner Bros. Discovery did not want to invest resources in CNN+ and it was shuttered before it really got off the ground.
"In a complex streaming market, consumers want simplicity and an all-in service which provides a better experience and more value than stand-alone offerings, and, for the company, a more sustainable business model to drive our future investments in great journalism and storytelling," Discovery's streaming boss J.B. Perrette said in a statement in April. "We have very exciting opportunities ahead in the streaming space and CNN, one of the world's premier reputational assets, will play an important role there."
When CNN announced the pending launch of CNN Max, Perrette said, "This provides even more quality choices for Max customers who will be able to easily catch up on what is happening in the world, particularly in moments of breaking news, all within one seamless experience. We're excited to engage our Max community in this initial beta state to help us learn and develop what appeals most to our customers in this new genre."
Insider Take
We were surprised when CNN+ was shut down just a month after its debut. CNN has now reconfigured what a streaming service would look like and is riding on Max's coattails. Will this streaming venture be any more successful? It's hard to say. Much of the content is what viewers can already access on cable. Cord cutters and cord nevers who subscribe to Max will be able to access CNN Max without an additional charge, but will anyone subscribe to Max because CNN Max is available there? By making it free, whether than a subscription add-on, it is hard to put a value on the new service or to see what Warner Bros. Discovery's long-term plans are. We suspect that this is a trial and, if CNN Max attracts enough viewers, the company could leverage its popularity by making it a paid service. This might very well be a try-before-you-buy scheme.
Copyright © 2023 Authority Media Network, LLC. All rights reserved. Reproduction without permission is prohibited.