In its first-quarter 2022 financials, The New York Times Company reported total revenue of $537.4 million, a 13.6% increase compared to revenue of $473.0 million in the first quarter of 2021. The company's double-digit revenue growth was driven by subscription revenue of $372.0 million, a 13.0% increase year-over-year, and advertising revenue of $116.3 million, a 19.7% increase year-over-year. Other revenues, including affiliate revenue from the Wirecutter, increased 5.0% to $49.2 million.
Comments from president and CEO
Meredith Kopit Levien, president and CEO for The New York Times Company, commented on the first quarter results, including double-digit revenue growth across the board, in a May 4, 2022 news release.
"We're off to a strong start on the next phase of our strategy, which is to become the essential subscription for every English-speaking person seeking to understand and engage with the world. We believe we have a tremendous opportunity to win a larger share of a still-growing market. We're confident that we can attract, retain and monetize subscribers and drive profitable growth as we progress towards our goal of 15 million subscribers by the end of 2027," Levien said.
She also noted that their coverage of the war in Ukraine has attracted readers and deepened engagement. The legacy media company has also seen success with Wordle, a popular word game the company acquired earlier this year. Though Wordle is currently a free game, it is drawing tens of millions of new users to The Times, driving growth in net subscriber additions to Games. In addition, the company's acquisition of The Athletic closed on February 1, 2022, drawing sports fans to The Times.
"It was our best first quarter in terms of subscription growth since the launch of our digital subscription model outside of Q1 2020. We added 387,000 net digital subscribers in the quarter, a number that includes The Athletic's net additions subsequent to the closing of the acquisition. The Times now has 9.1 million total subscribers, with 10.4 million subscriptions. Overall revenue grew more than 13% in the quarter, with digital subscription revenue up approximately 26% and total advertising revenue up almost 20%," added Levien.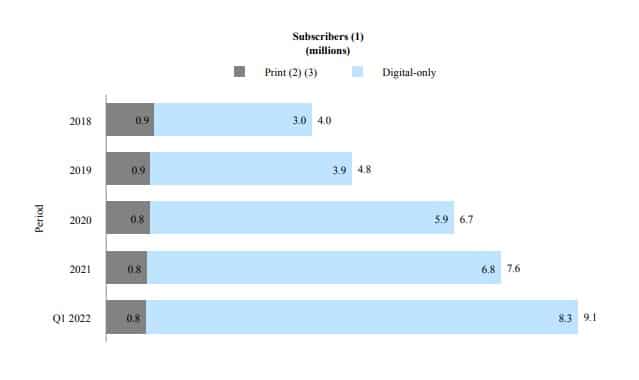 First-quarter highlights
The Times shared the following additional highlights for the first quarter of 2022:
Subscription revenue saw growth in the number of digital-only subscribers as well as the transition from introductory promotional pricing to standard pricing. The Athletic's subscription revenue also contributed to the increase in subscription revenue.
Subscription revenue from digital-only products was $226.8 million, an increase of 26.3% year-over-year, while print subscription revenue dropped 2.9% to $145.2 million.
At the end of the quarter, the company had 9.1 million paid subscribers with about 10.39 million paid subscriptions from print and digital products. At the date of acquisition, The Times also acquired 1.1 million subscribers from The Athletic.
Digital ad revenue for the quarter was $67.0 million, or 57.6% of total ad revenue. Print advertising grew 30.9% in the entertainment and luxury categories.
Total operating costs for the quarter were $496.4 million, a 17.8% increase year-over-year.
Sales and marketing costs grew 29% to $77.6 million; media expenses grew 29.1%; product development costs grew 21.8%; and general and administrative costs grew 26.1%.
Operating profit for the first quarter was $6.3 million, compared to $51.7 million for the same period last year, an 87.8% decrease. The decrease is attributed primarily to one-time costs associated with the acquisition of The Athletic during the first quarter and absorbing that company's operating losses.
Net income was $4.7 million, or $0.03 per diluted share, compared to $41.1 million, or $0.24 per diluted share. in the first quarter of 2021, representing a decrease of 88.5%.
At the end of the quarter, the company had cash and marketable securities of $474.8 million, a decrease of $599.6 million from $1.07 billion on December 26, 2021. About $550 million was used to pay for the acquisition of The Athletic.
The New York Times Group and The Athletic are separate reportable segments. For February and March 2022, The Athletic had revenue of $12.2 million, mostly from subscriptions. They had adjusted operating costs of $19.0 million, mostly from cost of revenue, leaving an adjusted operating loss of $6.8 million between February 1 and March 27.
Guidance for the second quarter
Digital-only subscription revenue is estimated to increase 23% to 27% for The New York Times Company which includes The New York Times Group and The Athletic.
Total subscription revenue will increase between 12% and 14%.
Total advertising revenue will increase in the mid single digits.
Other revenue will increase in the mid-to-high single digits.
Operating costs will increase 19% to 23%, and adjusted operating costs will increase 18% to 22%.
Insider Take
Despite the cash outlay for The Athletic and The Athletic's own operating losses, The New York Times Company still had a strong quarter in terms of double-digit revenue growth and subscriber growth. In their financial report, they indicated that their subscription-first strategy is working. They are focusing on subscriber growth rather than just the total number of subscriptions. The Times continues to add subscription products and to grow and expand their offerings. The acquisition of The Athletic and Wordle were strategic. They might not immediately yield significant revenue, but they are the foundation of future success. The Athletic has a strong reputation for good journalism, as does The Times, and Wordle has millions of fans worldwide, many of whom might become Games subscribers if Wordle ever becomes a subscription-only product.