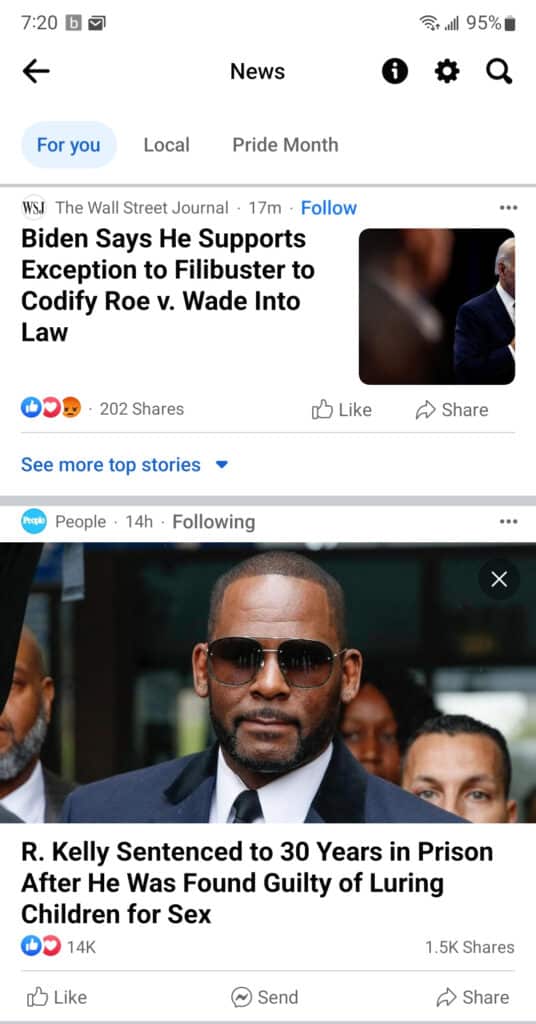 Facebook parent Meta is rethinking its relationship with news publishers, reports The Wall Street Journal, potentially costing news organizations like the Washington Post, the New York Times and the Wall Street Journal tens of millions of dollars. Facebook pays news publishers for inclusion of the publishers' articles in Facebook's News section, allowing users to read featured articles without a paywall. Some of the news organizations featured in the Facebook News section include the Wall Street Journal, People, CBS News, Bloomberg, Reuters, The Today Show and the New York Post. There is also a Local News tab tailored to a Facebook user's specific location.
Facebook made deals with select publishers in 2019, and those three-year deals are slated to expire this year. According to the Journal, the Post receives average annual revenue of $15 million, the Times receives about $20 million, and the Journal receives about $10 million, which is part of a $20 million compensation package negotiated with parent Dow Jones.
Meta has not yet confirmed they will discontinue or change their commitment to news, but it is clear Meta is less focused on news. Instead, the company's focus is on attracting viewers to Facebook and Instagram Stories and Reels, which compete with short-form video platforms like TikTok, and on building the metaverse.
News Media Alliance statement
News Media Alliance, which represents more than 2,000 news organizations in the U.S., issued a statement, noting their concern for news publishers who will be impacted.
"If Meta is indeed moving away from its commitment to news, then they are not only hurting news publishers, but they are hurting themselves and their millions of users who want and need sources of reliable, trustworthy information," said David Chavern, Alliance president and CEO, in a June 10, 2022 statement. "Quality journalism is an antidote to the mis- and disinformation that flourishes on their platform. Without it, their current problems will only get worse."
In addition to focusing their investments elsewhere, Meta may be reacting to new legislation made in different countries that requires tech platforms like Facebook and Google to fairly compensate news publishers for using their work, however brief the excerpts may be. Australia passed the News Media Bargaining Code and Canada passed the Online News Act. News Media Alliance reports that Facebook threatened to remove news from the platform and take other retaliatory actions as a result of the legislation.
"These actions only demonstrate even more why such legislation is needed, as left to their own devices, the dominant tech platforms will continue to refuse fair compensation to news publishers," said News Media Alliance. "The Alliance encourages Congress to pass the Journalism Competition & Preservation Act (JCPA) in the United States, which would establish fair terms of engagement between news publishers and platforms such as Facebook and Google."
Insider Take
Meta has not yet confirmed a change in their agreements with news publishers, and the company is trying to work with news publishers in various countries to comply with the law. This could be a new business strategy for Meta as they shift their focus and investments to other areas of opportunity. For news publishers, this is potentially devastating, and Meta can better serve them by being transparent about their plans so publishers can prepare for unexpected revenue deficits. We can understand the desire to invest in other opportunities, but severing ties with news organizations could be potentially disastrous for Facebook too. Users who rely on Facebook to access headlines may spend less time on the platform and go directly to the source for news they used to get on Facebook. And if Meta has a change of heart down the road, they may have damaged relationships with news publishers which were previously lucrative.