Facebook will soon stop paying news publishers for news as the company shifts its focus away from news and toward the creator economy, reports the Wall Street Journal. Prior to this change, Facebook had been paying publishers including the Wall Street Journal, the New York Times and the Washington Post tens of millions of dollars for curated news articles published on the Facebook News tab. Facebook will also redirect resources devoted to Facebook Bulletin, a subscription-based newsletter platform launched in June 2021 as an alternative to Substack.
Campbell Brown, vice president of media partnerships, told staff that resources were being reallocated.
"For a lot of us – this was a labor of love and I know it's hard to see these products put on the backburner. These are products that have delivered tremendous value for our partners and our users," Campbell said. "We remain committed to the success of creators, and are doing even more to ensure they can find audiences on Facebook and grow engaged communities there."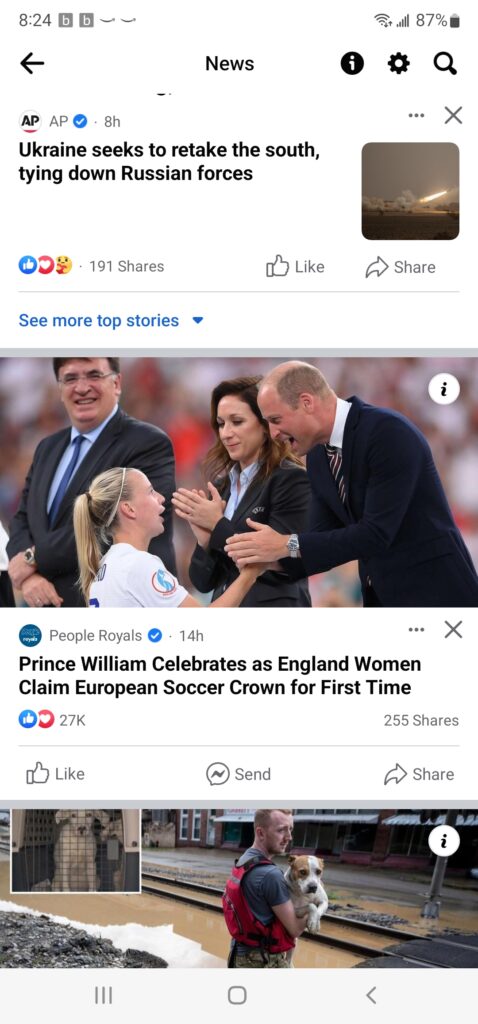 A shift in resources
A major factor in this shift in focus was the increased global regulation that requires technology platforms like Facebook and Google to pay publishers for news. For example, in February 2021, Facebook temporarily blocked people in Australia from accessing news stories on its platform during their stalemate with the Australian government. In August 2021, Facebook announced the launch of an AU$15 million news fund and the launch of Facebook News in Australia. According to ABC News, Facebook News' deals in the U.K., France, Germany and Australia will not be affected.
As we reported in July, Facebook made deals with select news publishers in 2019 to pay for news, and those three-year deals are set to expire in 2022. According to the Journal, the Post receives average annual revenue of $15 million, the Times receives about $20 million, and the Journal receives about $10 million, which is part of a $20 million compensation package negotiated with parent Dow Jones.
Axios reports that the publishing deals were worth a total of about $105 million to U.S. publishers. A spokesperson for Facebook told Axios that a lot has changed since those original deals were made.
The spokesperson told ABC News that the news experiment was not a success.
News Media Alliance, who represented more than 2,000 news organizations in the U.S., issued a statement in June, concerned about the impact of such a move.
"If Meta is indeed moving away from its commitment to news, then they are not only hurting news publishers, but they are hurting themselves and their millions of users who want and need sources of reliable, trustworthy information," said David Chavern, Alliance president and CEO, in a June 10, 2022 statement. "Quality journalism is an antidote to the mis- and disinformation that flourishes on their platform. Without it, their current problems will only get worse."
Economic downturn
Another factor is the global economic downturn, and parent company Meta's financial results for the second quarter. Last week, Meta reported total revenue of $28.8 billion, compared to $29.1 billion in the second quarter of 2021, a 1% decrease. This was Meta's first ever quarterly revenue decline, reports TechCrunch. Though the decrease was not significant, Meta also reported a 36% decrease in net income. For the second quarter, net income was $6.7 billion, compared to $10.4 billion in the second quarter of 2021, falling short of analyst earnings estimates.
"We seem to have entered an economic downturn that will have a broad impact on the digital advertising business. It's always hard to predict how deep or how long these cycles will be, but I'd say that the situation seems worse than it did a quarter ago," said Mark Zuckerberg, Meta CEO on the company's July 27, 2022 earnings call.
"In this environment, we're focused on making the long term investments that will position us to be stronger coming out of the downturn – including our work on our discovery engine and Reels, our new ads infrastructure, and the metaverse. We're also focused on being rigorous about measuring returns and sizing these investments correctly," Zuckerberg added.
Insider Take
For news publishers who received payments for news posted on the Facebook News tab, this is a big blow to their budget, but probably not an unexpected one. Their three-year contracts are due to expire this year, and the change has been on their radar since early June, if not sooner. This is disappointing for affected publishers in terms of revenue, but if the News tab wasn't bringing traffic to Facebook, it is understandable that Meta wants to redirect resources to other long-term investments. Publishers will have to make up that revenue elsewhere or adjust their own resources accordingly.