The Athletic, a subscription-based, premium sports news site, launched in 2016 with the promise of a clean, uncluttered user experience without ads. Purchased by The New York Times for $550 million in cash earlier this year, The Athletic launched premium ads on Monday on their website and app. According to an announcement by The New York Times Company, the goal is to use the same "sophisticated ad ecosystem" that the company already uses for their news and other products. Chanel is the first advertiser to be featured. They'll be followed by ads from Polestar and a technology campaign.
"This launch signifies the next step in building a premium ad business to support one of the largest and most talented sports journalism newsrooms in the world," said The Times in the announcement. "Our ad experience will focus on high-quality, relevant advertising placements that complement The Times's subscription strategy. This means fewer, better ads alongside our in-depth stories, breaking news, extensive podcasts, and insider knowledge you can't find anywhere else."
David Perpich, publisher of The Athletic, posted a similar announcement to readers on The Athletic website on Monday too. He said the high-quality advertising should be seamless to readers, and it will help the company to continue to invest in their journalism.
"We've been deliberate about creating a premium and relevant advertising experience for our subscribers. Rest assured that the integration of advertising has no impact on our journalism. Independent journalism will always sit at the core of who we are at The Athletic," Perpich wrote.
As of 11:45 am EDT yesterday, Perpich's announcement had received 1,325 comments. Here is a sampling: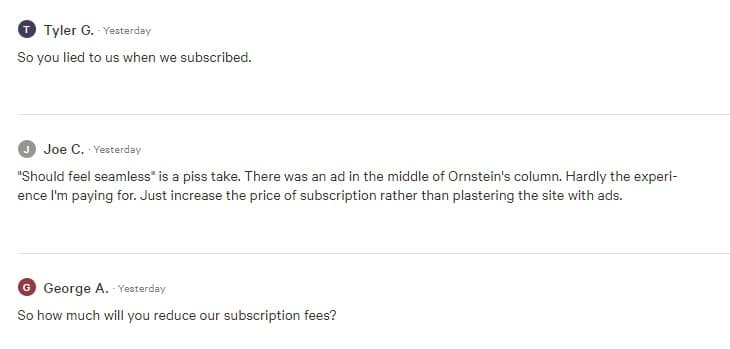 Kevin Draper, an investigative reporter for The New York Times Sports, posted this to Twitter:
Draper attached a snippet from his article when he interviewed the founders of The Athletic.
"Mather and Hansmann insist that they, and their investors, are in it for the long haul, and that the time is finally right for a subscription media product to go big. 'The advertising business model does not align with quality,' Mather said. 'It's hot takes instead of objective analysis, it's short-term instead of long-term, it's serving sponsors instead of users, it's thinking big instead of great.'"
"It really comes down to the business model," [Mather] added. "That is our core belief."
Here are several other tweets from disappointed subscribers:
Revenue and subscribers
According to The New York Times, as of December 2021, The Athletic had 1.2 million paid subscribers. For the full year 2021, the company had $65 million in revenue and operating losses of approximately $55 million. The Athletic has not yet been profitable since its 2016 launch.
For the quarter ended June 26, 2022, The New York Times reported revenue of $19.5 million for The Athletic. They also reported that The Athletic has 1.03 million subscribers. The Times gave Bundle subscribers access to The Athletic, which added approximately 420,000 subscribers.
Insider Take
It all boils down to dollars and cents. Everyone seems to agree that The Athletic is a stellar product with exceptional coverage of hundreds of professional and college teams across more than 47 North American markets, plus coverage of the English Premier League and other championship clubs. But, despite their good intentions, The Athletic has never been profitable. The New York Times bought the company for less than The Athletic thought they were worth, and they have a goal to bring the company to profitability. Advertising is one way to do that. This isn't really a surprise, but it is disappointing to those who believed in the product, in part, because of their mission to be ad-free and all about sports. From a business model perspective, it makes sense. To readers, it does not.