Peloton reported a drop in revenue and a decrease in subscribers for the fourth quarter of its fiscal 2023. Total revenue was $642.1 million, a 5% decrease year-over-year. The company ended the quarter with 6.5 million members, compared to 6.7 million at the end of the third quarter of fiscal 2023, and 6.9 million at the end of the fourth quarter of fiscal 2022. President and CEO Barry McCarthy attributed the decreases in revenue and subscribers to the seasonality of their business and to a seat post recall. Summer is typically a slower time for Peloton and other fitness retailers.
Voluntary recall
On May 11, Peloton announced a voluntary recall of 2.2 million bikes due to seat posts that could unexpectedly break during use. The recall impacted first- and third-party product sales as well as expenses. In the quarterly shareholder letter, McCarthy said the company had received 750,000 requests for replacement seat posts which was more than they anticipated. So far, they have fulfilled 340,000 of those requests and hope to have the rest completed by the end of September.
"The cost of this recall substantially exceeded our initial expectations, leading to an additional accrual of $40 million this quarter for actual costs incurred as well as anticipated future recall-related expenses," McCarthy said. "In addition, an estimated 15,000 to 20,000 of our 2.2 million impacted Members elected to pause their monthly subscriptions in Q4 pending the receipt of a replacement seat post."
Subscription revenue grows as percent of total revenue
Revenue is comprised of Connected Fitness Products revenue of $220.4 million, a 25% decrease year-over-year, and Subscription Revenue of $421.7 million, a 10% increase year-over-year. Connected Fitness Products now represent 34.3% of total revenue, and Subscriptions make up the remaining 65.7% of revenue. Subscription revenue has increased as a percentage of total revenue over time. At the end of the fourth quarter of 2022, subscription revenue was $383.1 million, or 56.4% of total revenue.
Quarterly highlights
Additional highlights from Peloton's fourth fiscal quarter include the following:
Connected Fitness Subscriptions, also called All-Access Members, at the end of the quarter were 3.08 million, reflecting a loss of 29,000 subscribers.
Average net monthly Connected Fitness Churn was 1.4%, higher than expected. Starting in fiscal 2024, the company will no longer report paused subscriptions as active subscribers. They will be considered churned subscribers.
App subscriptions at the end of the quarter was 828,000, better than expected.
Connected Fitness Products gross profit for the quarter was $(82.6) million, a 72% decrease year-over-year. Connected Fitness Products gross margin was (37.5)%.
Subscription gross profit was $283.6 million, a 9% increase year-over-year, and subscription gross margin was 67.3% year-over-year, in line with company expectations.
Total gross profit was $201.1 million with a gross margin of 31.3%.
Total operating expenses, including restructuring and impairment costs, were $426.8 million, a 64% improvement for the same period last year.
Net loss for the quarter was $(241.8) million, an 81% improvement year-over-year.
Adjusted EBITDA was $(34.7) million compared to $(288.7) million for the same period last year.
Free cash flow was $(74) million compared to $(411.9) million for the same period last year.
Peloton ended the quarter with cash and cash equivalents of $813.9 million, compared to $1.25 billion at the end of fiscal 2022.
The company launched its rebrand and new App subscription tiers in May.
Copyright © 2023 Authority Media Network, LLC. All rights reserved. Reproduction without permission is prohibited.
First quarter fiscal 2024 outlook
Peloton shared the following forecast for the first quarter of fiscal year 2024.
Paid connected fitness subscriptions between 2.95 million and 2.96 million
Paid app subscriptions between 740,000 and 750,000
Total revenue between $580 million and $600 million
Total gross margin of 46.5%
Adjusted EBITDA between $(20) million and $(10) million
Chief financial officer Liz Coddington said the forecast is based, in part, on first quarter data to date, continued cost reductions, a change in subscription and subscriber reporting, and research and development expenses.
"Our Q4 results reflect mixed performance as we continue to make progress on our transformation," Coddington said in the shareholder letter. "Less than 18 months ago, we set out to ensure the long-term success of Peloton, and we're continuing to make progress each and every quarter. Despite unforeseen and significant headwinds, less than two years later, the underlying cost structure of the business has been dramatically improved."
Stock dip follows mixed financials
Investors were not impressed with Peloton's financial report, despite the significant improvements year-over-year. Tuesday – the day before financials were released – Peloton stock closed at $6.99 a share. At 7:59 p.m. EDT yesterday, Peloton closed at $5.41, a decline of $1.58, or 22.6%.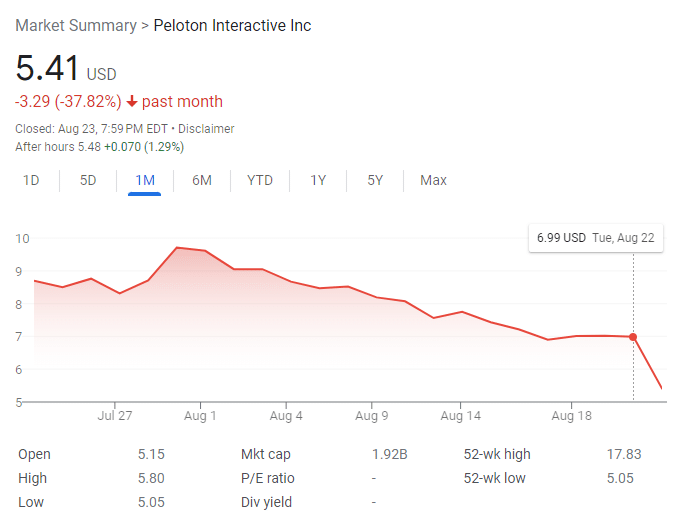 Insider Take
While Peloton's fourth quarter may not have been sunshine and rainbows, McCarthy previously warned that the fourth quarter would be challenging. Add the seasonal fluctuations and voluntary recall, and Peloton experienced some setbacks, but they are in a far better position than they were this time last year. McCarthy and his leadership team have come a long way in stabilizing the company financially. For the next 12 months, they are focused on restoring Peloton to growth with new initiatives, partnerships and technology.
Copyright © 2023 Authority Media Network, LLC. All rights reserved. Reproduction without permission is prohibited.