Volvo is bringing back their Care by Volvo car subscriptions to the state of California. The company originally launched in California in 2017 but suffered significant backlash from car dealers. In a January 30, 2023 news release, Volvo said that Care by Volvo is a "flexible subscription lease program" with an all-inclusive monthly payment. The monthly subscription fee includes usage of the vehicle, maintenance, road hazard coverage, an allowance for some excess wear, and other "common services."
A visit to the Care by Volvo website did not provide any pricing information or what coverage or services are included for the monthly subscription fee, and inventory is not available online. The Care by Volvo landing page directs interested customers to contact their local Volvo retailer for inventory and pricing. The news release, however, says people can shop online at VolvoCars.com. As of 3:44 p.m. Pacific time yesterday, there were only 15 available for viewing. Below the media release, Volvo highlights what restrictions apply.
The company said they are rolling out the car subscription service in California in response to drivers' growing demand for simplicity and flexibility. With the Care by Volvo subscription service, drivers can choose whether to buy, finance, lease, or subscribe to a Volvo.
"We are thrilled to give Californians the ability to subscribe to their cars," said Anders Gustafsson, Senior Vice President Americas and President and CEO, Volvo Car USA. "Volvo is about giving people the freedom to move in a personal, safe and sustainable way. The simplicity and flexibility Care by Volvo offers is unmatched."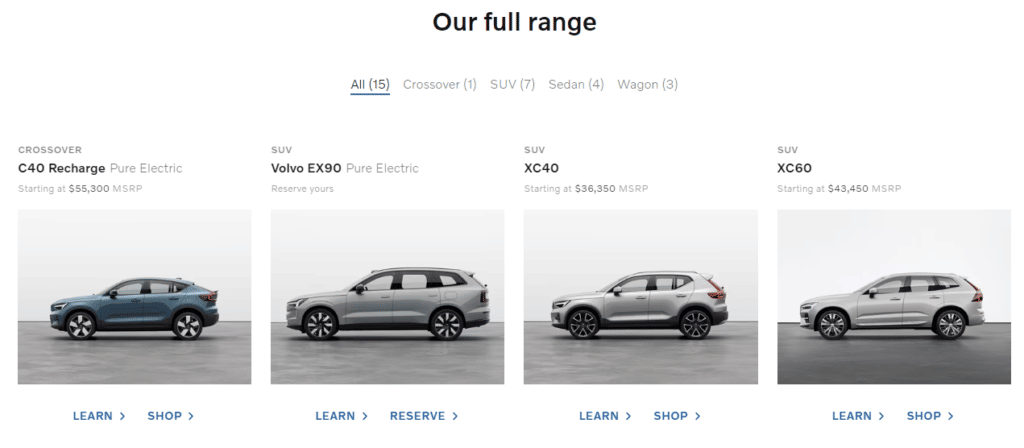 Care by Volvo originally launched in 2017
The Care by Volvo subscription program was launched by Volvo in the U.S. in 2017. At the time, Volvo tested the subscription on its XC40 model, a compact crossover SUV. The company said they wanted their subscription service to have "a car as transparent, easy and hassle free as having a phone."
It is available in all states except Hawaii, Mississippi, North Carolina, North Dakota and South Dakota. The Care by Volvo car subscription service was previously available in California, but the car maker got into hot water with California auto dealers when Volvo tried to bypass them and go straight to consumers for the subscriptions. In fact, at a July 10, 2020 hearing before the California New Motor Vehicle Board, Volvo agreed to revamp its car subscription service to appease auto dealers. The company agreed to work with the Department of Motor Vehicles and California auto dealers to create a car subscription service that did not violate state franchise laws. Volvo did not, however, admit to any wrongdoing.
"It is critical that manufacturers abide by California franchise laws to continue protecting dealers and consumers," said Brian Maas, president of the California New Car Dealers Association. "Our dealer members support innovation. At the same time, the DMV findings and Volvo's recent termination of the program further demonstrate that illegal behavior by manufacturers will not be tolerated."
Insider Take
We were surprised by Volvo's announcement that the Care by Volvo is now being offered in California. In their news release, Volvo did not mention that the car subscription service was previously available in California, but they shut the program down and had to revamp it. This appears to be the revamp, but Volvo's announcement glosses over that fact.
In addition to lack of transparency, the sign-up process is not clear, nor is subscription pricing or features. Volvo encourages interested subscribers to review available cars and then visit their local dealer to talk pricing. After that, the prospective subscriber completes an application online. If approved, subscribers choose a delivery date and go to the dealer to finalize paperwork and pick up their cars.
Takeaway for subscription companies: We are big fans of transparency. Volvo's failure to disclose the program was available in California previously makes it seem like they are trying to avoid bringing up that program. Also, subscription companies are required to disclose terms and conditions clearly and conspicuously. Volvo is putting the onus back on the dealer, so while they are touting a "subscription" program, it seems like the car buying experience is the same with a few added hoops to jump through and no clear terms and conditions. This is not standard nor does it appear to be compliant with best practices. We encourage Volvo to make the program, terms and conditions clear for dealers as well as prospective subscribers.