Uber has added another service to make their customers' lives easier. The ridesharing service has added affordable package returns to their menu of services. Uber drivers will pick up prepaid, sealed packages and deliver them to the local US Post Office, United Parcel Service and FedEx locations, saving customers time and eliminating the hassle of returns.
"Uber's mission is to change the way people, food, and things move through cities," Uber said in an announcement yesterday. "Now we're adding a new way to save you time and effort with a much-avoided chore: taking care of the packages you need to return but have been ignoring."
Uber customers can return a package for a flat $5 fee. Uber One members can do so for just $3 per package. An Uber One membership is $9.95 a month, offering member savings and exclusive perks on Uber and Uber Eats.
The service is available through the Uber Connect app in more than 4,950 cities in the US, including major metro areas including Boston, Chicago, Dallas, Denver, Las Vegas, Los Angeles, Miami, Orlando, Phoenix, San Francisco, Seattle, and Washington D.C.
Packages are easy to return. Here's how it works.
Open one of the Uber apps: Uber Connect, Uber or Uber Eats.
Select "Return a package" to have a courier pick up prepaid, sealed packages to be dropped off at the customers' local post office, UPS store or FedEx location.
Customers can return up to five packages at a time. They are $5 per package for nonmembers or $3 a package for Uber One members.
Customers can view live tracking in the Uber app. The courier will send a visual confirmation or photo of the receipt to confirm a drop-off has been completed.
Packages must meet Uber's shipping guidelines, so prohibited items like alcohol, highly perishable food, gift cards and fragile items are not allowed. USA Today reports that packages should be less than $100 in value and under 30 pounds.
Uber cites research by the National Retail Federation that says 79% of shoppers under the age of 30 find returns somewhat or very annoying.
"Now, Uber can help you get your return en route – saving you time, effort and most importantly, getting you one step closer to a refund," Uber said.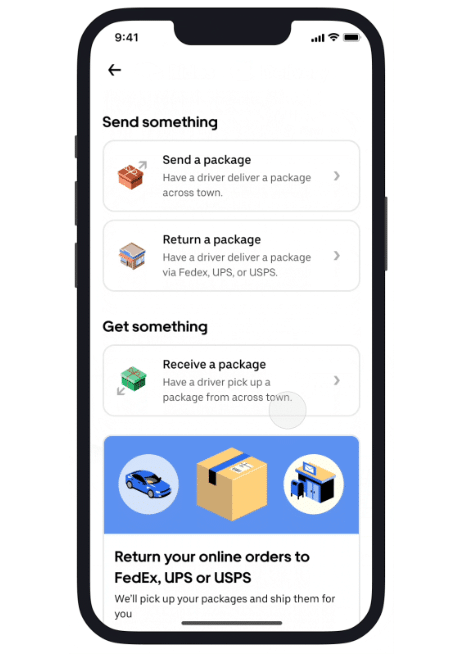 Copyright © 2023 Authority Media Network, LLC. All rights reserved. Reproduction without permission is prohibited.
Uber Connect same-day delivery
Uber's package return service follows the launch of Uber Connects' same-day delivery service. This service allows customers to select "Package" in the Uber app, meet the driver to send qualifying packages, and follow the package in the app to ensure delivery is made. Uber drivers deliver the package to someone waiting on the other end. Customers can book a delivery the same way they request a ride, and in some cases, customers can get on-demand delivery within an hour.
"If it fits in the trunk of a midsize car, it can go with Uber Connect," Uber said.
There are limitations, of course. All packages must be legitimate and legal; packages must be closed, properly sealed and ready for curbside or door pickup; and be within the monetary and weight limits for the customer's location. The Uber website does not specify the delivery cost per package, but presumably, it is based on location, distance and delivery time desired.
Insider Take
I am not under 30, but I find returns annoying. Count me in. I currently take my Amazon returns to my local UPS store, but Amazon has instituted some new fees and restrictions, and there is a time limit during which I must return an item. This makes returns so much easier, especially if you are nearing the deadline to return a purchase. Five bucks is a bargain, and well worth it to avoid missing a return deadline, or to take 30-45 minutes out of my day to return something. Three bucks is even better for Uber One members.
We love that Uber continues to innovate to make their business model sustainable. Though demand slowed after the pandemic, they are finding ways to make their services valuable through innovation. Rideshare? Check. Food delivery? Check. Package delivery? Check. Package returns? Check. We also like that they try something and, if it doesn't work, they scrap it. When they find something that does – like package deliveries – they expand on it to maximize revenue opportunities.
Copyright © 2023 Authority Media Network, LLC. All rights reserved. Reproduction without permission is prohibited.