Twitter is testing a new Notes feature that will allow Twitter users the opportunity to go beyond 280 characters. According to a June 22 tweet by @TwitterWrite, a small group of writers in Canada, Ghana, the UK and the US are helping test Twitter Notes which can be read on or offline by users in most countries. Notes look a lot like blog posts with headings, header photos and embedded media. They will fall under Twitter Write, a composer tool that allows writers and creators to write longform content (e.g., stories, articles, etc.) called Twitter Notes to engage their followers.
How Twitter Notes work
Twitter shared a video of how Twitter Notes work:
There are still some details yet to be revealed, including whether it will be a free or paid feature and who might have access to it. Writers are currently testing it, but is this a restrictive group? According to Tubefilter, Twitter clarified their meaning of writer.
"When we say writers, we're not just thinking of journalists or authors with large followings. Writers can also be bloggers, newsletter publishers, comedians, content creators, social media community managers, poets, screenwriters and anyone else on Twitter who writes, has a profile as an opinion leader or simply has something to say," Twitter said.
At this time, Note titles are limited to 100 characters and the body of a Note is limited to 2,500 words.
Note cards in Twitter feed
Users who follow writers who are testing Notes will see a Note card in their Twitter feed. To read the content, they click on the Note card and can read the content write on Twitter. They can also access Notes by visiting a writer's profile to read any of their previously published Notes under a new Notes tab. The Note card will look like this:
When a Twitter user clicks on the Note card, it expands and looks like this: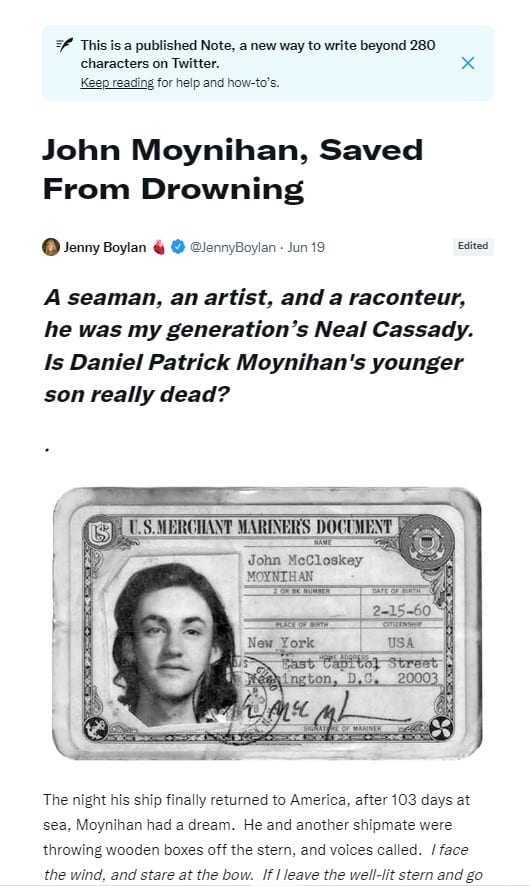 Twitter followers can like or reply to a Note, just like they would a tweet.
Twitter makes tweaks based on feedback
The testing just started but Twitter has already announced some tweaks, based on user feedback. They removed banners when viewing a Note on mobile when a user is logged out, they adjusted the margins and font sizes on mobile web for easier reading, and they made error messages for people trying to read Notes in locations where the feature is not yet available. Twitter also said they've made minor fixes to the user experience for writers who are testing Notes.
Revue now part of Twitter Write
Revue, the newsletter platform Twitter acquired in January 2021, will now be a part of Twitter Write. Twitter Write's Twitter profile says they are "building a new home for writers on Twitter."
Insider Take
Twitter isn't perfect, and there are definitely some improvements that could be made, but we love that they are always innovating, testing and tweaking. They want to improve the user experience for all and some of the Twitter Blue functionality and rumored "edit" button will make Twitter easier to navigate. By adding longform content, they are creating a platform for writers and other creators to share their work without taking users to another platform. Strategically, this is a smart play. This creates something creators and users both want, and it is a tool that could potentially be monetized later, reducing Twitter's reliance on advertising revenue.