Health and fitness smoothie company Smoothie King announced the launch of their new smoothie subscription service, Nourish Daily. Each 14-ounce smoothie consists of a purpose powder, flavor selection and the subscriber's choice of liquid (e.g., water, milk, non-dairy milk, tea, or juice). Subscribers combine the ingredients at home in a blender to create a healthy smoothie, customized to meet their personal health and wellness goals.
"With 50 years of smoothie-making expertise, we know what blends well and tastes good together," said Rebecca Miller, chief marketing officer of Smoothie King, in an April 13, 2022 announcement. "Nourish Daily saves our guests time, money and effort by giving them great-tasting purposeful smoothies straight from their freezer to blender to cup."
Purpose powders
The Nourish Daily smoothie subscription plan offers 12 "purpose powders" tailored to address specific needs or goals. They include:
Protein blend + daily vitamins
Energy
Recovery protein
Digestive support
Bulk up
Immune support
Keto-friendly protein (less than 10g net carbs with berry blend)
Metabolism boost
Muscle builder protein
Weight support protein
Vegan protein
Healthy snacks
Flavors
Subscribers can mix and match a variety of flavors to create tasty, healthy smoothies to meet their specific tastes and needs. Nourish Daily offers 10 flavors including:
Berry banana
Spinach ginger
Mixed berry
Cocoa banana nut
Mango pineapple
Veggie mango
Pineapple spinach kale
Cold brew almond
Strawberry pineapple
Wild blueberry banana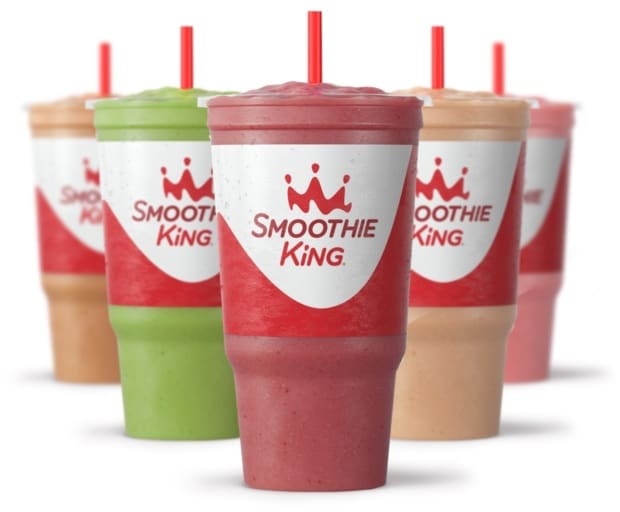 Pricing
The Nourish Daily smoothie subscription includes clean ingredients, customized recipes and free delivery from DoorDash at the subscriber's preferred day and time (two days' notice is needed). Subscribers can also opt to pick up their order at a Smoothie King store. The smoothie subscription plan ranges in price from $5.29 to $6.99 per smoothie. The more a subscriber buys, the less expensive the per-smoothie cost.
7 smoothies = $6.99 per smoothie, or $48.93
14 smoothies = $6.29 per smoothie, $88.06
21 smoothies = $5.29 per smoothie, $111.09
There is no long-term commitment. Subscribers can pause, skip or cancel their smoothie subscription at any time.
Clean ingredients
Smoothie King prides itself on providing clean, healthy ingredients for all their smoothies, including those in the Nourish Daily smoothie subscription service. Their smoothies are gluten free and made with organic vegetables and non-GMO fruits. They do not contain added sugar, artificial colors or flavors, soy, NSF banned substances, hydrogenated oils or trans fats.
"We believe it starts with clean ingredients, perfectly matched to your health and fitness purpose. We believe there is courage in getting up and getting started," Smoothie King says on the Nourish Daily page on its website. "So it's with great care that we source and select only the finest ingredients, present them to you in ways that respect your time and deliver them with an urgency that fits your lifestyle.
Partners in your pursuit, we're with you every day of the way."
Smoothie ingredients are delivered in insulated boxes packed with ice to keep everything frozen. Fruit and veggie packets should be refrigerated as soon as possible after delivery. The powders can be stored at room temperature. The boxes are recyclable.
The smoothies are currently only available in the Dallas-Fort Worth area, but Smoothie King plans to expand their markets.
Insider Take
A smoothie subscription? Yes, please. We've seen coffee, wine, beer and soda subscriptions. Why not smoothies? Other companies offer them, so this seems like a natural fit for Smoothie King and a good way for them to expand their offerings, make their smoothies "sticky," and diversify revenue streams. We love the creativity of packaging clean ingredients and allowing subscribers to choose the blends that meet their own tastes and goals. They seem reasonably priced, and we love the home delivery option. Our only criticism is that they are only in the Dallas-Fort Worth area. We hope they expand soon!