Times Media Group has acquired, Acorn Newspapers, a family-owned newspaper group in western Los Angeles and eastern Ventura Counties that operates five news brands, including The Acorn, Moorpark Acorn, Simi Valley Acorn, Camarillo Acorn and Thousand Oaks Acorn. The newspapers reach over 130,000 households and 340,000 readers. The Acorn Newspapers will continue to be run out of offices in Agoura Hills and Camarillo.
Prior to the acquisition, Acorn Newspapers were owned by Jim and Lisa Rule who ran Acorn Newspapers for 35 years. Terms of the deal were not disclosed.
"Running these publications for over three decades has been the most rewarding adventure we could imagine. We've seen incredible changes in technology, from light tables and darkrooms to digital cameras and seamless online publishing," the Rules said.
The couple said they have enjoyed being at the heart of the community, engaging with residents and keeping them informed.
"We've loved guiding these papers and watching our amazing staff inform residents, lift community spirits and strengthen connections across this vibrant region," wrote the Rules in the September 7, 2023 announcement published on Phoenix.org, one of Times Media Group's digital properties. "Now it's our time to pass the torch, and so the Acorn enters another exciting new chapter. We feel honored to have nurtured these beloved institutions and now entrust them to a talented new caretaker equally passionate for community journalism."
The Rules announced that Times Media Group, under the leadership of Steve Strickbine, are the new owners of Acorn Newspapers. Strickbine started Valley Times in Arizona in 1997 and has expanded throughout the Southwest as Times Media Group.
"Steve shares our passion for the vital role of community journalism. With his guidance, the future of Acorn Newspapers looks incredibly bright," the couple said. "Our dedicated staff deserve immense credit for making the Acorn a beloved community leader over the years. We know they will continue to thrive and serve local residents under Steve's direction."
Brickbine also commented on the acquisition.
"This is a great day for both Times Media Group and the Acorn Newspapers," said Strickbine in a September 8 press release. "Jim and Lisa Rule have built a highly respected, trusted community news brand that provides exceptional news coverage for readers and terrific value for advertisers. This alliance blends perfectly with Times Media Group's commitment to providing communities the local news and information they need with a high degree of accuracy and truth."
Picket Fence Media
This acquisition follows Times Media Group's recent acquisition of Picket Fence Media, who publish the San Clemente Times, Dana Point Times and the Capistrano Dispatch in Southern California. Times Media Group already owns community newspapers in Southern California including Pasadena Weekly, LA Downtown News, The Argonaut (Santa Monica) and the Ventura County Reporter, among others.
"We are very excited to expand our footprint into these thriving communities, providing news and information to readers as well as opportunities for advertisers with the same high standards of excellence Norb Garrett and his team have established over the past 17 years," said Strickbine in an August 1 press release.
Copyright © 2023 Authority Media Network, LLC. All rights reserved. Reproduction without permission is prohibited.
About Times Media Group
The publisher is a digital and print media company dedicated to covering local news in the Phoenix, Tucson and Los Angeles metro markets. Their brands include the Mesa Tribune, Pasadena Weekly, Scottsdale Progress, Desert Times and Tucson Weekly, among others. On their website the company shares the following statistics:
1.3 million page views per month
550,000 copies printed weekly
12,340 ads served monthly
5 million impressions per month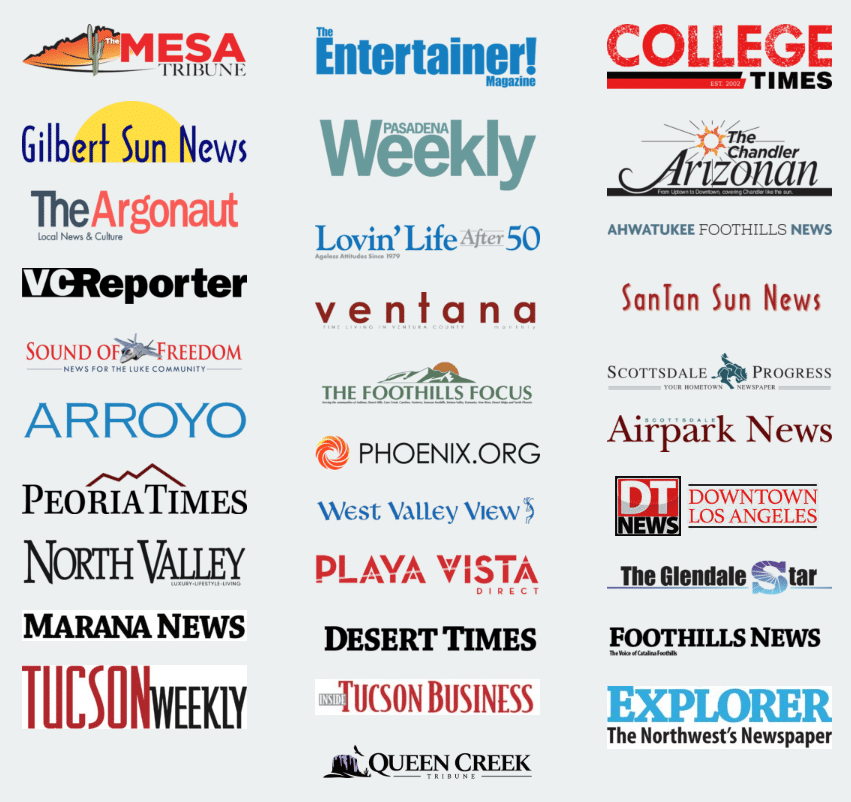 Insider Take
Small newspaper groups are finding it hard to survive in a down economy with reduced readership and revenue and the advertising shift from print to online. There are still plenty of small publishers with a passion for community news, but the economic realities make it difficult to survive. Larger publishers looking to expand their reader and advertiser base are acquiring smaller publishers like Acorn and Picket Fence.
According to the Local News Initiative's State of Local News 2022, Gannett, Tribune/MediaNews Group and Lee Enterprises are the top three newspapers, each owning 150+ newspapers or more, even as they rightsize. Meanwhile, regional publishers like Paxton Media Group and CherryRoad Media are acquiring smaller publishers. This is a growing trend. The concern is that local news will eventually die out, squeezed out by larger newspaper groups who are focused on profit and not necessarily on serving their readers. Times Media Group doesn't currently make the top 16 by number of newspapers owned, but it is inching its way up the list.
Copyright © 2023 Authority Media Network, LLC. All rights reserved. Reproduction without permission is prohibited.