The tech layoffs are not over. Yesterday, T-Mobile notified employees they are laying off close to 5,000 employees, or just under 7% of the company's workforce, to streamline operations and allow for corporate structuring, reports GeekWire. The jobs are primarily corporate and back-office roles that are redundant or tied to systems or processes that will change or don't align with the company's current priorities. T-Mobile CEO Mike Sievert also said that rising customer acquisition and retention costs were other factors that contributed to the layoff decision.
With the corporate restructuring, some tech positions will also be eliminated. Retail and customer care positions will not be impacted. The staff reductions will take place over the next five weeks with all notifications made by the end of September. Severance will be made based on employee tenure, plus an extra 60 days minimum of transition leave that includes pay, benefits, accelerated vesting, continuation of tuition reimbursement, career transition services, and a new T-Mobile "alumni service discount" that's good for life. Departing employees in good standing will also have "privileged access" to other roles at T-Mobile.
CEO Mike Sievert comments
Sievert noted the layoffs and corporate restructuring are large, unusual changes for the company, and he hopes that making difficult decisions now will point them in the right direction. He does not anticipate more layoffs of this magnitude in the future.
"Some areas of the business will be implementing more centralized models where they can improve efficiency and effectiveness and save costs. We're also taking opportunities to build bigger, broader people manager roles with deeper spans and fewer layers, to provide longer-term growth opportunities," Sievert said in a memo to employees shared by GeekWire. "At the same time, we'll also be decreasing our reliance and spend on external workers and resources."
Sievert discussed the company's focus on meeting customer demands but noted they can't keep up, no matter how hard they try.
"Today's changes are all about getting us efficiently focused on a finite set of winning strategies, so that we can continue to out-pace our competitors and have the financial capability to deliver a differentiated network and customer experience to a continually growing customer base, while simultaneously meeting our obligations to our shareholders," added Sievert.
Copyright © 2023 Authority Media Network, LLC. All rights reserved. Reproduction without permission is prohibited.
Second quarter results
The news comes nearly a month after T-Mobile presented its second-quarter financials. At that time, the Bellevue, Washington-based company reported total revenue of $19.2 billion, a 2.6% decrease year-over-year. Equipment revenue was $3.2 billion compared to $4.1 billion in the second quarter of 2022. The company had net income of $2.2 billion and diluted earnings per share of $1.86, compared to a net loss of $108 million and diluted earnings per share of $(0.09) for the second quarter of 2022. The company shared the following highlights in their earnings report:
Postpaid net account additions of 299,000, best in industry
Postpaid net customer additions of 1.6 million, best in industry and raising guidance
Postpaid phone net customer additions of 760,000, best in industry and best Q2 in eight years
Postpaid phone churn of 0.77%, best in industry for the first time ever and a record low for the company
High-Speed
Internet net customer additions of 509,000, more than AT&T, Verizon, Comcast and Charter combined for the fifth consecutive quarter
T-Mobile said they reign as the nation's overall network leader and the largest, fastest and most awarded 5G network. The company raised their 2023 full-year outlook.
T-Mobile stock
T-Mobile's stock value dipped slightly, down $3.01 from Wednesday's closing share price, which indicates that investors are not overly concerned about this operational change. There will be impairment charges at least over the next two quarters, but in the long run, this will help T-Mobile cut costs.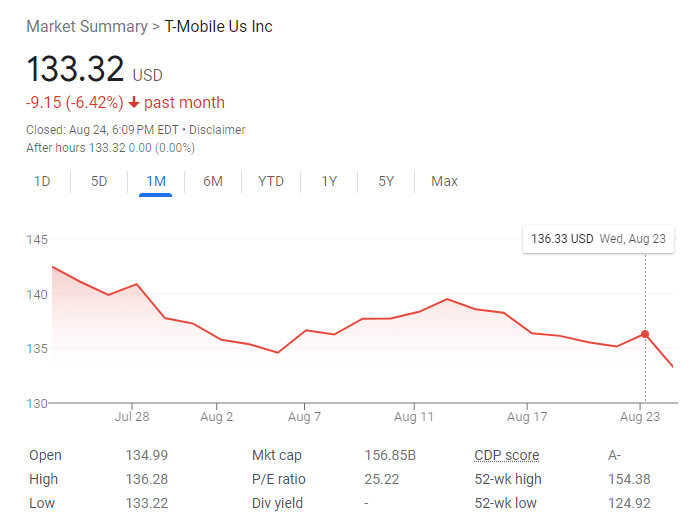 Insider Take
This was an unexpected operational decision for mass layoffs and corporate restructuring on T-Mobile's part, especially after a solid second-quarter financial report. What is particularly interesting is that the company had solid net income, which was significantly higher year-over-year, but expenses in T-Mobile's financial report are not clearly spelled out. You have to go to T-Mobile's second-quarter SEC 10-K filing to see total operating expenses of $15.4 billion. That reflects a clearer picture of the company's expenses compared to total revenue.
Copyright © 2023 Authority Media Network, LLC. All rights reserved. Reproduction without permission is prohibited.