Twitter is like a merry-go-round. Users watched it from afar, thought it looked interesting and hopped on for a spin. It was fun at first, under previous owners. Though there was the occasional breakdown, things went smoothly for the most part, as the social media platform added features and enriched the user experience. Then a new operator (Elon Musk) took over and the merry-go-round became unpredictable, speeding up at first and then slowing down. The operator replaced old horses with new ones, raised the price of admission, and eventually kept some users off the ride altogether.
Since Musk took over the social media platform in October of last year, it has become a circus and people are jumping off the merry-go-round before they are thrown off. Twitter has become unpredictable, and the ringmaster grows more volatile by the day. This is particularly interesting since Ringmaster Musk vowed to step down as CEO as soon as someone foolish enough to take the job would replace him.
And the merry-go-round continues. Here is just a sampling of the most recent news stories about Twitter. We say "sampling," because as soon as we hit "publish," this article will be outdated.
NPR and PBS leave Twitter
NPR has 52 official Twitter feeds, and the news organization said Wednesday that it will no longer post fresh content to those feeds. The reason for jumping off the merry-go-round? Twitter labeled NPR as a state-affiliated media organization; the social media platform later revised it to government-funded media. As a private nonprofit company, NPR said this is both inaccurate and misleading. NPR CEO John Lansing said the company receives less than 1% of its annual $300 million budget from the federally funded Corporation for Public Broadcasting.
By leaving Twitter, NPR is protecting its credibility and its ability to produce quality journalism without "a shadow of negativity."
"We are turning away from Twitter but not from our audiences and communities. There are still plenty of ways to stay connected and keep up with NPR's news, music and cultural content," said Lansing. "We will also continue to maintain a presence on our other social platforms."
Though NPR remains on Twitter for past content, it is still labeled "government-funded media."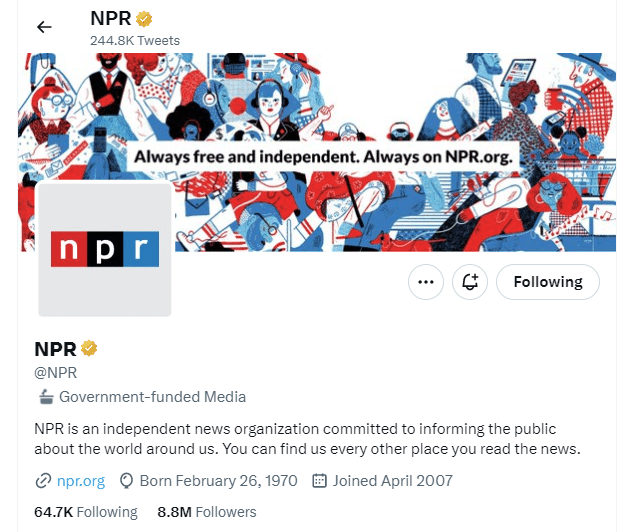 Musk countered with this tweet and linked back to the language on NPR's website.
PBS is also leaving Twitter because of the "government-funded media" label added to their profile, says USA Today. A spokesperson for PBS confirmed that the Public Broadcasting System does receive some government funding, but it is a small portion of their overall funding, similar to NPR.
"Twitter's simplistic label leaves the inaccurate impression that PBS is wholly funded by the federal government," said Jason Phelps, senior director of external communications for PBS.
PBS is not posting new content to Twitter and has no immediate plans to resume posting. However, they are monitoring the situation, USA Today reports.
Mike Donoghue, co-founder and CEO of Subtext, has been following the Twitter saga for the last year, and he wasn't surprised to see NPR and PBS leave the platform.
"I think it was probably an easier conclusion to arrive at than many people would think," Donoghue said. "Twitter's relationship with the media and other creators has always been extremely one sided, and it's pretty easy to unpack."
Donoghue analyzed the situation on LinkedIn yesterday, and he gave us permission to share his analysis.
When creators use Twitter, Twitter gets:
Valuable content
Engaged audiences
Data on which to build their ad products
Conversational fodder
Cultural relevancy
When creators use Twitter, creators get:
Spartan referral traffic
0% revenue share
Access to 22% of the U.S. population
No ownership or portability of audience data
Toxicity and algorithmic interference that stimies their community
Date for legacy checkmark removal pushed back to April 20
In March, Musk said that legacy checkmarks for verified accounts would be removed for Twitter Blue nonsubscribers effective April 1. As of that date, the only organization to lose its legacy blue checkmark was The New York Times because they publicly said they would not pay $1,000 a month for "verified" status. Musk has pushed the date back for legacy checkmark removal to April 20, according to an April 11 tweet.
Meanwhile, a number of media organizations and other organizations and celebrities have said they will not pay for checkmarks on Twitter. Here are a few who are saying "no" to a Twitter Blue subscription:
The New York Times
The Los Angeles Times
The Washington Post
BuzzFeed
POLITICO
Vox Media
The White House
CNN
LeBron James
William Shatner
Dan Rather
The general feeling is that, because of Twitter's actions in the last five to six months, verification status and checkmarks on Twitter no longer establish authority or credibility. Instead, they can be bought.
House Judiciary Committee demands FTC info. regarding Twitter
In a letter from Rep. Jim Jordan (R-OH) sent Wednesday to Federal Trade Commission Chair Lina Khan, the House Judiciary Committee said they would issue subpoenas to get the requested information about Twitter since it wasn't provided voluntarily, reports media Post. At issue is whether or not Twitter misled users when it asked for user email addresses and phone numbers for security, but that information is believed to have been used for ad targeting.
According to Media Post, the FTC is also investigating behind-the-scenes information that Twitter may have shared information with journalists about certain editorial decisions. Previously, the committee said they felt the FTC was harassing Twitter for reinstatements of "prominent conservatives." In related news, Musk has asked the FTC for a meeting, and they turned him down.
Elon Musk's X Corp. acquires Twitter Inc.
Earlier this week, Twitter Inc. has merged with Elon Musk's privately-held X Corp and is now domiciled in Nevada rather than Delaware, reports the Wall Street Journal. Technically, Twitter no longer exists as a corporation. In an interview with the BBC this week, Musk said that his goal was to create X, the everything app, and added that "Twitter is an accelerant" in this plan.
Three Twitter alternatives
Twitter has become an important platform for millions of monthly active users (MAUs). In fact, SproutSocial reports that Twitter has 556 million MAUs, and 53% of them use the platform for news. More than half of Twitter users are men, and U.S. adults spend an average of 34.8 minutes on Twitter daily. While those statistics are impressive, news organizations, subscription companies and others who are jumping ship are exploring Twitter alternatives. Here are three to consider.
While Mastodon is often part of the Twitter alternative conversation, Mastodon is a very different type of social networking platform. It is a decentralized, free, open-source platform. Rather than "joining Mastodon," users join a specific server that is managed by an individual, group of people, or an organization. Users can join multiple servers, follow people and have people follow them. Users can also create their own servers.
The Verge explains that, on Mastodon, users post "toots" instead of tweets and toots have a 500-character limit, nearly double the limit of Twitter. Posts may include images, video or audio files, and they can be edited after they go live. Mastodon supports the use of hashtags to help users find posts of topics of interest. Useful resources about Mastodon include this Guide to Mastodon by @[email protected] and a comparison of Twitter alternatives by Teri Kanefield.
"Social networking that's not for sale," Mastodon says on their home page. "Your home feed should be filled with what matters to you most, not what a corporation thinks you should see. Radically different social media, back in the hands of the people."

Post.news bills itself as "a social platform for real people, real news, and civil conversations." Users can discover, follow, share and support diverse voices on topics they care about, the website says. It also says that users can access journalism from premium publishers without subscriptions or ads. Instead, users pay for what they read with micropayments. For news publishers, Post.news allows them to create content; monetize and manage that content; and grow their audiences. Among the publishers that are trying out Post.news are:
Fortune
Hearst Newspapers
Los Angeles Times
ProPublica
Reuters
USA Today
With a flexible content editor, creators can write, format and embed their content. They can also find audiences interested in the topics they cover, and they can monetize their work through tips, donations or put up a micropayment paywall. Creators can set up their content so that readers can just pay for what they read, or they can push their readers to subscribe to their content.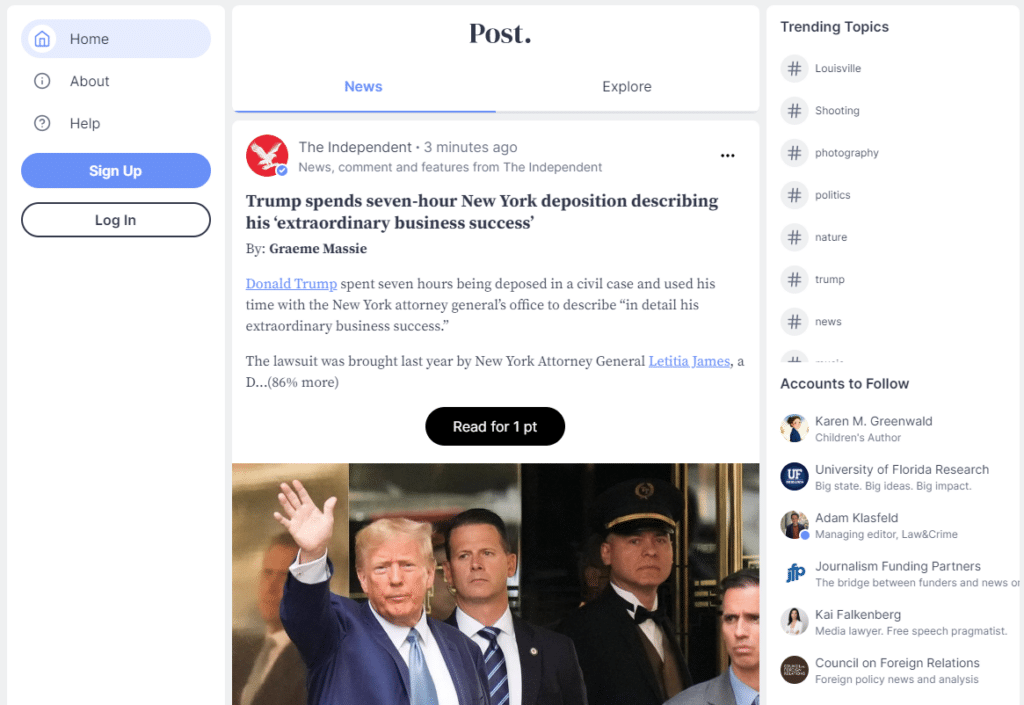 Another Twitter alternative is T2 which is currently accepting people to its waitlist. On the waitlist questionnaire, T2 asks if the applicant has a Twitter account, their current Twitter handle, and three choices for a T2 handle if accepted. The platform looks very similar to Twitter. Some users have a purple checkmark next to their names, indicating they are "Twitter legacy" users or have been T2 authenticated. Like tweets, individual posts can be commented on, shared, loved and flagged.
Each user has a profile page, very similar to Twitter. The site has a 280-character limit per post. Without an account, it does not appear that the feed can be altered, but prospective users can lurk for now. Here is an example of Fast Company's T2 profile page.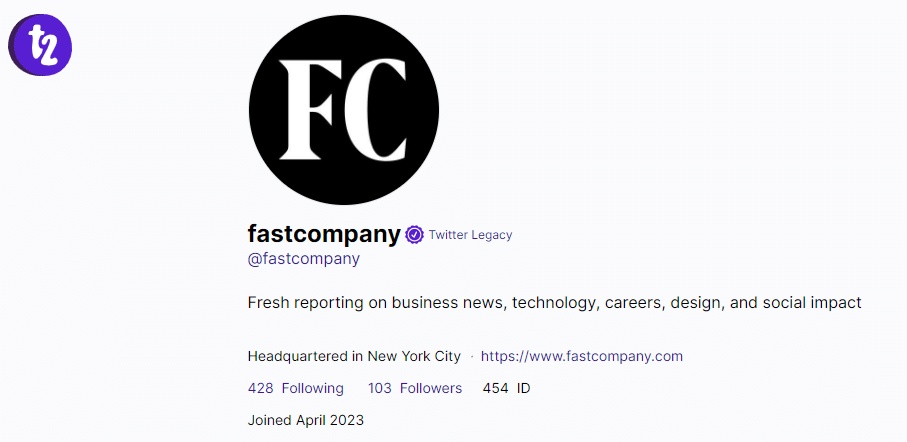 The platform was co-founded by Gabor Cselle, CEO, who previously worked at Google; Sarah Oh, formerly of Twitter and Facebook; and Michael Greer, CTO, who worked at Discord and was the co-founder of TAPP Media. The About Us page says that T2 is "a place to have the authentic conversations we've always wanted to have."
"We believe in the basics: offering simple tools and creating space for human conversation. We're working to build an elegant, sustainable, and hospitable place that recaptures what we all used to love about the internet," T2 says.
Can Twitter be replaced?
Even with hundreds of millions of MAUs, Mike Reilley, data and journalism professor at the University of Illinois Chicago, a trainer for the Google News Initiative and the founder of Journalist's Toolbox, thinks Twitter can be replaced.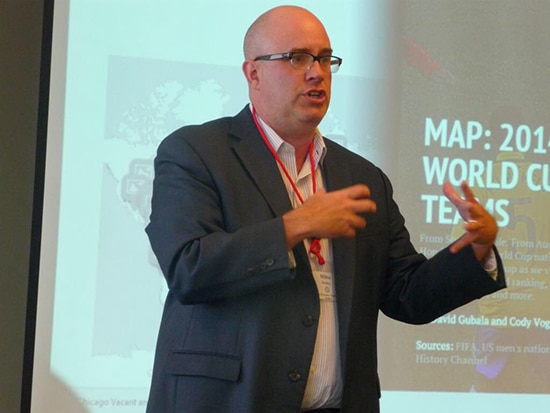 "Anything can be replaced, especially if Elon Musk continues to screw it up," Reilley told us. "While some have left when he took over and headed to Mastodon, Post.news, etc., many have stayed, primarily journalists. And with Journalist's Toolbox, I have to go where the audience is. And that's still Twitter. I post on the other channels, but Twitter is still the best way for me to engage with my journalism audience."
We asked Reilley if he felt there was a way for Musk and Twitter to turn things around to prevent a mass exodus.
"Hopefully, Elon finds a new toy and moves on, and the developers and managers take over and improve it. He's a total madman with how he does things – see Tesla among others – but if he's not hovering over them, they can really work on making it a great thing," Reilley said.
Reilley gave the example of early concerns about Jeff Bezos, founder of Amazon, purchasing The Washington Post.
"People panicked that he was going to turn the place into a circus," Reilley said. "It's worked out OK, and he has tech developers working with journalists to do some amazing things."
As a journalism and data expert, we asked Reilley which Twitter alternative he liked best. Post.news is his preference right now. He can write longer posts, monetize them, and "hotlink" out of the post.
"They have some work to do with the platform, but I much prefer it to Mastodon," said Reilley.
For journalism organizations specifically, Reilley said they need to "spray to a lot of fields on social and see what sticks."
Reilley said, "Maybe your audience forms on Post, maybe your Substack newsletters gain traction. Who knows? But they need to have a presence everywhere and see where they can best engage the reader. That's a lot of work, but it's the nature of the beast."
Five practical strategies to navigate your social marketing while Twitter implodes
As companies watch Musk and the merry-go-round spin in frantic circles, those who use Twitter as part of their marketing and outreach strategy need to find other avenues. Here are five things subscription companies can do while Twitter figures itself out or a better alternative emerges.
Stay the course – keep posting and engaging with your audience. This is particularly true if you have a good following, but hold true to your company values. Don't want to pay for a checkmark? Don't. You will be in good company.
Get smart about Search and Hashtags to find "your people" who tweet about issues that matter to you. The feed is increasingly filled with sponsored content and Elon-centric viewpoints. Work your feed the right way to maximize your experience.
Watch for fake accounts that have a "verified" checkmark. The blue checkmark used to mean something, but it has lost all its value and credibility when Musk put a price tag on it. Most people we have talked to are NOT paying for the blue checkmark, so there will be users impersonating other accounts. Be proactive about reporting fake accounts and calling them out for not being who they say they are.
Make sure all your content is pointing back to your subscription business, whether you are tweeting, posting to Facebook, distributing content via newsletter, etc. You always want to drive your fans and followers back to your website. This is basic knowledge, but it is easy to forget the rules of engagement when some aren't playing by the rules.
Familiarize yourself with the Twitter alternatives. We have only touched the surface – and establish your brand on those platforms, even if you end up not actively engaging right now. We do not anticipate seeing a viable alternative to Twitter until the end of 2023 at the earliest. If that happens, and an alternative can scale up and and prove it can handle the masses, be prepared to pivot quickly.
Summary
No one can predict what Musk's true intentions are or what his next moves will be. While he may be a genius, he is also a volatile businessman who makes impulsive decisions. He cherry picks the rules he wants to follow, and he doesn't follow them consistently or unilaterally (e.g., The New York Times). Musk does what Musk wants. But that doesn't mean users, including subscription companies, are beholden to him or to Twitter. We are in control of our brands, our brand messaging and strategies, and how we want to market them and engage with our audiences. Stay informed and be prepared for anything.