For the last two months, billionaire Elon Musk has made almost daily headlines in his quest to buy Twitter. We've heard his concerns, his criticisms, and his plans for the social media platform including ambitious growth of subscription revenue. But will Musk's $44 billion deal actually go through? The last we heard the deal is on hold. Will he or won't he buy Twitter? Based on the timeline of the Musk-Twitter saga, it is anyone's guess.
Musk bought 9.2% of Twitter stock in March, making him the company's largest shareholder, according to a filing with the Securities and Exchange Commission. Musk did not disclose what he paid for the shares or why he purchased them. As a result, Twitter has appointed Musk to the company's board of directors. Musk will serve as a Class II director until 2024 when his term ends on the date of the company's annual shareholder meeting. As part of the deal, Musk agreed to not acquire more than 14.9% of Twitter's common stock as an individual or as part of a group. Musk will be entitled to director benefits reserved for non-employee directors.
Twitter CEO Parag Agrawal shared the news on the social media platform.
Musk, who has 93.8 million followers on Twitter, said he wants to make improvements to Twitter. At the time, Musk did not say specifically what he would change.
Less than a week after being offered a position on Twitter's board of directors, Musk says "nevermind." Agrawal announced Musk's decision on Twitter on April 10.
At the time Musk rejected the board seat, it was not clear why Musk changed his mind. There was a lot of public and media speculation including his concerns about passing a background check and the controversy surrounding the timing of Musk's notification to the SEC that he had acquired 9.2% of Twitter stock, making him the company's largest stockholder. Others said Musk declined the board seat, so he would not be held to the fiduciary responsibility of always acting in the best interests of Twitter shareholders. The reason for his decision soon became clear.
In a letter to Taylor that was filed with the Securities and Exchange Commission, Musk offered Twitter $54.20 per share, equating to about $44 billion. The sale price is a 54% premium over the day Musk started buying stock in the company (January 28, 2022) and a 38% premium over the company's share price on April 1, 2022, the final day before Musk disclosed his 9.2% ownership stake in the company.
"I invested in Twitter as I believe in its potential to be the platform for free speech around the globe, and I believe free speech is a societal imperative for a functioning democracy. However, since making my investment I now realize the company will neither thrive nor serve this societal imperative in its current form. Twitter needs to be transformed as a private company…My offer is my best and final offer and if it is not accepted, I would need to reconsider my position as a shareholder. Twitter has extraordinary potential. I will unlock it," Musk wrote.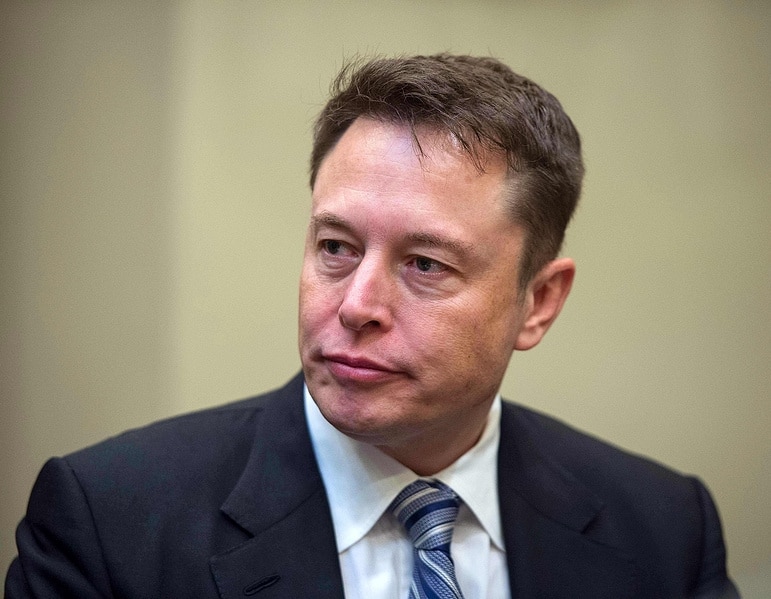 Musk will finance the sale with $13 billion in bank loans, $12.5 billion in loans secured by his Tesla stock, and $21 billion in cash to buy the balance of Twitter equity.
"The Twitter Board conducted a thoughtful and comprehensive process to assess Elon's proposal with a deliberate focus on value, certainty, and financing. The proposed transaction will deliver a substantial cash premium, and we believe it is the best path forward for Twitter's stockholders," said Bret Taylor, independent board chair for Twitter, in an April 25 news release.
A filing with the SEC reveals that, if the acquisition is terminated by either party under specific circumstances, a $1 billion termination fee is due by the party who terminates the agreement. For example, if Musk's financing of the $44 billion falls through, he will have to pay Twitter $1 billion. The SEC filing indicates that the deal must close by October 24, 2022 at 5 p.m. Pacific, though it could potentially be extended six months if certain closing conditions and regulatory approvals have not yet been met.
April 25: Jack Dorsey has some thoughts to share.
Jack Dorsey, co-founder and former CEO of Twitter, is currently serving as the chairman of the board. His term will end with the company's annual meeting next week. In this thread, he seems thrilled that Elon Musk will create a platform that is "maximally trusted and broadly inclusive."
April 29: Jack Dorsey speaks out again.
Dorsey has a few more thoughts to share about Twitter, where things went wrong, how they can be fixed, and the need for transparency.
May 4: Musk attracts investors to help fund his Twitter purchase.
In an SEC filing, Musk outlined equity commitment letters from 18 different entities totaling $7.139 billion with the largest contributions being $1 billion from the Lawrence J. Ellison Revocable Trust, $800 million from Sequoia Capital Fund, L.P., and $700 million from VyCapital. Ellison is a co-founder of Oracle. The New York Times reports that Jack Dorsey is in talks with Musk about rolling over his Twitter shares.
May 6: Musk outlines his plans for Twitter.
In a pitch deck to investors, Elon Musk outlined his goals and ambitions for Twitter upon his acquisition of the social media platform. Here are highlights from the pitch deck, shared by The New York Times.
Increase Twitter revenue to $26.4 billion by 2028, an increase of $21.4 billion over 2021 revenue
Decrease Twitter's reliance on ad revenue to around 45%, about half of Twitter's revenue in 2020
By 2028, Musk believes advertising will generate $12 billion and subscriptions close to $10 billion.
Twitter would generated another $15 million from a payments business in 2023, which would increase to around $1.3 billion by 2028.
Musk would like to increase average revenue per user to $30.22 in 2028, compared to $24.38 in 2021.
Grow to 600 million users in 2025 and 931 million users by 2028. At the end of 2021, Twitter had 217 million users.
Musk estimated 69 million users will subscribe to Twitter Blue, the company's $3-a-month subscription service, by 2025 and 159 million by 2028.
Add 9 million subscribers in 2023 and 104 million subscribers by 2028 to a product currently called X.
Fluctuation of staff over the next several years, landing at just under 11,100 employees by 2025
Increase free cash flow to $9.4 billion
May 9: Musk likes chocolate milk.
Musk takes a break to tout his love for chocolate milk.
May 10: Former president Donald Trump could come back to Twitter.
Elon Musk has said that he doesn't agree that lifetime bans are appropriate, and he would allow former Donald Trump to come back to the social media platform. He said that banning Trump was a mistake at an automotive conference. However, Trump's own platform – TruthSocial – has specific rules about what he can post, where and when. TruthSocial went live on iOS on April 21, 2022, according to an S-4 document filed with the SEC. Gizmodo reports that Trump has a somewhat exclusive deal with TruthSocial. He is obligated to make posts to TruthSocial and cannot use the same post on other social media platforms for six hours unless the post is political in nature. If it is political, Trump can post what he wants wherever he wants.
On May 12, in a memo, Agrawal notified Twitter employees of the firing of key company leaders: consumer product leader Kayvon Beykpour, after seven years with the company, and Bruce Falck, head of revenue product, after five years. Jay Sullivan will become the permanent GM of Bluebird. Twitter will begin an executive search for a Goldbird GM, replacing Falck. In addition, Twitter is pausing most hiring and reducing spending, reports The Verge.
"Building Twitter and serving our customers around the world is important yesterday, today, and tomorrow. Our purpose is existential. During this time of change, it's critical that we continue to strengthen our work through increased accountability and execution to make Twitter everything it can be. The priorities and decisions we make now will not only bolster how we navigate through this time, but also for the longer-term success of Twitter which I care about deeply. Some changes are happening to us and some we will drive. A number of these changes are difficult but they are right for Twitter and its future," Agrawal wrote.
On May 17, Bloomberg reports that three additional Twitter leaders are leaving the company by choice: Ilya Brown, a vice president of product management; Katrina Lane, vice president of Twitter Service; and Max Schmeiser, head of data science. A spokesperson for Twitter confirmed the voluntary terminations.
May 13, 2:44 a.m.: Musk says the deal is "temporarily on hold."
In an early morning tweet, Musk said the Twitter deal was temporarily on hold, pending details about spam/fake accounts. He cited a Reuters article.
May 13, 4:50 a.m.: Oh, wait, nevermind. Musk said he is still committed to the acquisition.
May 13, 12:10 p.m.: Twitter CEO speaks out in a lengthy Twitter thread.
On Friday the 13th, Twitter CEO Parag Agrawal posted a lengthy thread on Twitter, highlighting some of the incidents of the last few weeks and his position on them.
Musk's response was the poop emoji, according to multiple sources.
May 14: Former president Donald Trump chimes in.
Newsmax quotes a post by Donald Trump on Truth Social, saying he doesn't think the deal will go through and stating how much better his social media platform is better anyway.
May 17: Musk wants proof that bots are not a significant problem.
According to multiple sources, Elon Musk wants proof of the number of spam bots and fake accounts on Twitter in order to move forward with the deal. He said it should be below 5% or he will tank the deal.
May 17: Twitter board intends to enforce agreement.
According to The Washington Post, Twitter's board made a statement Tuesday saying they won't renegotiate the deal with Musk.
"The Board and Mr. Musk agreed to a transaction at $54.20 per share. We believe this agreement is in the best interest of all shareholders. We intend to close the transaction and enforce the merger agreement," the statement read.
May 19: Twitter value
As of 7:59 p.m. EDT yesterday, Twitter Inc. (NYSE: TWTR) was trading at $37.29 per share, down from the $51.70 per share price on April 25 when the Twitter deal was announced. The more the price drops, the sweeter the deal for Twitter shareholders who will get $54.20 per share if the deal with Musk does, indeed, close.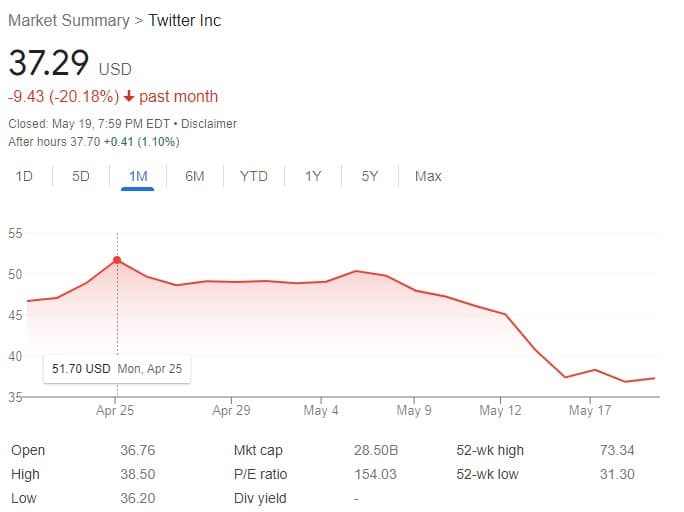 Insider Take
What does it all mean? Elon Musk is the world's richest man with a net worth valued at approximately $219 billion. He is the CEO of SpaceX and Tesla, innovative companies ahead of their time. Despite his brilliance and business acumen, Musk has a tendency to act impulsively, so it is hard to say if his decision to buy Twitter was a sound business decision born out of a desire to improve transparency and promote freedom of speech. Or was it more of a statement that Twitter is not being properly used, perhaps even being abused, and he knows how to fix it. Regardless, the $44 billion offer is on the table and it has been accepted. Whether the deal goes through or not remains to be seen, but until a path forward is clear, we can expect a rocky ride, or should we say "rocket ride." Hang on!