Microsoft announced yesterday their plans to acquire Activision Blizzard for $68.7 billion in an all-cash deal, making this Microsoft's biggest acquisition to date. The software giant will acquire the game developer and interactive entertainment content publisher for $95 per share. The deal, which will close during Microsoft's fiscal year 2023, will make Microsoft the world's third-largest gaming company by revenue, following Tencent and Sony. The boards of both companies have approved the transaction, and it is subject to customary closing conditions and regulatory approvals.
The acquisition will include popular game franchises from Activision, Blizzard and King studios including Warcraft, Diablo, Call of Duty and Candy Crush. The company has studios around the world with more than 10,000 employees. They also have nearly 400 million active monthly users in 190 countries. Activision Blizzard games will become part of Microsoft's Game Pass portfolio which currently boasts 25 million subscribers. The acquisition will help further Microsoft's dive into the metaverse and cloud gaming.
"Gaming is the most dynamic and exciting category in entertainment across all platforms today and will play a key role in the development of metaverse platforms," said Satya Nadella, chairman and CEO, Microsoft, in yesterday's announcement. "We're investing deeply in world-class content, community and the cloud to usher in a new era of gaming that puts players and creators first and makes gaming safe, inclusive and accessible to all."
Activision Blizzard's CEO Bobby Kotick will remain in his current position. He will report to Phil Spencer, CEO of Microsoft Gaming, who was promoted, taking on a bigger leadership role.
"For more than 30 years our incredibly talented teams have created some of the most successful games," said Kotick. "The combination of Activision Blizzard's world-class talent and extraordinary franchises with Microsoft's technology, distribution, access to talent, ambitious vision and shared commitment to gaming and inclusion will help ensure our continued success in an increasingly competitive industry."
Spencer also commented on the acquisition.
"Players everywhere love Activision Blizzard games, and we believe the creative teams have their best work in front of them," said Phil Spencer, CEO, Microsoft Gaming. "Together we will build a future where people can play the games they want, virtually anywhere they want."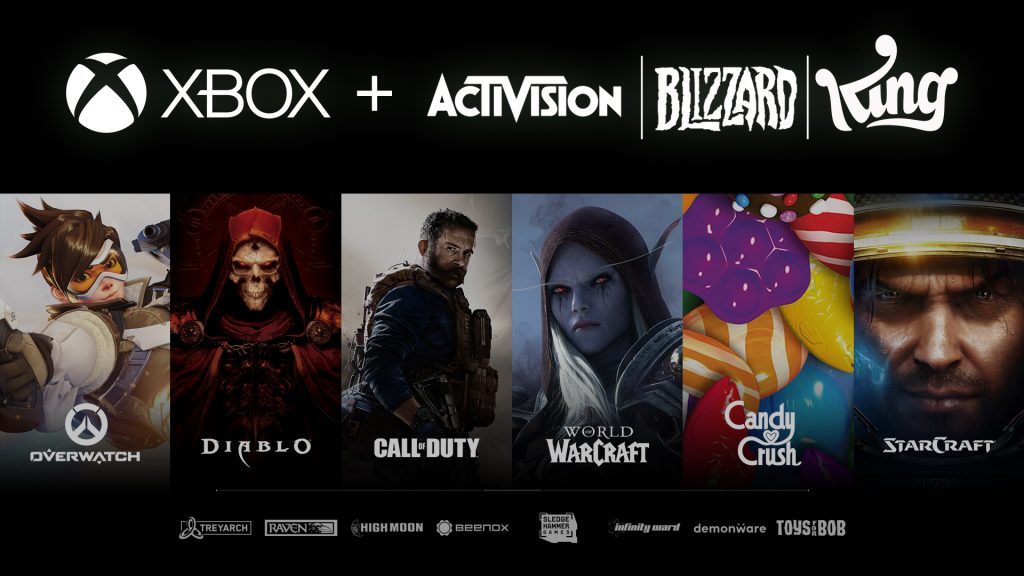 Trouble at Activision Blizzard
If you aren't familiar with Activision Blizzard, they might be more familiar than you think. The gaming developer has had several problems with employee harassment, including sexual harassment. The Verge reports that they have fired or pushed out more than three dozen employees, as well as disciplining forty employees since July of last year. In an article from the Wall Street Journal, approximately 700 employee complaints described workplace misconduct. The developer was set to release a report summarizing the results of the investigation into harassment, but CEO Bobby Kotick refused, claiming that doing so would just amplify these same issues within the company.
To add more pressure, the California Department of Fair Employment and Housing sued Activision Blizzard for promoting a culture of "constant sexual harassment," The Verge reports. Kotick himself has also been accused of abusive behavior, which leads a lot of fans of the developer, as well as a lot of the internet, skeptical of Activision Blizzard as a whole.
Activision Blizzard agreed to an $18 million settlement in September in response to a different lawsuit, this time from the US Equal Employment Opportunity Commission, according to CNN Business. This lawsuit accused the company of subjecting female employees to sexual harassment and retaliating against them for making complaints about the harassment, as well as discrimination against pregnant employees.
"There is no place anywhere at our company for discrimination, harassment, or unequal treatment of any kind, and I am grateful to the employees who bravely shared their experiences," Kotick said in a statement. "I remain unwavering in my commitment to make Activision Blizzard one of the world's most inclusive, respected, and respectful workplaces."
Addressing related concerns, Phil Spencer of Microsoft Gaming said in a company email, "We believe that creative success and autonomy go hand-in-hand with treating every person with dignity and respect. We hold all teams, and all leaders, to this commitment. We're looking forward to extending our culture of proactive inclusion to the great teams across Activision Blizzard."
Spencer also said he believes in creating a single, unified team.
Strategic move for subscription gaming
Gaming has become a large focal point for Microsoft in the last few years, and has been met with success over the Xbox One, Xbox Series X and Series S. They have unveiled features like Game Pass to generate subscription revenue, and keep gamers enticed with something new and exciting. Game Pass has already become extremely lucrative, bringing in 25 million subscribers. In September 2020, they acquired ZeniMax Media and Bethesda for $7.5 billion. With the Bethesda acquisition, Microsoft brought its total of gaming studios to 23. 
After the Activision Blizzard acquisition announcement, gamers shared mixed feelings over the deal, and Microsoft shares fell from $310.20 on January 14, 2022 to $302.65 as of 7:39 PM Eastern, while Activision Blizzard stock jumped from $65.39 on January 14, 2022 to $82.31 as of 7:38 PM Eastern yesterday.
Insider Take
Whoa. This. Is. A. Big. Deal. $68.7 billion in an all-cash deal! This could potentially help Activision Blizzard repair its reputation, while also potentially shifting liability to Microsoft. Meanwhile, Microsoft will elevate itself to the third-largest gaming company in the world. That is huge. Activision Blizzard comes with a built-in subscription gaming audience and three billion-dollar gaming franchises, helping Microsoft grow far beyond what it could accomplish on its own. Assuming Microsoft holds to its word of proactive inclusion and unity, this acquisition has enormous potential.