Last week, The Weather Channel announced they have teamed up with Tripadvisor and USA TODAY to offer premium subscription bundles. In an August 18, 2022 news release, the IBM-owned Weather Channel says consumers can save time and money with one of two premium bundles. The Weather Channel Premium pro digital subscription, paired with Tripadvisor Plus, is available for $89.99 a year. It gives subscribers the opportunity to get the latest local, regional or national weather forecasts with a Tripadvisor Plus subscription where they can get discounts on more than 100,000 hotels around the world. The Weather Channel Premium pro digital subscription, paired with USA Today, is $79.99 a year
"Consumers are looking for convenience and ease of use when it comes to managing their subscriptions. By joining forces with Tripadvisor and USA TODAY, subscribers can now manage both subscriptions on weather.com," said Sheri Bachstein, CEO of The Weather Company, an IBM Business.
"Delivering timely and accurate weather data that helps make life easier is our goal. Offering the bundled subscriptions is another way that we can provide our users with enhanced value to help them live their best lives," Bachstein added.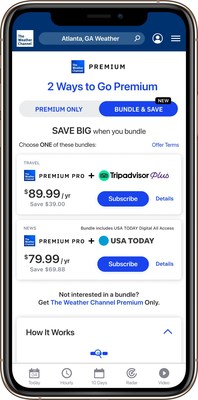 Quoting a recent IBM survey, The Weather Channel said that nearly 75% of those surveyed said they start checking the weather two weeks prior to their departure on a trip, and they are more likely to check the weather more often with traveling. The Weather Channel believes their weather forecasts help people plan ahead and to be better prepared for extreme weather. A pro subscription gives premium subscribers additional insights into the weather and what to expect, including 72-hour future radar and eight days of hourly forecasts, all without ads.
Subscribers choosing the Tripadvisor Plus bundle will receive members-only pricing and perks at more than 100,000 hotels worldwide, savings on over 300,000 travel experiences, and access to perks from Tripadvisor partners.
"In launching Tripadvisor Plus last year, we entered the travel subscription business to help our community get the most out of their trips. Our driving force is to help people become better travelers – to be the ultimate resource for trip planning, inclusive of relevant guidance and deals," said Brad Soroca, VP of business development for Tripadvisor. "Travel and weather go hand-in-hand. With the continued evolution of travel subscription services, it was the perfect opportunity for two leading brands in adjacent spaces to join together to bring incredible service and value to travelers."
A standalone subscription to Tripadvisor Plus is $99.99 a year, so a bundled subscription saves consumers money with the subscription price with the premium subscription to The Weather Channel as a bonus.
The Weather Channel Premium pro subscription paired with USA Today gives subscribers digital access to USA Today, including exclusive premium content available only to subscribers, subscriber-only newsletters.
"USA TODAY serves as the nation's source of clarity, empowering audiences with approachable, engaging content that impacts lives and connects people to the world around them. We are excited to work with like-minded partners to further enhance the customer experience and reach new audiences," said Nicole Carroll, president of news and editor-in-chief of USA TODAY.
As a standalone subscription, The Weather Channel Premium is available to subscribers for $29.99 a year or $4.99 a month. By combining this subscription with one of the other two subscription packages, consumers save $39.00 a year on the Tripadvisor Plus bundle or $70.00 savings on the USA TODAY bundle.
Insider Take
Premium subscription bundles are a popular way of introducing subscribers interested in one subscription product to other products they may find interesting. These introductory offers, which are annually renewable, gives subscribers the opportunity to sample two different products. These bundles could potentially be attractive to would-be subscribers. We are curious why IBM and The Weather Channel decided to try the premium subscription bundles. Is this a way to build their subscriber base? Afterall, we can find free weather forecasts most places. They'd need to really show additional value to consumers to get them to pay for weather. Perhaps the premium subscription bundles are more a way for The Weather Channel to attract more subscribers and to introduce weather fans to Tripadvisor Plus and USA TODAY subscribers.