We don't know if Meta CEO Mark Zuckerberg is Irish, but he chose St. Patrick's Day to roll out the Meta Verified subscription bundle in the U.S. Similar to Twitter's (in)famous blue checkmark, Meta Verified is a subscription bundle that allows Facebook and Instagram users to establish a verified presence on the social media platforms. In exchange for a monthly subscription fee, verified users will receive a blue checkmark, showing they have been verified by Meta as being who they say they are. For now, only personal pages and accounts can subscribe to Meta Verified, and there is a waitlist.
Zuckerberg announced the rollout on his Meta Channel last Friday.
"Meta Verified is rolling out to the US today. You can get a badge, proactive impersonation protection, and direct access to customer support," Zuckerberg said.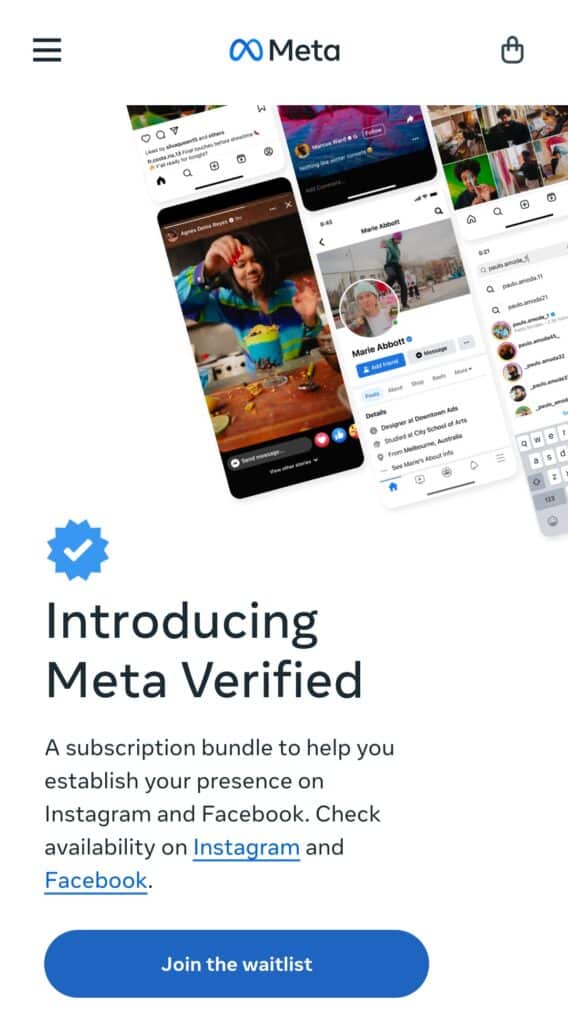 Meta first made the announcement they were testing the subscription bundle in February. At that time, Meta was rolling out the test in Australia and New Zealand. They said global rollouts would follow, but they didn't specify a timeframe.
How it works
In exchange for a monthly subscription fee, web users of Facebook and Instagram can get verified for $11.99 per month per platform. iOS and Android users can get verified for $14.99 per month per platform. Meta did not explain why there is a difference in cost, but it may be to cover "revenue share" expenses charged by the App Store and Google Play Store. Each platform requires a separate subscription, so it isn't clear how this new service is a "bundle."
To determine if an account is eligible, the social media user goes to their Profile and clicks on Settings on Instagram of Center. Then they click on Meta Verified. If it is available for that account, "Meta Verified available" will be visible under the profile name and profile photo. Next, the user sets up their preferred payment method for their monthly subscription fees.
Finally, the user confirms their profile and provides a government-issued photo ID to confirm their identity before they can be approved for the subscription. Users must be 18 years or older and be located in a country or region where Meta Verified is available. Once a user's profile has been verified, they cannot change their profile name, user name, date of birth, or photo on their profile without having to go back to be re-verified.
Copyright © 2023 Authority Media Network, LLC. All rights reserved. Reproduction without permission is prohibited.
Benefits to Meta Verified
Meta says there are four primary benefits to the subscription bundle:
Meta Verified helps users establish their identify and authenticity, adding some legitimacy and security to the account holder.
Meta Verified subscribers will get exclusive stickers on Facebook and Instagram Stories and Facebook Reels, and 100 stars a month on Facebook to show their support for other creators.
Meta Verified provides proactive account protection to subscribers to prevent them from being impersonated by others. Accounts are monitored and secured via two-factor authentication.
Meta Verified subscribers get direct account support from a real person, not a bot, on common account issues.
How is this different from Twitter checkmarks?
After taking over Twitter last fall, CEO Elon Musk made some disastrous decisions to monetize the blue checkmark, causing impersonators to create bogus accounts, wreaking havoc across the platform. The dust seems to have settled and, in early December, Twitter relaunched of their Twitter Blue verification system. The service was initially launched in November, but the implementation was such a disaster, the social media platform immediately rolled it back. The revamped Twitter Blue subscription service is $8 a month for users of Twitter's web platform and $11 a month for users who subscribe through the iOS app. Subscribers can now subscribe to get the following verification checkmarks:
Gold checkmarks for companies
Gray checkmarks for government entities and organizations
Blue checkmarks for individuals, including celebrities
Insider Take
As we said when the Meta Verified test was first announced, do we really need checkmarks? Do people actually believe they are meaningful? Is this something people really need or want? More importantly, are they willing to pay $12 to $15 a month for it? For politicians, celebrities and major brands, it makes sense to have some sort of legitimate verification system. But that's not yet part of Meta Verified's program, as this is only available to individual users.
There may be a benefit for influencers who want to establish their legitimacy, but for the average person, the price tag is high. This feels more like a desperate move to generate revenue. We know that Meta's financials for the fourth quarter and full-year 2022 were dismal. This could create some much-needed revenue for the social media platform, but we think this new service could fall flat, especially if Meta doesn't have the staff to meet new customer support needs. Last week, the tech company announced they would cut another 10,000 jobs and eliminate 5,000 vacant ones. It is not yet clear what, if any, impact this could have on the new Meta Verified subscription service.
Copyright © 2023 Authority Media Network, LLC. All rights reserved. Reproduction without permission is prohibited.