DC, part of Warner Bros. Discovery, has found another way to impress comic readers and attract new subscribers. Yesterday, DC Comics launched the DC Universe Infinite Ultra subscription. Available for an introductory price of $99.99 a year, Ultra subscribers can read new comics one month after their release in comic stores. At launch, Ultra subscribers can access Black Adam #1-4, Batman: Beyond the White Knight #1-4, Dark Crisis on Infinite Earths #1-4, Flashpoint Beyond #1-5, Poison Ivy #1-4, and The Nice House on the Lake #1-9, among others.
But wait, there's more. In the middle of November, DC Universe Infinite will expand their catalog to more than 5,000 exclusive titles from Vertigo, DC Black Label and Collected Editions from DC including Sandman Presents: Dead Boy Detectives, 100 Bullets and American Vampire. This expanded catalog will only be available to Ultra subscribers. Ultra subscribers will also receive The Death of Superman 30th Anniversary Deluxe Edition featuring an exclusive cover designed by Ivan Reis, available while supplies last, and one free physical comic book when they subscribe, upgrade or renew their subscription.
With the addition of these exclusive titles, DC's library will grow from 27,000 comics to more than 32,000, including MAD Magazine which will be available across all membership tiers, reports CBR.com.
"We're excited to introduce the industry leading one-month windowing of digital comics with DC UNIVERSE INFINITE's Ultra tier," said DC Senior Vice President and General Manager Anne DePies in an October 8, 2022 news release. "This new offering is part of DC's vision of being everywhere our fans are–online and at comic shops. With a shorter digital release window, fans can enjoy our fantastic new stories, anywhere, anytime-while continuing to find the latest issues at comic shops."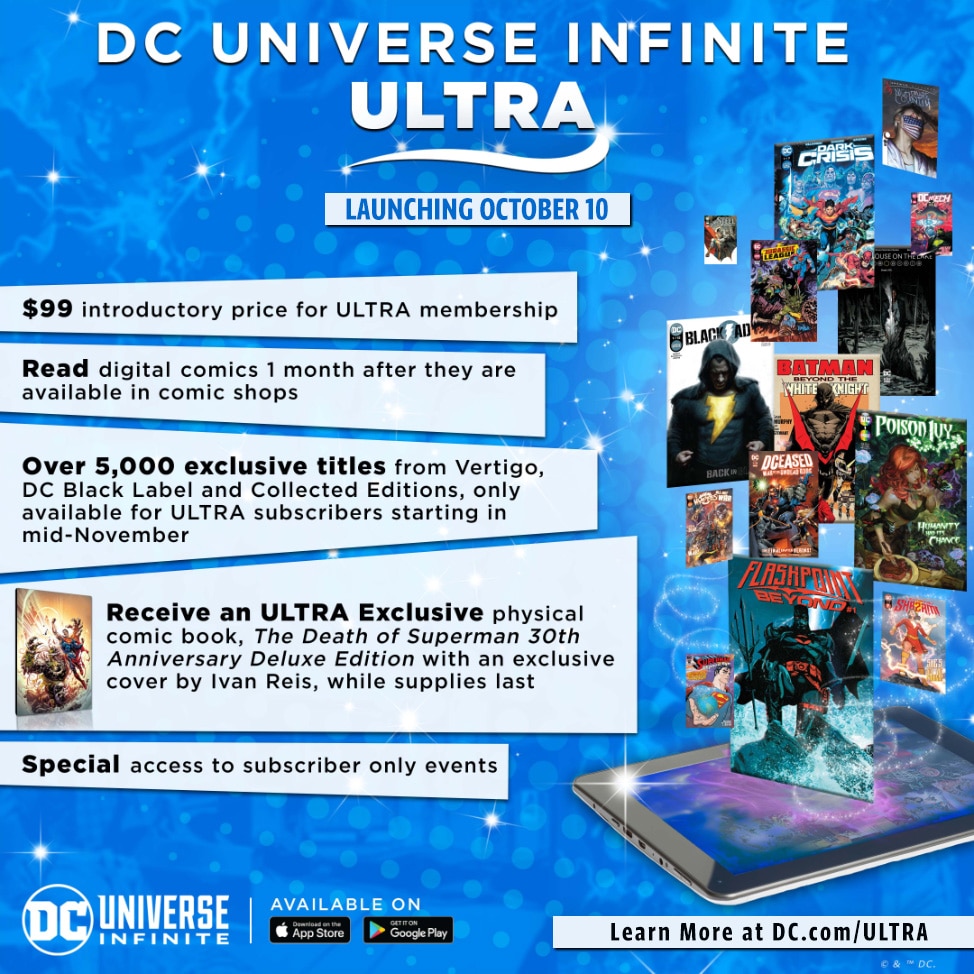 Pricing
DC Comics said the introductory price of $99.99 a year in the U.S., plus taxes, is available until November 28, 2022, as long as the subscriber's account is in good standing and they don't cancel their Ultra subscription. DC Universe Infinite subscribers can upgrade their monthly or annual subscriptions to Ultra. DC Universe Infinite subscribers can download their favorite comics and DC Graphic Novels to read offline on iOS and Android devices.
The DC Universe Infinite tier is available for $7.99 a month, or $74.99 a year, plus applicable taxes. Both the monthly and the annual plans include a seven-day free trial, and they receive new comics six months after the print release, five months after Ultra subscribers receive them.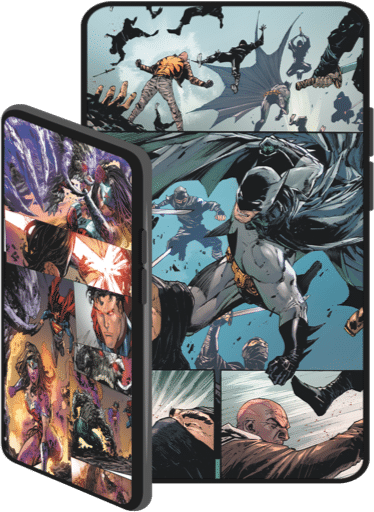 Insider Take
For diehard comic fans, DC's Infinite Ultra tier sounds like a winner. For just $25 more a year, subscribers get exclusive access to more than 5,000 comics, along with extra perks and bonuses not available to regular subscribers. In addition, they get early access to comic books just one month after their physical release. For those who can't wait to read the next issue, the Ultra subscription sounds like a good match, while providing DC – and its parent company Warner Bros. Discovery – with additional recurring revenue. By only offering Ultra subscriptions on an annual basis, without refunds for canceling early, DC can increase retention as well.